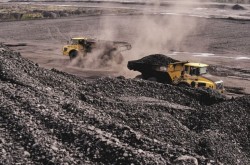 Thursday - Europe's landmark test of banks' resilience to global warming was far softer than many lenders had expected, according to people familiar with the matter.

Wednesday - Spanish authorities say they have broken up an organised crime group involved in millions of carbon tax fraud.

Wednesday - DMK Group has committed to new climate targets under the Science Based Target Initiative (SBTi). The dairy cooperative's CEO explains that action is needed to drive down dairy emissions in order to safeguard the reputation of the 'entire' dairy industry.

Tuesday - The European Court of Human Rights said Thursday that a complaint against 33 countries filed by six young Portuguese climate activists will be examined by the tribunal's top panel of judges, a move reflecting the case's legal significance.

Tuesday - Italian prime minister Mario Draghi joined scientists in pointing to the climate emergency as the cause of a deadly glacier collapse in the Italian Alps on Sunday afternoon, saying policymakers must act to ensure avalanches don't become a more regular occurrence.

1 Jul 22 - By assisting the developing world's green transition, Europe could mitigate the protectionist threat in its climate agenda.

30 Jun 22 - If Gothenburg doesn't meet its climate and social goals, its lending banks will charge it a fine — at the city's request.
---
30 Jun 22 - EU member states have approved the end of fossil fuelled passenger cars in 2035 and found compromises on emissions trading and a "Social Climate Fund".
28 Jun 22 - "Kicking the can", "pointing fingers", and "divorced from climate impacts" were descriptions used by observers to describe progress at the latest round of global climate talks in Germany.
28 Jun 22 - A major climate change study has found that London's weather could feel more like Barcelona's by 2050. Even though this might sound like a dream at first to Londoners, the change could turn into a...
27 Jun 22 - Germany is hosting this year's meeting of leaders from the Group of Seven leading economies in the Bavarian resort of Elmau. Before the invasion of Ukraine by Russia triggered a cascade of crises...
27 Jun 22 - Rather than addressing this crisis of overconsumption, by limiting how much they produce and encouraging shoppers to buy fewer items, Zara is simply using the guise of sustainability to shift more...
23 Jun 22 - European Union lawmakers stepped up the fight against global warming Wednesday by requiring deeper emission cuts from power plants, factories and planes in the EU and by endorsing an unprecedented...
23 Jun 22 - Starting from July, the City of Valencia will offer compostable burial urns as an alternative to traditional ones made from metal or ceramic. The vessels will come with a young tree sapling, which...
22 Jun 22 - Volunteers are monitoring air quality, tracking environmental war crimes, sheltering people, and protecting wildlife.
20 Jun 22 - As France grapples with a particularly intense heatwave this weekend, with temperatures reaching 40 degrees Celsius in many parts of the country, meteorologists say the increasingly early arrival of...
15 Jun 22 - European Union countries are considering a one-year delay to the launch of a new European carbon market for buildings and transport, pushing back the start to 2027, as they seek a compromise on more...
14 Jun 22 - The Norwegian Government has received applications from three companies seeking to secure permits for future carbon storage sites off Norway.
14 Jun 22 - The oil and gas industry is choking the atmosphere with a heat-trapping gas stronger than CO2 — despite cheap, fast and easy fixes.
---