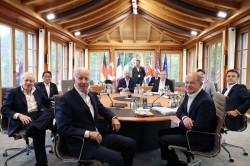 Wednesday - Leaders of the world's most advanced economies have agreed to start a Climate Club where members agree on joint rules and standards in the fight against global warming with the hope that it will avoid spats over green tariffs.

Wednesday - Japan is pushing to remove a target for zero-emission vehicles from a G7 communique expected this week, according to a proposed draft seen by Reuters, a move that would water down language on climate change from the leaders' summit in Germany.

Wednesday - Tropical cyclones are complex phenomena, which only form under specific atmospheric and oceanic conditions. Research suggests that, as the climate warms, changing conditions are making tropical cyclones less frequent. However, a lack of long-term cyclone data makes this trend difficult to quantify.

Wednesday - The super-polluting military alliance of NATO announced Tuesday its first emissions reduction targets, pledging to recognize the deepening climate emergency as "a defining challenge of our time."

Wednesday - A carbon capture plant that has opened in Northwich is the largest such project in the UK. The £20 million facility will convert 40,000 tonnes of carbon dioxide into food and pharmaceutical grade sodium bicarbonate each year.

Wednesday - US startup Symbrosia* has raised $7 million in new funding as it makes progress on its seaweed feed additive that reduces methane emissions from livestock.

Tuesday - Large global companies are pushing world leaders to step up action to tackle climate change at the G7 summit in Germany this weekend, demanding large-scale carbon pricing and measures to increase demand for clean technologies.
---
Tuesday - "Kicking the can", "pointing fingers", and "divorced from climate impacts" were descriptions used by observers to describe progress at the latest round of global climate talks in Germany.
Tuesday - Fossil fuel firms are misleading the public about their moves to cut greenhouse gases and curb climate change -- and social media are hosting ads that perpetuate this "greenwashing", researchers say.
Tuesday - The Republic of Kenya must pay the Indigenous Ogiek people reparations for decades of illegal evictions from their ancestral land in the Mau Forest.
Tuesday - Climate change affects everyone, but studies have shown infants and children to be most vulnerable.
Tuesday - A major climate change study has found that London's weather could feel more like Barcelona's by 2050. Even though this might sound like a dream at first to Londoners, the change could turn into a...
Monday - Germany is hosting this year's meeting of leaders from the Group of Seven leading economies in the Bavarian resort of Elmau. Before the invasion of Ukraine by Russia triggered a cascade of crises...
Monday - Sun Cable's Australia-Asia PowerLink, the massive solar and battery project backed by Australia's two richest men, Andrew Forrest and Mike Cannon-Brookes, has cleared another important hurdle with a...
Monday - Commonwealth leaders last week adopted the "Living Lands Charter", which commits all member countries to safeguarding global land resources while taking coordinated action on climate change,...
Monday - Rather than addressing this crisis of overconsumption, by limiting how much they produce and encouraging shoppers to buy fewer items, Zara is simply using the guise of sustainability to shift more...
Monday - Thailand and Switzerland have signed the world's first country-to-country cooperation pact on offsetting carbon emissions.
Monday - A formidable space tourism industry may have a greater climate effect than the aviation industry and undo repair to the protective ozone layer if left unregulated, according to a new study led by UCL...
23 Jun 22 - SPOT NZUs opened at $76.10 bid and $74.60 offered on CommTrade this morning, after last fixing at $76.25.
---