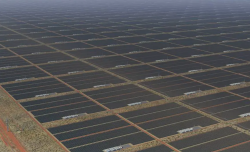 Today 11:45am - Sun Cable's Australia-Asia PowerLink, the massive solar and battery project backed by Australia's two richest men, Andrew Forrest and Mike Cannon-Brookes, has cleared another important hurdle with a ringing endorsement of its economic merits from Infrastructure Australia

21 Jun 22 - Australia's coal mines cause more planetary warming in a typical year than emissions from all of the country's cars.
20 Jun 22 - The regional powerhouses of Australia's industrial economy could slash their greenhouse gas emissions by more than 80% and become centres for multibillion-dollar investments in renewable energy, according to a report backed by some of the country's biggest companies.

17 Jun 22 - Prime minister Anthony Albanese has formally committed Australia to a stronger 2030 emissions reduction target, to cut emissions by 43 per cent by the end of the decade.

16 Jun 22 - Oil giant BP has taken a 40.5% stake in the $30 billion Australian Renewable Energy Hub in the Pilbara, one of the biggest renewable and green hydrogen projects in the world.

15 Jun 22 - Based in Tasmania's Derwent Valley, Fiona Weaver's adventure tourism business trades on the reputation of Tasmania's pristine wilderness.

9 Jun 22 - First Nations traditional owners have launched a Federal Court challenge to Santos' plans to drill for gas off the coast of the Northern Territory, arguing approvals granted to the Barossa project are invalid because the oil and gas giant never consulted with the group.
---
9 Jun 22 - Traditional Owners in Australia are the creators of millennia worth of traditional ecological knowledge—an understanding of how to live amid changing environmental conditions. Seasonal calendars are...
8 Jun 22 - Scientists are lobbying for farmers to be financially rewarded in the form of carbon credits for cleaning up their dams.
7 Jun 22 - A battery the size of four fridges installed in Melbourne's inner north is expected to provide solar power to about 200 homes in a push to get more renewable energy into the network.
3 Jun 22 - Spanish energy giant Acciona Energía has hailed a "golden age of renewables" at the official launch event for the start of construction at Australia's biggest wind farm to date – the 1.026GW...
2 Jun 22 - Anthony Albanese will create a new mega-department of climate change, energy, environment and water to drive the new Labor government's policy agenda.
31 May 22 - From dubious claims about bamboo-based products to climate funds that are not quite what they seem, regulators have been increasing their scrutiny of corporate claims to be green.
27 May 22 - Despite Labor and the Coalition being conspicuously quiet about climate change during the campaign, it was in many ways the defining issue of this historic change of government.
25 May 22 - Despite a federal election result that promises a new era of political support for the Australian renewable energy industry, a major report warns of a tough road ahead for a market still feeling the...
24 May 22 - Australia has a new Labor government and a significant climate-focused cross bench, and it might just mark the beginning of the end of an almost decade-long grip the fossil fuel industry has held...
23 May 22 - Australians have voted overwhelmingly for stronger action on climate change, with stunning results across the country for both teal independents and the Greens delivering a harsh rebuke to the...
20 May 22 - The rate of trees dying in the old-growth tropical forests of northern Australia each year has doubled since the 1980s, and researchers say climate change is probably to blame.
18 May 22 - A German green hydrogen technology company behind 10GW of electrolyser capacity installed globally is setting up shop in Perth, to catch the wave of Australia's emerging renewable hydrogen industry.
---