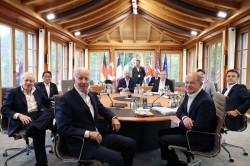 Wednesday - Leaders of the world's most advanced economies have agreed to start a Climate Club where members agree on joint rules and standards in the fight against global warming with the hope that it will avoid spats over green tariffs.

Wednesday - Japan is pushing to remove a target for zero-emission vehicles from a G7 communique expected this week, according to a proposed draft seen by Reuters, a move that would water down language on climate change from the leaders' summit in Germany.

Wednesday - The super-polluting military alliance of NATO announced Tuesday its first emissions reduction targets, pledging to recognize the deepening climate emergency as "a defining challenge of our time."

Tuesday - Large global companies are pushing world leaders to step up action to tackle climate change at the G7 summit in Germany this weekend, demanding large-scale carbon pricing and measures to increase demand for clean technologies.

Tuesday - Fossil fuel firms are misleading the public about their moves to cut greenhouse gases and curb climate change -- and social media are hosting ads that perpetuate this "greenwashing", researchers say.

Monday - A formidable space tourism industry may have a greater climate effect than the aviation industry and undo repair to the protective ozone layer if left unregulated, according to a new study led by UCL Earth's Future.

22 Jun 22 - Carbon markets around the world are set to continue growing rapidly as countries double down on climate ambition, and as corporates continue to pursue net-zero goals, finds IETA's latest annual Market Sentiment Survey
---
22 Jun 22 - The head of the UN Convention to Combat Desertification will head UN Climate Change from 17 July and until a permanent replacement to Patrica Espinosa is found.
20 Jun 22 - Rich countries including the European Union and the United States have pushed back against efforts to put financial help for poor nations suffering the devastating effects of global warming firmly on...
20 Jun 22 - UAE president Sheikh Mohamed has pledged $50 billion to address climate change across the world after taking part in a meeting hosted by US President Joe Biden.
17 Jun 22 - Two weeks of climate talks in Germany have ended in acrimony between rich and poor countries over cash for climate damage.
16 Jun 22 - A new study says that the world is using more fossil fuels than ever as the transition to green energy stalls.
16 Jun 22 - The U.N. Secretary General has slammed new funding for fossil fuel exploration, describing it as "delusional" and calling for an abandonment of fossil fuel finance.
15 Jun 22 - The World Trade Organisation's says that turning trade green is now urgent business, with the WTO putting climate change at the heart of its negotiations.
14 Jun 22 - With climate change producing mounting harms throughout the world, as well as the war in Ukraine raging on, the issue of a global food price inflation and shortages has reached international...
14 Jun 22 - In a new paper, Sir Nicholas Stern, Nobel Laureate Joseph E. Stiglitz and Charlotte Taylor conclude that climate-energy-economy Integrated Assessment Models (IAMs), which are the key tool in...
14 Jun 22 - Countries across the world have largely left people with disabilities out of their climate policies, according to a report published on Friday. As a result of that oversight, when climate disasters...
13 Jun 22 - Diplomats from countries around the world gathered here last week to commemorate the 50th anniversary of the 1972 United Nations Conference on the Human Environment—the meeting that made the...
13 Jun 22 - Replacing coal with renewable energy would greatly benefit society, according to a new working paper from Imperial College Business School.
---