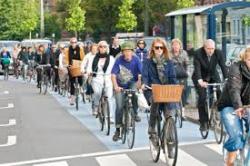 Today 9:00am - More than 76,600 people could become employed by green transportation businesses, and 10,000 lives would be saved, if major European cities adopted Copenhagen's bicycle sharing system, says a new report.

11 Apr 14 - New Zealanders' love affair with cars and cows has pushed our greenhouse gas emissions up by 25 per cent.

11 Apr 14 - By MATHEW CURRELL.- This week's court ruling on the future of the $A6.4 billion Alpha coal project in Queensland - set to be one of the biggest coal mines in the world - is of major significance for how mining projects are assessed in Australia.

11 Apr 14 - Ship transport is energy efficient, but it is also a significant source of emissions because of the globalised world huge transportation needs. In large measure, these vessels are powered with high-sulphur fossil fuels.

11 Apr 14 - By TIM RADFORD.- US scientists have a new green solution to urban construction: chop down trees and use the wood for buildings.

11 Apr 14 - By LYNETTE DRAY.- Although aviation emissions contribute only 3 to 5 per cent of the total impact on the planet's climate, this is steadily growing and is a surprisingly intractable problem to solve.

4 Apr 14 - A commercial-scale biodiesel project nearly stymied by the withdrawal of Government support is to go ahead.
---
28 Mar 14 - By KIERAN COOKE.- The European Parliament has voted in favour of changing the design of goods lorries throughout the EU - from their present brick shape to a more streamlined-looking vehicle.
28 Mar 14 - BRITISH hi-tech engineering is more successful than you think, says JIM PLATTS, lecturer in manufacturing engineering at Cambridge University.
21 Mar 14 - Flights to and from Europe should not be exempted from Europe's emissions trading scheme, the Environment and Public Health Committee of the European Parliament says.
21 Mar 14 - The number of climate change laws on the statue books of the world's leading economies grew from less than 40 in 1997 to almost 500 at the end of 2013 SAM FRANKHAUSER, co-director of the Grantham...
21 Mar 14 - More collaboration is needed to deal with the country's burgeoning urban growth issues, says a new report by the New Zealand Planning Institute.
7 Mar 14 - By ALEX KIRBY, London.- Europe has the technology and the raw material to make a big cut in the amount of oil its transport uses, researchers say - but it will fail to reap the benefits on offer...
7 Mar 14 - The European Union has reached a preliminary deal on a law that will exempt long-haul flights from paying for carbon emissions until 2016.
28 Feb 14 - The idea of the "green economy goes in and out of fashion, not least because it is rarely defined and frequently misunderstood, writes PAUL EKINS, Professor of Resource and Environmental Policy,...
21 Feb 14 - By WAYNE KING. Australia's media is drip-feeding news and commentary on the economic downturn in Australia - particularly in energy developments, the political turmoil revolving around the current...
7 Feb 14 - Several of the largest international oil companies, along with other major companies, are taking the prospect of international carbon pricing seriously, writes BARRY NAUGHTON.
7 Feb 14 - Is it fair that China is blamed for the carbon dioxide emissions it generates to manufacture products destined for the West? asks Glen West, of the Center for International Climate and Environment...
24 Jan 14 - An updated picture of how New Zealanders use energy is now available, showing where and how energy is used and a snapshot of how energy use is changing.
---