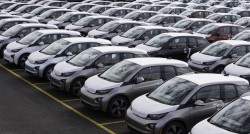 Monday - The Government is promising to make a third of its car fleet electric by 2021 – despite saying last year that cash-strapped government departments couldn't afford to replace petrol cars, let alone buy more expensive electric cars.

7 Aug 17 - New Labour Party leader Jacinda Ardern has mentioned climate change a couple of times in passing, but the greatest issue facing humanity has yet to make it into her formal speeches and statements.

28 Jul 17 - There's no shortage of good intentions in Ireland's climate plan, but they are too vague to cut emissions significantly.

25 Jul 17 - New Zealand's mayors want a national emissions reduction plan and a stocktake of the likely cost to the country of climate change – something Prime Minister Bill English has steadfastly rejected.

18 Jul 17 - Officials will put a plan to cut New Zealand's appalling transport emissions to the Government before the end of the year.

17 Jul 17 - It's runs on the board this week for two leaders in The Count, our weekly tally of public statements about climate change by party leaders in the lead-up to the general election.

11 Jul 17 - New Zealanders are buying electric vehicles in "record" numbers, but they are not making a dent in the country's greenhouse gas emissions.
---
3 Jul 17 - Using surplus electricity from renewables to make hydrogen fuel is starting a new era for all forms of heavy transport.
29 Jun 17 - The Government needs to put its new energy efficiency strategy into place – and State-owned operations are the place to start, says the Bioenergy Assocation.
28 Jun 17 - The Government is dealing with criticism of its industrial emissions target by turning it into a bottom line instead of a goal.
22 Jun 17 - The Government is refusing to release briefing papers on proposed new coal mines on the Buller Plateau.
20 Jun 17 - New Zealand's two largest cities are failing to cut greenhouse gas emissions because of the Government's lack of action on climate change, new research shows.
19 Jun 17 - The climate benefits of half New Zealand's electric car fleet will be wiped out by the scrapping of electric train engines in favour of diesels, says an international sustainable energy expert.
14 Jun 17 - Treasury told its ministers that KiwiRail's decision to replace electric locomotives with diesels raised some significant matters, but it wasn't given enough time to assess the situation.
9 Jun 17 - A project to improve the efficiency of freight in the Marlborough wine industry has seen the Port of Nelson cut greenhouse gas emissions by 1600 tonnes – and earned it a gong.
6 Jun 17 - Entries for this year's Sustainable Business Network Awards are now open.
29 May 17 - The climate benefits of New Zealand's increasing use of renewable electricity generation are being wiped out by our love affair with road transport.
29 May 17 - One of the biggest contributors to climate change is the agricultural food industry, but the political will to tackle the issue is lacking.
26 May 17 - New Zealand's greenhouse gas emissions fell slightly in 2015 - but only because a drought forced dairy farmers to cut production.
---