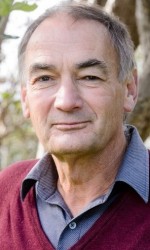 Monday - Spending up to $20 billion on buying foreign carbon credits will be a "severe imposition" on the economy and will delay New Zealand's decarbonisation, warns our former climate ambassador.

10 Oct 17 - A large swathe of the East Coast will be at risk of fire for at least half of the year by the end of the century, a conference in Auckland has heard.

10 Oct 17 - New Zealanders are buying bigger cars, damaging the country's chances of cutting greenhouse gas emissions, say Toyota New Zealand chief Alistair Davis.

5 Oct 17 - Carbon prices of $100 a tonne - and possibly as high as $225 – are being foreshadowed in a new report.

5 Oct 17 - New Zealand will be stuck with high-emitting technologies if it doesn't move to cut emissions soon, the Parliamentary Commissioner for the Environment is warning.

2 Oct 17 - New Zealand will have to use fossil fuel-generated electricity to charge electric cars if it's not careful, Canterbury electricity distribution company Orion is warning.

29 Sep 17 - Z Energy is investing in the carbon-positive car-sharing company Mevo.
---
28 Sep 17 - A second government department has said New Zealand's current electric vehicle policy won't get people out of fossil fuel-driven cars.
27 Sep 17 - Issuing carbon credits for schemes that cut greenhouse gas emissions could tip the balance in favour of projects like public transport, a consultant says.
18 Sep 17 - United Future's new leader says he supports the Emissions Trading Scheme, the Zero Carbon Act and wants New Zealand to be carbon netural by 2050.
12 Sep 17 - If Sir Geoffrey Palmer had had his way, New Zealand would have already cut greenhouse gas emissions by 40 per cent.
11 Sep 17 - Two of the parties that could be involved in any centre-left coalition after the election want to scrap the Emissions Trading Scheme.
8 Sep 17 - New Zealand is burning more oil than ever, despite pledges to cut greenhouse gas emissions.
6 Sep 17 - National is taking a business-as-usual approach to climate policy, warning that Labour and the Greens would go too far if they got into government.
1 Sep 17 - Heavily redacted documents give little clue what advice the Ministry for the Environment gave the Government on the scrapping of KiwiRail's electric engines.
31 Aug 17 - Finalists in this year's Sustainable Business Network awards have just been announced.
29 Aug 17 - Three-and-a-bit weeks out from the general election, what do we know about the parties' approach to climate change?
25 Aug 17 - By publisher ADELIA HALLETT | A plan to lift the speed limit on some roads to 110 kilometres an hour is the latest example of New Zealand's lack of joined-up thinking on climate change.
25 Aug 17 - What will the political parties vying to run our country do about renewable energy?
---