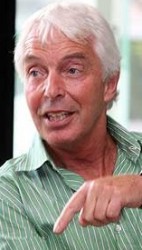 Today 11:00am - The Government's plan to get 64,000 electric cars on the road by 2021 will cut New Zealand's greenhouse gas emissions by just 0.01 per cent.

Today 11:00am - Transport Minister Simon Bridges says his electric-vehicle policy will remove barriers that have prevented businesses and households switching to electric vehicles.

Today 11:00am - Politicians are fond of talking up electric vehicles, but not many of them are putting their money where their mouths are.

Thursday - New Zealand is likely to need up to 220 million international credits to meet its 2030 emissions reduction target because even a domestic carbon price of $300 a tonne is unlikely to drive enough domestic emissions cuts, the Government says.

Thursday - With the Australian federal government aiming to kick-start investment in urban infrastructure, pledging $50 million of public money in the 2016 budget to look at alternative financing mechanisms, attention is turning to the idea of "land value capture" as a means to attract the necessary funds.
Wednesday - The Government will unveil its electric vehicle policy tomorrow.
Wednesday - Higher carbon prices and clear government policy are two of the measures needed to get New Zealanders to switch to electric cars, the Royal Society says.
---
Tuesday - Higher carbon prices, scrapping the one-for-two, and a detailed plan to decarbonise the New Zealand economy are on Climate Change Minister Paula Bennett's to-do list.
Tuesday - To have any chance of preventing dangerous climate change, the world needs to reduce greenhouse gas emissions to net zero or even negative by mid-century.
29 Apr 16 - Getting rid of requirements for minimum numbers of car parks with apartment developments could be one practical step toward greening New Zealand's cities, says the Parliamentary Commissioner for the...
29 Apr 16 - The Morgan Foundation is keeping up the pressure on the Government over the use of hot-air carbon credits.
28 Apr 16 - New Zealand needs a cap on emissions and to include all sectors in the Emissions Trading Scheme, says the Sustainable Business Council.
28 Apr 16 - Several more decades of increased carbon dioxide emissions could lead to melting ice sheets, mass extinctions and extreme weather becoming the norm. We can't yet be certain of the exact impacts, but...
26 Apr 16 - A cross-party forum on climate change, efficient agriculture, and using revenue from auctioned carbon credits to stimulate innovation are some of the measures necessary for New Zealand to get to...
26 Apr 16 - On Saturday in New York, Climate Change Minister Paula Bennett signed the Paris Agreement on climate change on behalf of New Zealand.
26 Apr 16 - Volvo Cars, the premium car maker, has announced that it aims to sell a total of up to one million electrified cars by 2025.
21 Apr 16 - New Zealand's largest bus company is going electric in a move that will save Wellington's beloved trolley buses – albeit without the overhead wires.
20 Apr 16 - Some of the country's largest businesses, lobby groups and organisations will meet in Wellington next month to draw up a blueprint for making New Zealand into a low-carbon economy.
19 Apr 16 - The past two years have been the hottest on record globally, yet Australian climate policy is frozen in the past.
---