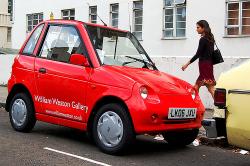 Monday - New Zealand needs to embrace biofuels, electric vehicles and energy forests, and get rid of coal and gas-fired industrial processes if it wants to meet its 2050 emissions reduction commitment, officials have told the Government.
Monday - By adapting a tropical grass to grow in the British climate, scientists hope to be able to replace coal in power stations with biofuel.
28 Sep 15 - Volkswagen has set aside €6.5 billion to cover the costs of the growing scandal over cheating on emissions tests in the US.
21 Sep 15 - Climate Change Minister Tim Groser wanted New Zealand to cut greenhouse gas emissions by 15 per cent below 1990 levels by 2030, a Treasury email shows.

21 Sep 15 - Keeping agriculture out of the Emissions Trading Scheme could cost taxpayers $13 billion between 2020 and 2030, Treasury says.

21 Sep 15 - New Zealand's emissions from electricity generation fell in the June quarter, as renewables take an increasing share of the load.

21 Sep 15 - After a slow start, electric vehicles are gaining in popularity. London is now host to an electric car-sharing service, which proved successful in Paris.
---
14 Sep 15 - New research shows that saving the planet from global warming by combining renewables and energy efficiency will also save money and create jobs.
7 Sep 15 - Government departments are divided over how New Zealand should approach its post-2020 emissions reduction target – a target which the Government was going to set at just 6 per cent, Cabinet papers...
7 Sep 15 - A strong carbon price, a green investment bank and a climate commission are emerging as the basis of a political consensus on climate change policy – at least on one side of the House.
7 Sep 15 - The Government is looking at ways to encourage the switch to electric vehicles. But it is keeping the details secret.
31 Aug 15 - The future of aviation is dependent on finding an alternative power source. Is electricity the answer?
31 Aug 15 - What does your vision of a sustainable future look like? Some people imagine a scenario whereby technology solves the world's most pressing environmental problems.
31 Aug 15 - Renewable energy support schemes such as feed-in tariffs, quota obligations, capital grants, and subsidies, will continue to be instrumental in promoting Europe's renewable energy industry growth by...
24 Aug 15 - In a bid to get closer to the Millennium Development Goal of halving the 2.5 billion people without sanitation access, innovative solutions are being tested across the globe.
17 Aug 15 - Our Daily Waste founder Dr SHARON McIVER on why how smart businesses are future-proofing by getting rid of plastic packaging now.
17 Aug 15 - The 400MW Otahuhu B gas-fired power station will close from the end of next month.
17 Aug 15 - Sydney is acting to protect itself against heat waves, floods, storms and energy shortages as a result of climate change.
17 Aug 15 - Europe's greenhouse gas emissions are falling fast, mainly because of the rapid spread of the wind turbines and solar panels that are replacing fossil fuels for electricity generation.
---