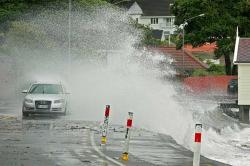 Monday - Reaction to last week's Wellington floods shows that New Zealanders are not prepared for the impacts of climate change, scientists say.

Monday - Canada has been dubbed an international disgrace for its climate change policies, but now one of its major cities is aiming to be the greenest in the world by 2020.

Monday - Last week's Australian Budget is very disappointing in the broad area of environmental protection.

11 May 15 - New Zealand could turn "green into gold" by capitalising on emerging clean technologies and showing leadership on climate change.

11 May 15 - Following the repeal of the carbon tax, the Australian Government has implemented its Direct Action climate policy, centred on the A$2.55 billion Emissions Reduction Fund.

4 May 15 - By NIRAJ LAL.- The Tesla in front of me was shiny, sleek and silent, but my daydreams were interrupted with a question: does a Tesla charged by Australian electricity emit less CO2 per kilometre than an efficient diesel car?

28 Apr 15 - New Zealand's greenhouse gas emissions trend from energy is worse than the OECD average, a new report says.
---
13 Apr 15 - New Zealand's "rugby, big cars and beer" culture could leave the country with an annual carbon hangover edging into the billions of dollars.
13 Apr 15 - Carbon dioxide levels might be soaring, and governments might be slow to reduce fossil fuel emissions and contain climate change, but the smart money could nevertheless be going into renewable...
13 Apr 15 - It's the most famous taxi in the world and a British icon, rivalling the Queen and red pillar boxes for global recognition. Now there's a battle to make London's black cabs greener.
7 Apr 15 - The carbon-neutral hydrogen economy will be worth more than $44 billion by 2030, says Toshiba Corporation.
7 Apr 15 - BP's annual Energy Outlook report details the results from modelling of what it sees as the "most likely" energy scenario out to 2035.
7 Apr 15 - Connected agriculture – from farm to retail – has been promoted at an event in Brussels as the way to wean European agriculture off its addiction to chemicals, water and fossil fuels.
30 Mar 15 - A new housing development in Auckland's Wynyard Quarter will be the first to use the new 7 Homestar environmental rating.
23 Mar 15 - New Zealand could be one of the first countries with a complete network of charging stations for plug-in electric vehicles, the Electricity Networks' Association says.
23 Mar 15 - Former Greenpeace activist Michael Tritt has found a new way, for him, to save the world – business.
23 Mar 15 - Without cooling, the supply of food, medicine and data would simply break down.
16 Mar 15 - There are many uncertainties with respect to global climate change, but there is one thing about which I have no doubts: we will not solve climate change by running out of fossil fuels.
9 Mar 15 - Australia likely has several decades of coal left in it.
---