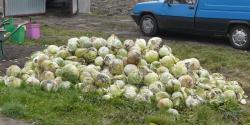 Tuesday - An unsung success story in the switch to renewable energy is the use of waste to produce gas – and a valuable by-product.

2 Feb 16 - Global agreements to aim for "well below" 2deg warming are nice enough, but now it's time to develop some detailed policies to help us to get there.

2 Feb 16 - Wind power and solar power are ways to reduce carbon emissions, but these generation sources are dependent on the vagaries of the weather, which means neither wind nor solar can produce electricity on-demand at all hours of the day.

25 Jan 16 - Former Prime Minister Helen Clark is calling for "fearless leadership" to get global agreements implemented – including the recently negotiated Paris Agreement on climate change.

25 Jan 16 - The British government is investing more than £300m ($NZ659m) in building what Chancellor of the Excheque George Osborne has described as the first "proper" garden city in nearly a century, near Ebbsfleet, Kent.

25 Jan 16 - According to all the data, urban car use has peaked, but official traffic modelling forecasts a remarkable reversal.
18 Jan 16 - Jaguar Land Rover has become the latest car manufacturer to announce its entry into the world's first fully electric racing series – the FIA Formula E World Championship.
---
18 Jan 16 - From turning carbon dioxide into a fuel to enabling cars to run on water, scientific researchers worldwide are unlocking the potential of new energy sources.
15 Dec 15 - In their recent book Climate Change, Capitalism, and Corporations: Processes of Creative Self-Destruction, Christopher Wright and Daniel Nyberg argue that "the reputation risk that flows from an...
7 Dec 15 - Innovative new research into clean energy technology shows there are viable alternatives to fossil fuels – provided there is enough political will and investment.
30 Nov 15 - Prime Minister John Key today will lead a high-powered call for an end to fossil fuel subsidies – despite the fact his Government is subsidising fossil fuel exploration.
30 Nov 15 - The UK government is giving no sign that it intends to replace fossil fuels with renewables, so the only way to avoid the carbon emissions from burning natural gas and oil is the widespread use of...
30 Nov 15 - Toyota dealers around the country have saved a total of $125,000 in energy costs as part of a drive to get Enviro-Mark Gold certification.
23 Nov 15 - The Government has given the clearest signal yet that it intends to push carbon prices up as part of a package to meet the expected $30 billion cost of New Zealand's 2030 emissions reduction target.
16 Nov 15 - Business has a clear plan for how it will lead on climate change over the next five years, according to the Sustainable Business Council.
9 Nov 15 - The Trans-Pacific Partnership Agreement envisages countries working together to build a low-carbon economy.
9 Nov 15 - A Green Party government would give tax breaks to companies using electric vehicles and giving staff public transport passes to get to and from work.
9 Nov 15 - Entries are open for the EECA Awards 2016, acknowledging businesses and organisations demonstrating excellence in energy efficiency and renewable energy.
9 Nov 15 - The quest is on to develop new technology that can tap the intense heat deep below the Earth's surface and supply the whole world with electricity.
---