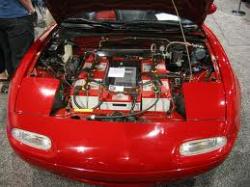 Tuesday - A battery that could treble electric car mileage and cut costs is among the innovations moving closer to reality on the frontiers of science.

Tuesday - The energy market in Germany saw a spectacular change last year as renewable energy became the major source of its electricity supply − leaving lignite, coal and nuclear behind.

Tuesday - A New Zealander is in the Middle East working to reduce the environmental impacts of a major sea port project.

22 Dec 14 - Greenhouse gas emissions from energy are up as the burning of gas and oil for transport and heating cancels out gains from renewable electricity production.

22 Dec 14 - The Government is being accused of tokenism in its attempts to cut greenhouse gas emissions from transport.

15 Dec 14 - New Zealand is using smoke and mirrors to meet its 2020 emissions reduction target, when it could get there by using clean heating and transport technologies, says one of our leading scientists.

8 Dec 14 - New Zealand has a $3 billion carbon headache looming – and Treasury says that's the conservative estimate.
---
8 Dec 14 - A climate change lobby group is calling for a national carbon budget and legally binding emissions reduction targets.
8 Dec 14 - Manufacturing benchmarks achieved by a rural South Australian factory are being shared and instituted across the world by global manufacturing giant Kimberly-Clark.
1 Dec 14 - How cities develop will be critical to achieve economic growth and tackle climate change, according to a new series of studies.
1 Dec 14 - The controversy ignited by the Australian National University in October, when it decided to sell its shares in seven resources companies, has raised two important questions about divestment from...
1 Dec 14 - A British went into service last week, powered by biomethane energy derived from human waste at a sewage plant.
24 Nov 14 - Labour's new climate change and environment spokesperson says there's never been a time when she didn't believe in climate change.
17 Nov 14 - American researchers confirm that a shift to vegetarian, Mediterranean or fish-based diets would cut greenhouse gases, conserve forests and savannah, and have a big impact on obesity-linked health...
3 Nov 14 - New Zealand has no chance of meeting its 2020 emissions reduction target under current policies, says a leading scientist involved in the latest IPCC report.
3 Nov 14 - With the passage of the Emissions Reduction Fund through the Senate last week, Australia's federal government has taken a step toward achieving the country's minimum target to reduce greenhouse gas...
3 Nov 14 - Oil prices have fallen dramatically since August – and, rather counter-intuitively, this could be a bad thing.
3 Nov 14 - Tentative steps have been taken by China and the United States towards co-operating on climate change − mainly focusing on relatively modest technological schemes connected with more efficient...
3 Nov 14 - A group of influential business leaders is welcoming Europe's new climate and energy deal.
---