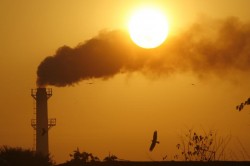 Tuesday - Improved energy efficiency is helping New Zealand to cut thousands of tonnes of carbon emissions, as well as saving millions of dollars a year, the Government energy efficiency agency reports.

Tuesday - As the global population grows from seven billion to nearly 10 billion by 2050, we will need to build the equivalent of a city of one million people every five days to house them.

19 Oct 16 - New Zealand now has more than 2000 electric vehicles – twice as many as at the start of the year.

17 Oct 16 - Some of New Zealand's largest businesses are pledging to convert their vehicle fleets to electricity, collectively avoiding more than 3000 tonnes of carbon dioxide emissions a year within three years.

13 Oct 16 - Major investors have warned the automotive industry it needs to accelerate its readiness for a low-carbon world if it is to retain their support and prosper.

11 Oct 16 - A who's who in the world of climate change gathers in Auckland this morning.

10 Oct 16 - The Government was warned last year that New Zealand could face criticism for using hot-air credits to meet its 2020 emissions reduction target, documents show.
---
10 Oct 16 - Current market signals are not strong enough to drive the decarbonisation the world needs to avoid dangerous levels of climate change, say energy leaders meeting in Istanbul.
7 Oct 16 - A global carbon market for aviation that could see New Zealand offsetting three million tonnes of emissions a year is going ahead.
7 Oct 16 - No 9. New Zealanders are in the world's top 10 emitters of greenhouse gases.
4 Oct 16 - Planning and co-operation could see the freight sector cut greenhouse gas emissions by 30 per cent, says an international expert.
3 Oct 16 - A new global market-based measure for aviation emissions could see New Zealand having to offset 3 million tonnes of greenhouse gases a year.
3 Oct 16 - Last year's jump in New Zealand's fossil-fuel consumption from transport probably put an extra 500,000 tonnes of greenhouse gases into the atmosphere, an expert says.
29 Sep 16 - New Zealand's greenhouse gas emissions are set to double between 1990 and 2030 – and even with a carbon price of $50 a tonne, we could still be short of our Paris Agreement pledge by 143 million...
29 Sep 16 - It's a traditional complaint about urban life: there's never anywhere to park. But in the 21st century, do cities actually need less parking space, not more?
27 Sep 16 - Delegates from more than 190 nations today will begin an 11-day meeting in Montreal to determine the final form of a scheme to reduce greenhouse emissions from the aviation industry.
27 Sep 16 - During the past decade, American scientist Joel Harper has spent nearly a year of his life on the Greenland ice sheet to study how meltwater impacts the movement of the ice.
26 Sep 16 - New Zealand could meet its Paris Agreement pledge without using foreign carbon credits and develop a $6 billion industry at the same time, says the Bioenergy Association.
23 Sep 16 - New Zealand will join an international market-based system to reduce aviation emissions, the Government has just announced.
---