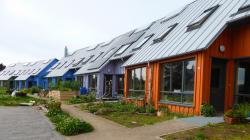 Monday - We are used to hearing that if everyone lived in the same way as North Americans or Australians, we would need four or five planet Earths to sustain us.

Monday - Australia can reduce its greenhouse gas emissions by 50 per cent below 2005 levels by 2030, according to analysis by ClimateWorks.

Monday - Rwanda is located in the poorest region in the world, sub-Saharan Africa. Despite this, it is making advances with off-grid renewable energy solutions for rural areas that could be a model for similar economies.

15 Jun 15 - The aviation industry is a major source of greenhouse gas emissions. In 2011 aviation contributed around 3% of Australia's emissions. Despite improvements in efficiency, global aviation emissions are expected to grow 70% by 2020 from 2005.

15 Jun 15 - A high-level United Nations advisory group has agreed to take measures that could accelerate a shift toward safer, healthier, more efficient and sustainable transport systems.

8 Jun 15 - New Zealand lacks the leadership to achieve the 40 per cent cut in greenhouse gas emissions it needs to make by 2030, the country's top scientists are warning.

8 Jun 15 - The Parliamentary Commissioner for the Environment wants the Government to stop giving free carbon credits to high-intensity trade-exposed emitters, who, she says, could still be paying for just 5 per cent of their emissions by 2050.
---
8 Jun 15 - The Government should see its climate change targets as an opportunity for New Zealand business and the economy, not a cost, the BioEnergy Association says.
2 Jun 15 - A plethora of economic studies on the costs of climate action share a common message: action on climate change is cheap, and delaying it will be costly.
25 May 15 - Oil is a fantastic high energy and very portable fuel and currently it's very cheap In fact, it has almost always been cheap and plentiful and we have built a good life with it. So what's the...
18 May 15 - Reaction to last week's Wellington floods shows that New Zealanders are not prepared for the impacts of climate change, scientists say.
18 May 15 - Canada has been dubbed an international disgrace for its climate change policies, but now one of its major cities is aiming to be the greenest in the world by 2020.
18 May 15 - Last week's Australian Budget is very disappointing in the broad area of environmental protection.
11 May 15 - New Zealand could turn "green into gold" by capitalising on emerging clean technologies and showing leadership on climate change.
11 May 15 - Following the repeal of the carbon tax, the Australian Government has implemented its Direct Action climate policy, centred on the A$2.55 billion Emissions Reduction Fund.
4 May 15 - By NIRAJ LAL.- The Tesla in front of me was shiny, sleek and silent, but my daydreams were interrupted with a question: does a Tesla charged by Australian electricity emit less CO2 per kilometre...
28 Apr 15 - New Zealand's greenhouse gas emissions trend from energy is worse than the OECD average, a new report says.
13 Apr 15 - New Zealand's "rugby, big cars and beer" culture could leave the country with an annual carbon hangover edging into the billions of dollars.
13 Apr 15 - Carbon dioxide levels might be soaring, and governments might be slow to reduce fossil fuel emissions and contain climate change, but the smart money could nevertheless be going into renewable...
---