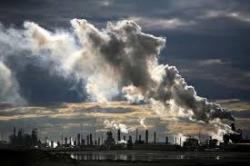 Monday - None of Australia's 20 largest emitting facilities is expected to be accountable for emissions, despite almost all being forecast to grow emissions over the next 10 years.

27 Jul 15 - A strong carbon price, better urban planning, a climate commission and systematic assessment of how government policies affect climate change would help New Zealand's transition to a low-carbon economy, Treasury says.

20 Jul 15 - Scientists say wind patterns altered by climate variability are costing airlines millions of dollars in extra fuel and flying time − and increasing CO2emissions.

20 Jul 15 - Nations have agreed to an international action plan to improve predictions of weather, climate and ice conditions in polar regions, the United Nations says.

13 Jul 15 - Treasury's advice that the Government should stop propping up KiwiRail because it is too expensive fails to take into account the carbon cost of transporting freight by rail.

13 Jul 15 - Fewer businesses are taking action on greenhouse gases than two years ago, Waikato University's latest sustainability report shows.

13 Jul 15 - The Government is ignoring the potential for emissions reduction from renewable heat energy, the Bioenergy Association says.
---
13 Jul 15 - The building sector globally currently consumes more energy (34%) than the transport sector (27%) or the industry sector (28%). It is also the biggest polluter, with the biggest potential for...
13 Jul 15 - Trend-spotters may have declared the car is dead for 20-somethings in central London or Paris but among the rest of humanity sales of the ubiquitous gas-guzzler continue to climb.
8 Jul 15 - The 2030 emissions reduction target announced yesterday will damage New Zealand's credibility at this year's Paris climate talks, says the man who negotiated for us in Kyoto.
7 Jul 15 - The Government has just announced the emissions reduction target New Zealand will take to international climate talks in Paris - 30 per cent below 2005 levels by 2030.
7 Jul 15 - Business groups say they want to know how the Government is going to make sure New Zealand achieves the 2030 emissions reduction target announced today.
6 Jul 15 - New research into how people's habits change shows that everyone benefits from car-sharing schemes − apart from car manufacturers who suffer a loss of sales.
29 Jun 15 - We are used to hearing that if everyone lived in the same way as North Americans or Australians, we would need four or five planet Earths to sustain us.
29 Jun 15 - Australia can reduce its greenhouse gas emissions by 50 per cent below 2005 levels by 2030, according to analysis by ClimateWorks.
29 Jun 15 - Rwanda is located in the poorest region in the world, sub-Saharan Africa. Despite this, it is making advances with off-grid renewable energy solutions for rural areas that could be a model for...
15 Jun 15 - The aviation industry is a major source of greenhouse gas emissions. In 2011 aviation contributed around 3% of Australia's emissions. Despite improvements in efficiency, global aviation emissions are...
15 Jun 15 - A high-level United Nations advisory group has agreed to take measures that could accelerate a shift toward safer, healthier, more efficient and sustainable transport systems.
8 Jun 15 - New Zealand lacks the leadership to achieve the 40 per cent cut in greenhouse gas emissions it needs to make by 2030, the country's top scientists are warning.
---