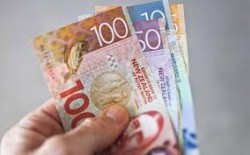 Tuesday - Tomorrow's expected declaration by Parliament of a climate emergency in New Zealand should see an immediate scaling-up of investment in climate change funding and policies, businesses are telling the Government.

Tuesday - Climate activist organisation 350 Aotearoa will perform street theatre in the Octagon at lunchtime today in a bid to get the government-owned Accident Compensation Corporation to stop investing in fossil fuels.

Monday - By PATTRICK SMELLIE | There was an outburst of skeptical tongue-clicking last Thursday when Climate Change Minister James Shaw announced New Zealand will this week declare a state of 'climate emergency'.

Monday - Parliament sits this week, with the James Shaw's climate emergency declaration expected in the House on Wednesday.

Friday - Parliament sits on Tuesday, Wednesday and Thursday next week.

23 Nov 20 - Prime Minister Justin Trudeau has presented a bill to commit Canada to cut its emissions to net zero by 2050 and set five-year targets to meet the goal.

23 Nov 20 - It's back to the office for MPs this week, with Parliament opening on Wednesday and the Speech from the Throne, outlining the new Government's agenda, on Thursday.
---
20 Nov 20 - Climate activist group Extinction Rebellion says it will target Genesis Energy's headquarters in downtown Auckland this afternoon.
20 Nov 20 - The European Commission will consider hydrogen produced from nuclear power as "low-carbon", says a senior EU official who spoke in the European Parliament this week.
19 Nov 20 - The annual Sustainable Business Awards will be held in Auckland tonight.
17 Nov 20 - New Zealand's failure to seriously address its emissions problem through the 2010s has come under fire from two politicians whose attempts to effectively price carbon were thwarted by National...
16 Nov 20 - The annual Sustainable Business Awards are on in Auckland on Thursday.
13 Nov 20 - Well-being statistics for the September quarter are out today.
12 Nov 20 - The Climate Change Commission could be given the ability to manage carbon prices if its carbon budget recommendations are not followed by politicians, the climate minister says.
12 Nov 20 - Ten years ago, then-Green Party co-leader Russel Norman had managed to persuade both Labour and National to take part in a conference he was holding in Parliament to talk about building...
3 Nov 20 - The Government appears to have emissions from energy in its sights as it seeks to finally make real cuts in the country's emissions.
30 Oct 20 - We should know on Sunday whether James Shaw will remain the country's climate minister.
27 Oct 20 - The Government can and should pass legislation allowing it to set reserve prices when it auctions carbon credits, National says.
27 Oct 20 - Japan's prime minister, Yoshihide Suga, has said the country will become carbon neutral by 2050, heralding a bolder approach to tackling the climate emergency by the world's third-biggest economy.
---