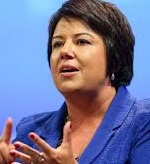 18 Apr 17 - Climate minister Paula Bennett says carbon prices need to go higher, but she won't be putting a price on agricultural emissions and she doesn't think New Zealand needs a climate commission.

18 Apr 17 - Simon Upton's nomination to be the next Parliamentary Commissioner for the Environment has been confirmed by Parliament, but it wasn't unanimous.
13 Apr 17 - Today could see one of the most important debates Parliament has ever had – a special session on proposals to make New Zealand carbon-neutral by the second half of the century.

10 Apr 17 - Proposals for a carbon-neutral New Zealand will go before Parliament this week, as the nation's youth start to apply political pressure over the world they will inherit.

7 Apr 17 - The Government's changes to the Resource Management Act scraped through Parliament last night.

6 Apr 17 - The state of New Zealand's environment is on the agenda for the country's politicians today.

5 Apr 17 - Debate on changes to the Resource Management Act will continue in Parliament today.
---
3 Apr 17 - The man likely to be the next Parliamentary Commissioner for the Environment says there might not be enough international carbon credits available to meet New Zealand's Paris Agreement targets.
29 Mar 17 - Former environment minister Simon Upton – who last week delivered a major report critical of New Zealand's environmental performance – is likely to be the next Parliamentary Commissioner for the...
23 Mar 17 - A bill to include sustainability measures in public finance reporting has been voted down – despite Government MPs saying they supported the sentiment.
16 Mar 17 - The Whanganui River has become entity in its own right – a move potentially of huge environmental significance.
8 Mar 17 - Climate change has made it to the top echelons of New Zealand's two major political parties.
8 Mar 17 - Environmental debates in Parliament yesterday stayed with the issue of the moment – fresh water.
17 Feb 17 - Climate minister and deputy prime minister Paula Bennett has received a bouquet for her action on climate change from an unexpected quarter – Green MP Kennedy Graham.
9 Feb 17 - New Zealand cannot rely on international carbon credits to meet its emissions reductions targets after 2030, officials have told the Government, warning that credits could be expensive and in short...
1 Feb 17 - New Zealand could cut the cost of meeting its international emissions reductions targets by linking its carbon market to emerging markets in Asia.
19 Dec 16 - The climate portfolio is now held by the deputy prime minister – the highest ranking it has ever had in New Zealand.
12 Dec 16 - A proposal to make the Government report on environmental and social progress alongside economic performance is to go before Parliament.
9 Dec 16 - An international economist is in New Zealand preparing a report on how the country can cut all greenhouse gas emissions by 2050.
---