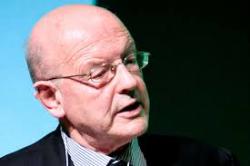 11 Apr 14 - The role of small countries in leading climate policy will be discussed in Wellington on Monday.

11 Apr 14 - By LYNETTE DRAY.- Although aviation emissions contribute only 3 to 5 per cent of the total impact on the planet's climate, this is steadily growing and is a surprisingly intractable problem to solve.

4 Apr 14 - NEW ZEALAND clean-tech company LanzaTech has been lured to Illinois with more than $US1 million worth of tax credits.

4 Apr 14 - NEW Act Party leader Jamie Whyte says that businesses have no obligation to the environment.

28 Mar 14 - By MICHAEL HOPKIN.- A Labor-dominated Senate committee has set the stage for the post-July tussle over carbon policy, recommending that Australia commit to much deeper emissions cuts than the current 5 per cent target, and advising against scrapping carbon pricing.

21 Mar 14 - The Australian Government's bill to scrap that country's carbon tax has been thrown out of the Senate, prompting speculation that a double dissolution could be looming.

21 Mar 14 - Energy Minister Simon Bridges says the Government is just as excited about renewables as it is about oil and gas.
---
21 Mar 14 - By ED KING .- Oil giant BP says regional and national carbon pricing policies are likely to be the best way to tackle climate change.
21 Mar 14 - The number of climate change laws on the statue books of the world's leading economies grew from less than 40 in 1997 to almost 500 at the end of 2013 SAM FRANKHAUSER, co-director of the Grantham...
17 Mar 14 - Spot NZUs closed at $3.00 Friday after starting the day lower. OMFianncial reports:
14 Mar 14 - National is preparing to strut its environmental stuff this weekend, as its Bluegreens Forum gathers in Kaikoura.
28 Feb 14 - The Climate Change Authority's new report on emission reduction targets makes a compelling argument for Australia to go much further in cutting greenhouse gas emissions, writes CLIVE HAMILTON,...
28 Feb 14 - The idea of the "green economy goes in and out of fashion, not least because it is rarely defined and frequently misunderstood, writes PAUL EKINS, Professor of Resource and Environmental Policy,...
21 Feb 14 - By WAYNE KING. Australia's media is drip-feeding news and commentary on the economic downturn in Australia - particularly in energy developments, the political turmoil revolving around the current...
7 Feb 14 - Several of the largest international oil companies, along with other major companies, are taking the prospect of international carbon pricing seriously, writes BARRY NAUGHTON.
7 Feb 14 - Is it fair that China is blamed for the carbon dioxide emissions it generates to manufacture products destined for the West? asks Glen West, of the Center for International Climate and Environment...
31 Jan 14 - New Zealanders are willing to pay cold hard cash for the ecosystem services provided by plantation forests.
24 Jan 14 - The global renewable energy share can reach and exceed 30 per cent by 2030 at no extra cost, says a new report.
24 Jan 14 - Melbourne Energy Institute director MIKE SANDIFORD asks the Abbott Government to explain:
---