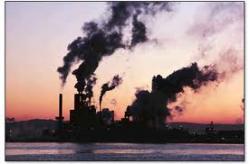 28 Feb 14 - The Climate Change Authority's new report on emission reduction targets makes a compelling argument for Australia to go much further in cutting greenhouse gas emissions, writes CLIVE HAMILTON, Vice-Chancellor's Chair, Centre for Applied Philosophy and Public Ethics, Charles Sturt University.

28 Feb 14 - The idea of the "green economy goes in and out of fashion, not least because it is rarely defined and frequently misunderstood, writes PAUL EKINS, Professor of Resource and Environmental Policy, University College, London.
21 Feb 14 - By WAYNE KING. Australia's media is drip-feeding news and commentary on the economic downturn in Australia - particularly in energy developments, the political turmoil revolving around the current Renewable Energy Target and the current policies related to a price on carbon, through the Carbon Price Mechanism and other initiatives.

7 Feb 14 - Several of the largest international oil companies, along with other major companies, are taking the prospect of international carbon pricing seriously, writes BARRY NAUGHTON.

7 Feb 14 - Is it fair that China is blamed for the carbon dioxide emissions it generates to manufacture products destined for the West? asks Glen West, of the Center for International Climate and Environment Research.

31 Jan 14 - New Zealanders are willing to pay cold hard cash for the ecosystem services provided by plantation forests.

24 Jan 14 - The global renewable energy share can reach and exceed 30 per cent by 2030 at no extra cost, says a new report.
---
24 Jan 14 - Melbourne Energy Institute director MIKE SANDIFORD asks the Abbott Government to explain:
24 Jan 14 - KATE CROWLEY, Associate Professor of Public and Environmental Policy at the University of Tasmania, examines the tension between the economy and the environment in the state's politics:
13 Dec 13 - Many forest owners could run into costly penalties for innocent mistakes in their carbon returns, a consultant is warning.
6 Dec 13 - The launch this week of the world's second-largest carbon market, in the Chinese industrial powerhouse province of Guangdong, will have little direct impact on the New Zealand market, a leading...
6 Dec 13 - China is facing significant environmental and social challenges that must be addressed if it is to achieve its sustainable development goals, the United Nations says.
6 Dec 13 - A new sustainable wool and rice straw blended upholstery fabric developed by a Wellington company goes into commercial production next year with the potential to create significant demand for New...
22 Nov 13 - The Carbon Reduction Fund in Australia, backloading in Europe, markets linking in North America and the first carbon auction in China ... Westpac's carbon desk reviews the international carbon...
15 Nov 13 - Canada has officially applauded the decision by Australian Prime Minister Tony Abbott to repeal the country's carbon tax.
25 Oct 13 - Australia's new Government is calling for submissions on how to design a scheme to replace the carbon tax and emissions trading scheme.
18 Oct 13 - Polluters eye $4b, airlines emissions charges, China carbon pricing, climate all at sea, worms are heroes, bye-bye Oracle, Quakers talk tough.
18 Oct 13 - The United States biodiesel industry is on pace to produce more than the 1.28 billion gallons set under the Renewable Fuels Standard for this year.
11 Oct 13 - Westpac's carbon analysts cast their eyes across the international carbon markets.
---