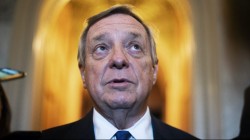 Today 12:00pm - For years, the idea of putting a price on carbon emissions seemed like a no-brainer — economists claimed that it would cut fossil fuel pollution quickly and efficiently, and at the same time, could even give money back to the American public. Over the past few months, as Democrats have rolled out multiple comprehensive plans to slow down climate change and turbocharge renewable energy, the idea of a "carbon tax" has been notably absent.

5 Aug 20 - Ten years ago, South Africa was looking at a 100-rand-per-tonne carbon tax. A tax finally came into law last year.

30 Jul 20 - Climate change is now swallowing the lion's share of the Government's environmental spending, prompting suggestions we should have a dedicated Climate Change Ministry.

26 Jun 20 - The third leg of the Government's climate change legislation trifecta came home this week.

26 Jun 20 - Ten years ago, Labour – which had brought the Emissions Trading Scheme into being less that two years earlier – was talking about the possibility of a carbon tax if it got back into power.

25 Jun 20 - New Zealand will take the proposed ground-breaking Agreement on Climate Change, Trade and Sustainability to the table in trade talks with the United Kingdom.

23 Jun 20 - Getting rid of rules about housing density and giving incentives for people to use public transport and buy electric vehicles could cut Auckland's greenhouse gas emissions by 80 per cent by 2050, the OECD says.
---
3 Jun 20 - Climate minister James Shaw – who three years ago was calling for the Emissions Trading Scheme to be scrapped – was singing its praises in Parliament yesterday.
2 Jun 20 - New Zealand could cut its greenhouse gas emissions immediately by using more biofuels in trucks, officials say.
25 May 20 - Ten years ago, economist Professor Ross Garnaut was calling for a carbon tax to be imposed in Australia after plans to introduce an emissions trading scheme he designed were defeated in the Senate...
19 May 20 - Australia's sugar industry is joining forces with health experts to call for a complete change to the world's food systems.
15 Apr 20 - Parliamentary Commissioner for the Environment Simon Upton says New Zealand should be thinking about a moratorium on new coal mines.
6 Apr 20 - Taxing oil and gas exploration and strengthening the Emissions Trading Scheme could be more effective ways of cutting greenhouse gas emissions than banning exploration, the Parliamentary Commissioner...
4 Mar 20 - Ten years ago, American oil companies were asking their government to impose a carbon tax instead of a cap-and-trade scheme.
28 Feb 20 - Forest owners – who yesterday called for a $200-a-tonne carbon tax on the burning of coal – say changes to the Emissions Trading Scheme should be signalled in the May Budget.
27 Feb 20 - Forest owners are calling for a $200-a-tonne tax on the burning of coal and the implementation of the Government's promised "wood-first" policy.
18 Feb 20 - Carbon pricing is emerging as central to international climate negotiations, the Mercator Climate Institute says.
14 Feb 20 - Ten years ago, Korea was floating plans for a carbon tax. In 2015, it introduced an emissions trading scheme, which now covers 591 large emitting-companies.
14 Feb 20 - Submissions close today on the Urban Development Bill, allowing what the Government calls better co-ordination of land, infrastructure and public assets in complex urban development projects.
---