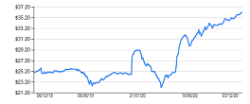 Friday - Spot NZUs opened at $36.10 bid and $36.30 offered on CommTrade this morning, after last fixing at $36.25.

Monday - Joining a New Zealand-led trade pact on climate change could be more effective than putting up trade barriers on carbon, New Zealand will tell Europe and the United Kingdom.

27 Nov 20 - News that two more reactors in the United Kingdom are to shut down on safety grounds earlier than planned has capped a depressing month for nuclear power in Europe.

13 Nov 20 - Britain wants New Zealand to do more on climate change, calling on companies to be carbon-neutral by 2040 and "welcoming" the country's review of its 2030 emissions target.

6 Nov 20 - Emissions from food production alone could sink the world's chances of meeting the Paris Agreement, scientists are warning in research with major implications for New Zealand.

4 Nov 20 - A 1940s tax-exemption treaty designed to protect the fledgling aviation industry set airlines on a path to high emissions and low regulation.

22 Oct 20 - Businesses want the new Government to back $7.23 billion worth of projects they say will cut the country's greenhouse gas emissions by 5.5 per cent over the next decade.
---
19 Oct 20 - Who will be New Zealand's next climate minister? Carbon News canvasses the options and comes up with four names.
12 Oct 20 - British Finance Minister Rishi Sunak is planning for a UK-wide carbon tax that could raise billions of pounds while encouraging the drive towards net-zero emissions.
9 Oct 20 - Former Federal Reserve Chair Janet Yellen said bipartisan concern over climate change could see the United States adopt a tax on carbon emissions, with the proceeds shared with households, if...
1 Oct 20 - The Labour Government's plan to bring forward its 100 per cent renewable electricity generation target to 2030 is an example of siloed thinking and is likely to be self-defeating, Genesis Energy has...
30 Sep 20 - After two days of hearing arguments for and against the federal government's carbon tax, the Supreme Court of Canada has adjourned without a decision.
8 Sep 20 - The Government is trying to find a way to calculate the cost of the country's likely carbon debt – and is considering using revenue from the Emissions Trading Scheme to buy international carbon...
26 Aug 20 - Canada's carbon tax is facing a renewed backlash amid talk of a green recovery to covid-19 and the prospect of a snap election in the autumn.
21 Aug 20 - Europe is planning a border tax to stop carbon leakage in the energy sector, but energy advisers say expanding the bloc's Emissions Trading Scheme would be more effective.
18 Aug 20 - New Zealand and Switzerland are helping Chile develop an emissions reduction programme that could pay dividends for this country.
12 Aug 20 - For years, the idea of putting a price on carbon emissions seemed like a no-brainer — economists claimed that it would cut fossil fuel pollution quickly and efficiently, and at the same time, could...
5 Aug 20 - Ten years ago, South Africa was looking at a 100-rand-per-tonne carbon tax. A tax finally came into law last year.
30 Jul 20 - Climate change is now swallowing the lion's share of the Government's environmental spending, prompting suggestions we should have a dedicated Climate Change Ministry.
---