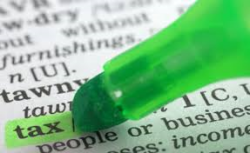 Monday - New Zealand's largest farmer, State-owned Pamu, has triggered outrage in some circles by telling the Government's Tax Working Group that it supports some environmental taxes.

15 Nov 18 - Businesses will soon be able to price and trade carbon without the help of governments by using blockchain technology, says a social enterprise about to launch a new carbon platform.

2 Oct 18 - Postponing bringing agriculture into the Emissions Trading Scheme risks exposing New Zealand's economy to a shock, says one of the world's largest accounting firms.

26 Sep 18 - The Ministry for the Environment says it likes environmental taxes – especially for dealing with climate change and water problems.

24 Sep 18 - Farmers are overwhelmingly opposed to environmental taxes – unless the revenue comes to them.

21 Sep 18 - Ditching free carbon credits for trade-exposed heavy emitters could generate $2.1 billion a year in revenue, the Tax Working Group says.

4 Sep 18 - The carbon market should be managed by a special authority, the Productivity Commission says.
---
23 Aug 18 - Half of New Zealanders support carbon trading as a way of cutting the country's greenhouse gas emissions, a survey shows.
30 Jul 18 - National Party leader Simon Bridges is promising to have "the best ideas" on the environment.
27 Jun 18 - The future of low-emissions transport is not necessarily electric, car makers are telling the Government.
27 Jun 18 - By Toyota NZ chief executive ALASTAIR DAVIS | The Productivity Commission's draft on the move to a low-carbon emission economy through a Zero Carbon Act is a sound report on what lies ahead.
18 Jun 18 - By publisher ADELIA HALLETT | Is Opposition Leader Simon Bridges' offer to work with the Government on climate change policy worth any more than a dodgy hot-air carbon credit?
17 May 18 - Another organisation is telling the Government to shift the tax burden from the production of private wealth to the consumption of public wealth, aka the environment.
14 May 18 - Taxes should be aiming at keeping human activity within the planet's physical capacity – and that means carbon prices that deliver fast, deep and sustained emissions reductions, the Government's Tax...
8 May 18 - The tax system should protect the environment, the Tax Working Party has been told.
27 Apr 18 - New Zealand should keep the Emissions Trading Scheme, but it should include agricultural emissions and subsidises for heavy emitters should go, the Productivity Commission says.
29 Mar 18 - An immediate carbon price cap of $100 a tonne and a $25 price floor is needed if New Zealand is to be carbon-neutral by 2050, says former Environment Secretary Dr Roger Blakeley.
19 Mar 18 - By publisher ADELIA HALLETT | When it comes to action on climate change, we're pretty much back to where we were 10 years ago, when Carbon News started publishing.
19 Mar 18 - Climate and energy expert Professor RALPH SIMS explains why natural gas is not a "bridging" fuel between dirtier fossil fuels and low-carbon energy. Searching for it and using it, he says, will delay...
---