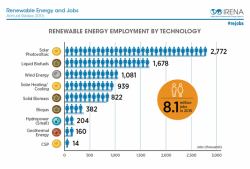 Friday - More than 8.1 million people worldwide are now employed by the renewable energy industry – a 5 per cent increase from last year.

Wednesday - A Green government would fund rail from taxes, with an aim of getting half of the country's total freight off roads by 2027.
Tuesday - A report that says switching to electric vehicles will do more to prevent climate change than would installing solar panels was funded by the big generators and lines companies with a vested interest in keeping solar out of the industry, says the head of an energy company using solar panels to generate power for its customers.

Monday - One week into Australia's extended federal election campaign, climate has not featured prominently.
12 May 16 - Storing carbon in forests is risky and should be used to meet no more than a fifth of New Zealand's emissions reductions, says a group of prominent scientists and other New Zealanders.

10 May 16 - The release of the results of a review into whether Australia should have an emissions trading scheme is being delayed until after that country's general election in July, prompting suggestions of political interference.

9 May 16 - The solar energy industry is fighting back against taxes being imposed by lines companies on customers installing panels on their homes, by taking a case to the Electricity Authority.
---
9 May 16 - Perhaps you think nothing else could surprise you in the run-up to this year's US presidential election, with Donald Trump to be the Republican candidate. You could be wrong.
6 May 16 - Transport Minister Simon Bridges says his electric-vehicle policy will remove barriers that have prevented businesses and households switching to electric vehicles.
5 May 16 - New Zealand is likely to need up to 220 million international credits to meet its 2030 emissions reduction target because even a domestic carbon price of $300 a tonne is unlikely to drive enough...
5 May 16 - With the Australian federal government aiming to kick-start investment in urban infrastructure, pledging $50 million of public money in the 2016 budget to look at alternative financing mechanisms,...
4 May 16 - Higher carbon prices and clear government policy are two of the measures needed to get New Zealanders to switch to electric cars, the Royal Society says.
2 May 16 - Carbon prices should be managed like the Reserve Bank manages the value of the New Zealand dollar, a submission on the Emissions Trading Scheme is recommending.
2 May 16 - A think-tank which has strongly criticised New Zealand's use of hot-air credits is now calling for a one-year moratorium on the allocation of free credits to trade-exposed heavy emitters.
28 Apr 16 - The Australian Labor Party has announced the climate policy it will take to the federal election, including a return to carbon pricing under an emissions trading scheme.
28 Apr 16 - The Australian Labor Party's new climate change policy has many of the elements investors are looking for, including market-based carbon pricing, says the Investor Group on Climate Change.
19 Apr 16 - The past two years have been the hottest on record globally, yet Australian climate policy is frozen in the past.
14 Apr 16 - New Zealand is to join a select group of countries talking about developing a global carbon market.
12 Apr 16 - An Australian think-tank claims to have done the impossible – come up with an effective climate policy that both sides of the political divide can live with.
---