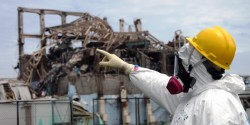 Wednesday - Lack of scientific co-operation with other countries has cost Japan "trillions of yen" in expensive solar power because the country did not learn from the experience of other countries before rushing to install it, analysts say.
Tuesday - To have any chance of preventing dangerous climate change, the world needs to reduce greenhouse gas emissions to net zero or even negative by mid-century.

Monday - Carbon prices should be managed like the Reserve Bank manages the value of the New Zealand dollar, a submission on the Emissions Trading Scheme is recommending.

Monday - A think-tank which has strongly criticised New Zealand's use of hot-air credits is now calling for a one-year moratorium on the allocation of free credits to trade-exposed heavy emitters.

28 Apr 16 - The Australian Labor Party has announced the climate policy it will take to the federal election, including a return to carbon pricing under an emissions trading scheme.

27 Apr 16 - Carbon budgeting and an independent statutory body that reports on the Government's performance have been critical to the United Kingdom's success in cutting greenhouse gases, says a visiting expert.
26 Apr 16 - A cross-party forum on climate change, efficient agriculture, and using revenue from auctioned carbon credits to stimulate innovation are some of the measures necessary for New Zealand to get to net-zero emissions, according to a paper to be released later today.
---
19 Apr 16 - When the University of Queensland published a paper in 2013 finding 97 per cent scientific consensus on human-caused global warming, what was surpising was how surprised everyone was.
18 Apr 16 - New Zealand's determination to use carried-over international carbon credits to meet its 2020 emissions reduction target make it party to an international fraud, a new report says.
13 Apr 16 - The Government looks set to establish up a public task force to plan New Zealand's transition to a low-carbon economy.
12 Apr 16 - An Australian think-tank claims to have done the impossible – come up with an effective climate policy that both sides of the political divide can live with.
11 Apr 16 - Carbon markets could play a crucial role in delivering promises made at the Paris climate conference.
11 Apr 16 - From chants of "Drill, Baby, Drill" to outrage over the BP oil spill, offshore drilling has been highly controversial in recent years. Some view it as a vastly underused revenue source, while others...
8 Apr 16 - An Asia-Pacific regional carbon market could emerge after 2020, a new report suggests.
7 Apr 16 - It seems logical that crops and goods that need lots of water should not be produced in water-scarce countries.
6 Apr 16 - After years of delay, the international aviation industry is inching its way toward bringing its greenhouse emissions under some form of regulation.
5 Apr 16 - Restoration ecologist and carbon sequestration expert Dr NEIL MITCHELL expands on his claim that New Zealand should be using native forests to offset greenhouse gas emissions
24 Mar 16 - Prime Minister Malcolm Turnbull has announced the creation of a A$1 billion Clean Energy Innovation Fund, to be jointly managed by the Clean Energy Finance Corporation and the Australian Renewable...
22 Mar 16 - The economics of nuclear power in Europe are in meltdown, leaving taxpayers facing a heavy burden as the industry clings to pledges of huge public cash injections.
---