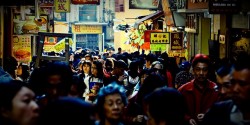 Friday - A leading UK voice in the debate on climate change says more attention should be paid to positive action being taken to tackle CO2 emissions in China rather than worrying about the US and Donald Trump.
Thursday - In some political circles, hostility to climate policy has become a way of showing off one's conservative credentials. But a suggestion for pricing carbon, grounded in classic conservative principles, has now emerged in the United States.

Tuesday - The likely impact on human society of Donald Trump's Mexico wall has been well-noted, but in the longer-term a barrier across an entire continent will also have severe ecological consequences.

20 Feb 17 - President Trump has made it clear he intends to dismantle the Obama administration's policies for reducing US greenhouse gas emissions.

15 Feb 17 - One of the most unexpected political developments in recent months has been the political awakening of scientists in the United States.

13 Feb 17 - Senior climate scientist PROFESSOR JAMES RENWICK goes looking for the facts in the latest so-called scandal about climate change.

9 Feb 17 - Climate change is now influencing all extreme weather events with some of the most severe climate impacts the world has experienced occurring in 2016, a new Climate Council report has found.
---
8 Feb 17 - New Zealand needs a strong market in environmental offsets, says Gareth Morgan's The Opportunities Party.
7 Feb 17 - One of Britain's most senior scientists has expressed concern that action to tackle global warming is sliding down the government's list of priorities despite its ratification of the Paris Agreement...
21 Dec 16 - The founder of the Unmask Palm Oil campaign and recent University of Auckland Business graduate Ben Dowdle has been awarded a Schwarzman Scholarship to China.
19 Dec 16 - Labour Party leader Andrew Little says he's backing the low-carbon economy as the future for New Zealand.
13 Dec 16 - Squeezed budgets and rising energy demand will significantly heighten the demand and use of renewable and energy efficiency technologies across the Middle East, says a new white paper.
12 Dec 16 - Plant scientists in the US have devised a new way to enhance the efficiency of crops: tune up the biochemical machinery of plants such as wheat, rice, maize, or even cabbages, to make the best of the...
12 Dec 16 - People who argue that climate change is not happening or that the scientific case for it is overstated – climate deniers – should probably start preparing for a more robust response from scientists...
6 Dec 16 - Australian investors want clear climate policy that delivers certainty – and access to international carbon markets, says the Investor Group on Climate Change.
5 Dec 16 - Three new studies illuminate the sheer complexity of the aspect of climate science known as the carbon cycle − how carbon dioxide gets into the atmosphere and out again.
25 Nov 16 - While shoppers scramble for Black Friday bargains this year, outdoor retailer REI is closing its 145 US stores. This is the second consecutive year the Seattle-based company will ignore the frenzy...
24 Nov 16 - International momentum for action on climate change is building, despite the United States electing Donald Trump president, says New Zealand's climate change ambassador.
23 Nov 16 - A first report on how New Zealand can adapt to climate change – including environmentally sustainable economic growth - should be with the Government by May.
---