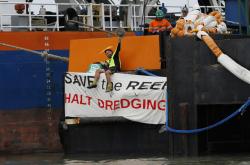 Monday - The almost 600 environmental groups that hold tax-deductibility status in Australia are being scrutinised by a Federal Government inquiry, with reports that more than 100 of them face being struck off the list.

13 Apr 15 - Revival of traditional rainwater harvesting has transformed the driest state in India, and could be used to combat the effects of climate change across the world.

7 Apr 15 - Russia did it. The United States did it. All the countries in the European Union have done it, as have Mexico, Norway, Switzerland and Latvia. Even oil-and-mineral-exporting Gabon, population 1.3 million, did it.

7 Apr 15 - The official target of limiting global warming to a 2C rise has been described by a senior scientist as "utterly inadequate" to protect the people most at risk from climate change.

30 Mar 15 - By KEIRAN COOKE.- Zheng Guogang, head of the China Meteorological Administration, says future variations in climate are likely to reduce crop yields and damage the environment.

23 Mar 15 - By KIERAN COOKE.- The wind turbines are turning across America, and a major report by the US Department of Energy says the wind energy sector now supplies 4.5 per cent of the nation's electricity.

16 Mar 15 - There are many uncertainties with respect to global climate change, but there is one thing about which I have no doubts: we will not solve climate change by running out of fossil fuels.
---
16 Mar 15 - Time is divided by geologists according to marked shifts in the Earth's state. Human activity has clearly altered the land surface, oceans and atmosphere, and re-ordered life on Earth. This suggests...
16 Mar 15 - A senior French political leader has told an international conference on how to reduce the risk from natural disasters that 70 per cent of them are now linked to climate change, twice as many as 20...
16 Mar 15 - The European shale gas boom has not materialised in the way that some were predicting.
10 Mar 15 - NZUs traded up to $6.20 on $70k yesterday as some emitters started to step into the market and mop up small sellers. OMFinancial reports:
9 Mar 15 - Competition to make biofuels out of waste products that would otherwise have to be dumped is creating a fast-growing, worldwide industry.
2 Mar 15 - Australia had an emissions trading scheme with a fixed price; it was one good way to encourage carbon cuts throughout the economy.
2 Mar 15 - International business leaders say that the success of new climate and energy plans for Europe hang on how effectively they are implemented.
23 Feb 15 - New Zealand's Emissions Trading Scheme legislation is so full of "words, fishhooks and traps" that giving sound legal advice on it to businesses is almost impossible, says one of our leading legal...
23 Feb 15 - Distinguished law fellow Sir Geoffrey Palmer, QC, has been at or near the heart of our attempts to tackled climate change for nearly three decades.
23 Feb 15 - New Zealand businesses want the Government to step up to protect the country's 100% Pure brand.
23 Feb 15 - Queensland has a new Labor minority government, led by Annastacia Palaszczuk, after the shock defeat of the Liberal National Party.
23 Feb 15 - Shell chief Ben van Beurden is pointing the way for oil companies to demand greater certainty over future climate policy.
---