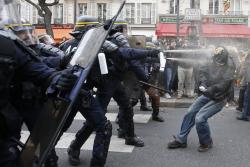 Today 12:00pm - As the Paris climate talks begin, Reporters Without Borders has released a report called Hostile Climate for Environmental Journalists that examines the often tragic difficulties for reporters covering environmental issues.

23 Nov 15 - Russia has a reputation as one of the more difficult states involved in international climate negotiations – and don't expect things to change at the latest UN conference in Paris.

23 Nov 15 - New Zealand is proposing in Paris a climate agreement that is not legally binding. PETER NEWELL, Professor of International Relations at the University of Sussex, explains why legally binding agreements don't work.

23 Nov 15 - Several regions have been meeting in the run-up to the Paris climate talks to deliberate on pressing climate issues. Africa is no exception.

23 Nov 15 - Most books report on what has already happened. John O'Brien has written one that describes the future.

16 Nov 15 - New and cheaper ways are rapidly being floated for countries with deep seas off their coasts to exploit the free energy from wind and tidal power.

9 Nov 15 - Environmental protection, hard-hitting policies on climate change, and a carbon price floor should all be part of a drive to rebuild the economy, a Maori economic development consultant says.
---
9 Nov 15 - A former key figure in UN climate change policy-making says economists now see that development without destroying the environment is the only way forward.
2 Nov 15 - New Zealand needs higher carbon prices, says the author of a handbook on the Emissions Trading Scheme.
27 Oct 15 - Businesses support carbon pricing, want New Zealand to take a more ambitious stand on climate change, and fear the country is in danger of losing its clean-green reputation, a new survey shows.
27 Oct 15 - By editor ADELIA HALLETT.- There's been a sea change in climate change. While some far-sighted New Zealand businesses have been planning for a carbon-constrained economy for some time, the rest of...
27 Oct 15 - Researchers say emissions reduction targets set by China, the US and Europe place harsh demands on the rest of the world, and could cast a pall over the Paris climate summit.
27 Oct 15 - Researchers say the economic costs of failing to take action on climate change will be much greater than previously thought – with average global incomes cut by almost a quarter.
21 Oct 15 - Business needs to take a clear stand on carbon pricing, says former Climate Change Ambassador Dr Adrian Macey.
19 Oct 15 - The world is watching as refugees flood into a Europe unprepared for the new arrivals.
12 Oct 15 - Recent trips by President Obama highlight the costs of adapting – or responding – to climate change that we are paying today and will pay tomorrow.
5 Oct 15 - Pacific island nations have a crucial role to play in efforts to advance a sustainable future, Secretary-General Ban Ki-moon told the region's leaders as they met at United Nations Headquarters.
5 Oct 15 - Australia's new prime minister, Malcolm Turnbull, has announced what he calls a "21st century government". This article is part of The Conversation's series focusing on what such a government should...
5 Oct 15 - China has added itself to the list of countries prepared to price carbon. Of course, Australia knows more about putting a national price on carbon than almost any other country. And it also knows...
---