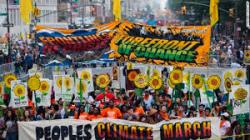 Monday - At the end of his summit meeting on the climate crisis, UN Secretary General Ban Ki-moon put out a list of accomplishments festooned with 46 bullet points, some of them marking concrete new pledges, others diaphanous phrases.

Monday - There were a few notable absentees among the more than 120 world leaders gathered in New York for last week's United Nations Climate Summit - and perhaps most notable of all was the head of the world's highest-emitting nation, China's President Xi Jinping.

Monday - Many of the biggest hitters in the global financial community, together managing an eye-watering $24 trillion of investment funds, have issued a powerful warning to political leaders about the risks of failing to establish clear policy on reducing greenhouse gas emissions.

Monday - Even as nations gathered in New York to discuss global-level action on climate change, there was strong recognition that cities, not countries, have so far played the pivotal role in the world's fight against climate change—and will continue to do so.

Monday - * Chile becomes the first South American country to tax carbon * UK to introduce fracking drilling law despite 99% opposition * US Homeland Security moves to tackle climate change risks * Hawaii's solar industry in precarious situation * The top 10 greenest cities in America * Avatar director James Cameron talks climate change

Monday - Australian businesses wanting to keep up to date with the international carbon market during their country's retreat from carbon pricing have formed a new regional agreement.
Monday - The business outlook for civil aviation is bright thanks mainly to rising Asian demand for aircraft. But airlines are expected to have a harder time, with tougher competition in Europe leading to a consolidation of the sector, according to the latest industry forecast.
---
Monday - Do we need a climate treaty, or could a simple political deal based on national pledges work just as well?
22 Sep 14 - New Zealanders' support for a shift to a sustainable economy is growing, according to new research from Colmar Brunton.
22 Sep 14 - New Zealanders are taking their cue on climate change from the Prime Minister, says social trends researcher Jill Caldwell.
22 Sep 14 - A new report called Better Growth, Better Climate draws the seductive conclusion that "we can create lasting economic growth while also tackling the immense risks of climate change".
22 Sep 14 - By TIM RADFORD.- New projections say the population of the planet will not stabilise at 9 billion sometime this century. In fact, there is an 80 per cent likelihood that, by 2100, it will reach at...
22 Sep 14 - In the lead-up to the UN leaders' summit on climate change (http://www.un.org/climatechange/summit), China is shifting up a gear in its drive towardsnational emissions trading.
22 Sep 14 - A new handbook shows how forward-looking communities around the world are already moving away from reliance on fossil fuels and generating their own power with 100 per cent renewables − while...
16 Sep 14 - By editor ADELIA HALLETT.- Voters in this weekend's general election face a simple choice when it comes to climate change – you either believe it is a real and massive problem requiring...
16 Sep 14 - Activists next week will try to seize an opportunity to put the climate movement alongside the Civil Rights and the Vietnam anti-war movements.
16 Sep 14 - The vast quantities of water needed to release oil and gas by fracturing rock formations are not available in large areas with the richest deposits – posing major challenges to the future viability...
8 Sep 14 - The Government has locked horns with one of New Zealand's leading business people over climate change and the new economy.
8 Sep 14 - Every member of the Horizon's Regional Council that worked on the controversial One Plan has left amid allegations of political interference in implementing the ground-breaking environmental rules.
---