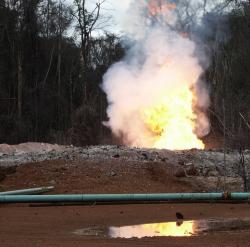 25 Jan 16 - The past year has been a momentous time for the world's forests, with both good and bad news. Fasten your seat belts, because 2016 promises to be another roller-coaster ride.

25 Jan 16 - The British government is investing more than £300m ($NZ659m) in building what Chancellor of the Excheque George Osborne has described as the first "proper" garden city in nearly a century, near Ebbsfleet, Kent.

25 Jan 16 - According to all the data, urban car use has peaked, but official traffic modelling forecasts a remarkable reversal.

18 Jan 16 - Fewer scare stories and an appeal to people's better natures are the key to getting voters on-side over environmental issues, says a politics expert.
18 Jan 16 - In an American lection year, with two parties dug in on opposite sides of the climate issue, perhaps only extreme weather will roil the debate.

18 Jan 16 - It's increasingly clear that there is something fundamentally wrong with the way humans run the world. There are many contradictions experienced daily that prove this: the widening social gaps between rich and poor, the paradox of obesity next to starvation, and the ongoing destruction of the planet for short-term private profit.

15 Dec 15 - By editor ADELIA HALLETT.- Two months ago, Northern Employers and Manufacturers' Association chief Kim Campbell let fly on climate change.
---
15 Dec 15 - The first big job facing new Climate Change Minister is the review of the Emissions Trading Scheme.
7 Dec 15 - The Paris climate summit came too late for Ioane Teitiota from the Pacific island nation of Kiribati, who made history when his case for asylum in New Zealand was rejected in September.
7 Dec 15 - Former NASA climate scientist James Hansen has called for a global "carbon fee" in which fossil fuels are taxed when they are produced or imported, rather than when they are consumed.
7 Dec 15 - In the run-up to the COP21 international climate summit in Paris, business leaders worldwide have shown substantial support for action on greenhouse gases.
7 Dec 15 - Innovative new research into clean energy technology shows there are viable alternatives to fossil fuels – provided there is enough political will and investment.
30 Nov 15 - As the Paris climate talks begin, Reporters Without Borders has released a report called Hostile Climate for Environmental Journalists that examines the often tragic difficulties for reporters...
23 Nov 15 - Russia has a reputation as one of the more difficult states involved in international climate negotiations – and don't expect things to change at the latest UN conference in Paris.
23 Nov 15 - New Zealand is proposing in Paris a climate agreement that is not legally binding. PETER NEWELL, Professor of International Relations at the University of Sussex, explains why legally binding...
23 Nov 15 - Several regions have been meeting in the run-up to the Paris climate talks to deliberate on pressing climate issues. Africa is no exception.
23 Nov 15 - Most books report on what has already happened. John O'Brien has written one that describes the future.
16 Nov 15 - New and cheaper ways are rapidly being floated for countries with deep seas off their coasts to exploit the free energy from wind and tidal power.
9 Nov 15 - Environmental protection, hard-hitting policies on climate change, and a carbon price floor should all be part of a drive to rebuild the economy, a Maori economic development consultant says.
---