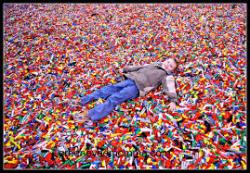 Monday - October 9, 2014, was a big day in eco-activism: Lego announced that it would not renew a product-placement deal with Shell, following concerted pressure from Greenpeace as part of a campaign to ban Arctic oil exploration by attacking firms associated with such activities.

Monday - Aerospace giant Lockheed Martin's excitement in the media announcement last week that it could make small-scale nuclear fusion power a reality in the next decade has understandably generated

13 Oct 14 - Australian companies could yet face a financial penalty for excessive greenhouse gas emissions.

13 Oct 14 - In a world wrestling with climate change and the need to phase out fossil fuels, nothing is more critical than making sure there are reliable and cost-effective clean energy technologies ready to fill the void.

6 Oct 14 - Australia's Greens have secured a deal with the Palmer United Party and Labor that effectively kills the federal government's plan to hand its environmental approval powers to the states under its "one-stop shop" policy.

6 Oct 14 - There was little at the recent UN Climate Summit in New York in the way of new climate policy announcements, but 27 countries did sign a new forest agreement — the New York Declaration on Forests.

29 Sep 14 - At the end of his summit meeting on the climate crisis, UN Secretary General Ban Ki-moon put out a list of accomplishments festooned with 46 bullet points, some of them marking concrete new pledges, others diaphanous phrases.
---
29 Sep 14 - There were a few notable absentees among the more than 120 world leaders gathered in New York for last week's United Nations Climate Summit - and perhaps most notable of all was the head of the...
29 Sep 14 - Many of the biggest hitters in the global financial community, together managing an eye-watering $24 trillion of investment funds, have issued a powerful warning to political leaders about the risks...
29 Sep 14 - Even as nations gathered in New York to discuss global-level action on climate change, there was strong recognition that cities, not countries, have so far played the pivotal role in the world's...
29 Sep 14 - * Chile becomes the first South American country to tax carbon * UK to introduce fracking drilling law despite 99% opposition * US Homeland Security moves to tackle climate change risks * Hawaii's...
29 Sep 14 - Australian businesses wanting to keep up to date with the international carbon market during their country's retreat from carbon pricing have formed a new regional agreement.
29 Sep 14 - The business outlook for civil aviation is bright thanks mainly to rising Asian demand for aircraft. But airlines are expected to have a harder time, with tougher competition in Europe leading to a...
29 Sep 14 - Do we need a climate treaty, or could a simple political deal based on national pledges work just as well?
22 Sep 14 - New Zealanders' support for a shift to a sustainable economy is growing, according to new research from Colmar Brunton.
22 Sep 14 - New Zealanders are taking their cue on climate change from the Prime Minister, says social trends researcher Jill Caldwell.
22 Sep 14 - A new report called Better Growth, Better Climate draws the seductive conclusion that "we can create lasting economic growth while also tackling the immense risks of climate change".
22 Sep 14 - By TIM RADFORD.- New projections say the population of the planet will not stabilise at 9 billion sometime this century. In fact, there is an 80 per cent likelihood that, by 2100, it will reach at...
22 Sep 14 - In the lead-up to the UN leaders' summit on climate change (http://www.un.org/climatechange/summit), China is shifting up a gear in its drive towardsnational emissions trading.
---