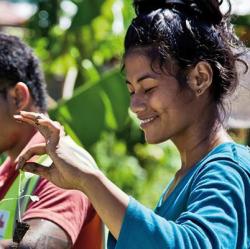 Monday - Pacific island nations have a crucial role to play in efforts to advance a sustainable future, Secretary-General Ban Ki-moon told the region's leaders as they met at United Nations Headquarters.

Monday - Australia's new prime minister, Malcolm Turnbull, has announced what he calls a "21st century government". This article is part of The Conversation's series focusing on what such a government should look like. John Woinarski and Stephen Garnett report:

Monday - China has added itself to the list of countries prepared to price carbon. Of course, Australia knows more about putting a national price on carbon than almost any other country. And it also knows about dismantling such a price.
28 Sep 15 - Volkswagen has set aside €6.5 billion to cover the costs of the growing scandal over cheating on emissions tests in the US.
21 Sep 15 - New Zealand came close to splitting agriculture off from its post-2020 emissions reduction target in a bid to save money, but dropped the idea amid fears of an international backlash.
21 Sep 15 - Climate Change Minister Tim Groser wanted New Zealand to cut greenhouse gas emissions by 15 per cent below 1990 levels by 2030, a Treasury email shows.
21 Sep 15 - Treasury bosses are not the only officials telling the Government that New Zealanders want a settled, broad agreement on climate change policy.
---
21 Sep 15 - No more "stop the boats" or "axe the tax". In announcing his challenge to Tony Abbott, Malcolm Turnbull promised to take Australian politics away from the mantrafication of policy by three-word chant.
21 Sep 15 - Researchers in India say its action on climate change is suffering because, unlike China, it has not developed the institutions needed to co-ordinate policy.
21 Sep 15 - Bio-derived sources of energy – wood, grass, dung and alcohol – have a rich history, yet have failed to command the "buzz" of solar, wind or even geothermal in public discussions regarding renewable...
14 Sep 15 - High government officials and business leaders have recommended cross-party consensus on climate change - something the Government has since ruled out.
14 Sep 15 - Russel Noman is chucking in politics for protest. And the 48-year-old MP – co-leader of the Green Party for nine years – could be forgiven for thinking that joining an organisation that operates on...
14 Sep 15 - The chairman of Australia's Climate Change Authority, Bernie Fraser, has quit – apparently after a long period of bad relations with Environment Minister Greg Hunt.
14 Sep 15 - Bernie Fraser's resignation as chairman of Australia's Climate Change Authority has left many wondering what is left of it and what its future might be.
14 Sep 15 - At the world's last blockbuster climate summit, in Copenhagen in 2009, the person in the president's chair was former EU climate commissioner and Danish environment minister Connie Hedegaard.
7 Sep 15 - A strong carbon price, a green investment bank and a climate commission are emerging as the basis of a political consensus on climate change policy – at least on one side of the House.
7 Sep 15 - The Australian Government has released its final draft for a cap on greenhouse gas emissions. The "safeguard mechanism" will form part of the government's central climate policy, and will fine large...
7 Sep 15 - Emissions trading needs to be backed by ambitious targets, transparent reporting and international accountability if it is to be effective in tackling climate change.
31 Aug 15 - What does your vision of a sustainable future look like? Some people imagine a scenario whereby technology solves the world's most pressing environmental problems.
---