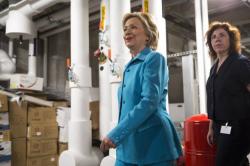 Monday - US presidential hopeful Hillary Clinton has begun to unveil components of her policy agenda on energy and climate change.

Monday - European researchers investigating ways to reduce greenhouse gas emissions to the internationally agreed safety level have arrived at the good news that we can just about achieve it – provided all nations show the political will to do so.

Monday - Ultimately, all of the oil we use to power our modern lives comes from living creatures such as algae – albeit ones that lived 3.5 billion years ago, before gradually morphing into fossil fuel.

27 Jul 15 - Prime Minister John Key has rejected calls for cross-party agreement on climate change policy.

27 Jul 15 - The visit last week of 65 mayors to the Vatican to discuss climate change, among other things, reflects the central role of cities in debates that for too long took place only at the global and national level.

27 Jul 15 - Over the past two decades, scientists have developed ways to predict how ecosystems will react to changing environmental conditions.

27 Jul 15 - Just over a year ago, Australia concluded a unique public policy experiment. For the preceding two years and two weeks, it had put a price on a range of greenhouse gas emitting activities, most significantly power generation.
---
20 Jul 15 - In the saga of mendacity that is the climate policy debate, no claim has been more audacious than the one now being told by the federal government about Australia's "success" in meeting its Kyoto...
20 Jul 15 - The Open Championship has returned to St Andrews, one of the world's oldest and most prestigious golf courses and one that has been recognised for its commitment to sustainability.
20 Jul 15 - Extreme storms and rising sea levels will threaten the existence of coastal cities worldwide, unless preventative action is undertaken.
20 Jul 15 - The risks of climate change are comparable to those posed by nuclear conflict, says a new report.
13 Jul 15 - Fossil fuel companies operating in the UK are accused by a financial monitoring group of a "staggering" disregard for their obligation to acknowledge the risks which climate change poses to them and...
8 Jul 15 - The terms of reference for the review of the Emissions Trading Scheme have not yet been set, says Climate Change Minister Tim Groser.
7 Jul 15 - Public meetings to discuss changes to the Permanent Forest Sink Initiative kick off in Northland today.
6 Jul 15 - It's not too late for New Zealand to become an international carbon trading hub, says pioneer carbon trader Nigel Brunel.
6 Jul 15 - Climate policy is in the Australian media yet again, but this time it might be different. The set of policy principles released by the Australian Climate Roundtable are extraordinary for two reasons.
6 Jul 15 - One of the much-heralded solutions to climate change which its supporters believe could enable the world to continue to burn fossil fuels looks likely to be a failure.
6 Jul 15 - The climate change crisis involves action from every country, every nation and every person, actor and environmental activist Robert Redford told the United Nations last week.
29 Jun 15 - A Dutch court has ordered the state to slash greenhouse gas emissions nationwide by at least 25 per cent by 2020, in a case that could serve as a blueprint for activists around the world.
---