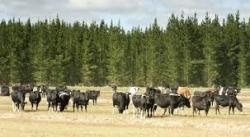 Monday - There is bad news for farmers, and good and bad news for industrial emitters under Labourís climate change policy, released yesterday.

Monday - Prime Minister John Key launched Nationalís election campaign yesterday without mentioning the environment.

Monday - The United Nations expects more than 300 initiatives to be announced next week at a major world conference in Samoa aimed at fostering partnerships with small island developing states.

Monday - An effective treaty to reduce greenhouse gas emissions will probably remain elusive, according to a new research study, because the steps likely to win political agreement would be ineffective, while those that could produce results would be politically unfeasible.

Monday - It has been suggested that a recent fall in recycling rates in Britain is due to green fatigue, caused by the confusing number of recycling bins presented to householders for different materials.
Monday - An international energy market watcher is predicting price rises in European carbon.

18 Aug 14 - Companies representing a quarter of the New Zealand economy are calling on all political parties to make a long-term commitment to sustainable business.
---
18 Aug 14 - There is still an element of climate change scepticism in New Zealand business, says a leading policy analyst.
18 Aug 14 - Statoil, the Norwegian state-owned company, has announced that it has failed to find commercial quantities of oil and gas in the Barents Sea this year.
18 Aug 14 - Transportation continues to generate a large proportion of emissions worldwide, even as emissions from other areas of the economy fall.
11 Aug 14 - Xi Jinping is going, and so is Barack Obama, but John Key is staying home.
11 Aug 14 - Adapting for climate change is no longer just a recommendation in New York State - it's about to become the law.
11 Aug 14 - A carbon price is still the best and fairest way to achieve emissions cuts, but as Australia and New Zealand show, itís not easy to get it right. How could carbon pricing be improved?
11 Aug 14 - FEATURE: As climate talks heat up, experts debate whether natural gas fracking will turn brown economies green.
11 Aug 14 - Researchers warn that the cost of airline tickets will need to rise steadily to decrease demand and counteract the effects of aviationís growing carbon emissions.
11 Aug 14 - The European Commission is reviewing its impact assessment guidelines amid accusations that science is becoming increasingly politicised and scientists manipulated by policymakers and powerful...
4 Aug 14 - New Zealandís tortuously slow reaction to the threats of climate change has been documented.
1 Aug 14 - Federated Farmers environment spokesman IAN MACKENZIE on why making rivers swimmable isn't practical.
1 Aug 14 - A new marine reserve and management law for Marlborough passed by Parliament is a template for seafood and environment conservation measures throughout New Zealand, says Seafood New Zealand.
---