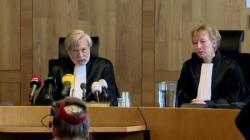 Monday - A Dutch court has ordered the state to slash greenhouse gas emissions nationwide by at least 25 per cent by 2020, in a case that could serve as a blueprint for activists around the world.

22 Jun 15 - In a document remarkable for its sweep and its depth, Pope Francis last week unveiled his long-awaited encyclical on the environment, in essence calling on humanity to address a climate and environmental crisis that calls for urgent global action.

22 Jun 15 - Next time you are in the shower using a refreshing exfoliating shower gel, take a moment to check what the scrubbing agents are made of.

8 Jun 15 - An environmental lobby group is calling for a cross-sector working group on New Zealand's post-2020 emissions reduction target.

8 Jun 15 - Leaders of G7 countries at the summit in Germany are being called on to show leadership by pledging to end all coal burning for electricity generation in the industrialised world.

2 Jun 15 - Too many New Zealand companies just don't get sustainable business, says the new Green Party co-leader.

2 Jun 15 - Shell's recent AGM was tumultuous. Shareholders voted overwhelmingly for the company to report on whether its activities were compatible with promised government action on climate change.
---
25 May 15 - The Government is developing the architecture to auction carbon credits.
25 May 15 - Prospects for global energy markets have been reshaped by two recent pieces of news, one of which helps to explain the other.
18 May 15 - Farmers must find ways of farming more sustainably while maintaining production, warns the Foundation for Arable Research.
18 May 15 - Republican New Jersey governor and presidential hopeful Chris Christie briefly made news last week when he said that global warming is real and that "human activity contributes to it."
18 May 15 - When the price of crude oil dropped from US$110 a barrel in mid-2014 to below US$50 by January 2015, there were fears that it would destroy the "green revolution".
18 May 15 - Last week's Australian Budget is very disappointing in the broad area of environmental protection.
11 May 15 - New Zealand could turn "green into gold" by capitalising on emerging clean technologies and showing leadership on climate change.
4 May 15 - Just five solar-power installation companies could create as many jobs as the Rotowaru coal mine, a new analysis says.
4 May 15 - Single-use plastic bags could soon become a thing of the past in European supermarkets.
28 Apr 15 - The results of the Australian Government's first reverse auction (https://theconversation.com/explainer-how-does-todays-direct-action-reverse-auction-work-40152) of carbon-cutting projects have been...
20 Apr 15 - The almost 600 environmental groups that hold tax-deductibility status in Australia are being scrutinised by a Federal Government inquiry, with reports that more than 100 of them face being struck...
13 Apr 15 - Revival of traditional rainwater harvesting has transformed the driest state in India, and could be used to combat the effects of climate change across the world.
---