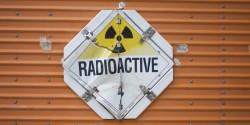 19 May 17 - Leaving the EU treaty that prevents radioactive waste falling into the wrong hands could prove costly for the UK nuclear industry.

4 May 17 - A new study provides evidence that humans are capable of radically altering the world around us, and offers hope in the face of climate change.

3 May 17 - The 400 million people who depend on the predictability of the River Nile face an uncertain future as global warming delivers more extreme weather.

26 Apr 17 - Landowners with 10,000 hectares of native forest could earn $1.5 million a year in carbon credits, a new report says.

18 Apr 17 - Climate minister Paula Bennett says carbon prices need to go higher, but she won't be putting a price on agricultural emissions and she doesn't think New Zealand needs a climate commission.

18 Apr 17 - Simon Upton's nomination to be the next Parliamentary Commissioner for the Environment has been confirmed by Parliament, but it wasn't unanimous.

18 Apr 17 - Any lingering hope that a worldwide nuclear power renaissance would contribute to combating climate change appears to have been dashed by US company Westinghouse, the largest provider of nuclear technology in the world, filing for bankruptcy, and the severe financial difficulties of its Japanese parent company, Toshiba.
---
13 Apr 17 - Today could see one of the most important debates Parliament has ever had – a special session on proposals to make New Zealand carbon-neutral by the second half of the century.
10 Apr 17 - Proposals for a carbon-neutral New Zealand will go before Parliament this week, as the nation's youth start to apply political pressure over the world they will inherit.
7 Apr 17 - The Government's changes to the Resource Management Act scraped through Parliament last night.
6 Apr 17 - The state of New Zealand's environment is on the agenda for the country's politicians today.
5 Apr 17 - Debate on changes to the Resource Management Act will continue in Parliament today.
4 Apr 17 - By 2020, fossil fuels will no longer be subsidised by the taxpayer, anywhere in the world. And by then, carbon dioxide emissions worldwide will have started to fall.
30 Mar 17 - Officials will report to the Government in the middle of the year on the next round of changes to the Emissions Trading Scheme.
27 Mar 17 - Pollution of waterways by agriculture must be tackled to protect the world's fresh water, the OECD is warning.
22 Mar 17 - New Zealand has received the strongest indication yet of cross-party agreement on climate change, with climate minister and deputy prime minister Paula Bennett saying she can work with a new...
20 Mar 17 - Two major environmental reports and a new sustainability law are on the agenda this week.
20 Mar 17 - Windflow Technology, the unprofitable wind turbine manufacturer, has widened its first-half loss and says it needs new injections of capital.
16 Mar 17 - Without nature, humans could be neither healthy nor happy. And yet the natural world can be completely ransacked without causing even a tiny blip on our usual measures of economic progress or poverty.
---