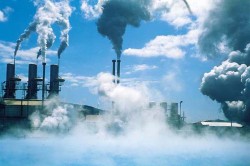 Friday - The fossil fuel industry has spent many millions of dollars on confusing the public about climate change. But the role of vested interests in climate science denial is only half the picture.

Thursday - A carbon price floor would be challenging but would give businesses certainty and guarantee foresters a price that made planting trees worthwhile, officials told the Government.

Thursday - If you despair of Australia's lacklustre climate policies, you might take heart from the Greens' stated goal of limiting global warming to 1.5degC. But are the party's own policies up to the job?

Wednesday - The decision by four Australian Catholic orders to divest fully from fossil fuels can be interpreted as a direct response to the encyclical on the environment, issued by Pope Francis almost exactly a year ago.
20 Jun 16 - By DEBORAH COTTON | In April 2011, not long after Julia Gillard was returned to power in the 2010 federal election, I asked a representative sample of Australians about their attitudes to climate policy.

14 Jun 16 - Part three of this series examines coal's role in the development of industrial relations. In New Zealand, it was a dispute at the West Coast's Blackball mine, over a lunch break, that led to the formation of the Federation of Labour (the "Red Feds"), and then to the birth of the Labour Party.

10 Jun 16 - As the world moves to combat climate change, it's increasingly doubtful that coal will continue to be a viable energy source, because of its high greenhouse gas emissions. But coal played a vital role in the Industrial Revolution and continues to fuel some of the world's largest economies. This is the first in a series looks at coal's past, present and uncertain future, starting today with how it's formed.
---
30 May 16 - The Australian Government on Friday made a low-key announcement of its new Low Emissions Technology Roadmap. To be developed by the CSIRO, it will aim to "highlight areas of growth in Australia's...
27 May 16 - Revenue from the scrapping of the one-for-two subsidy will not be earmarked to fund emissions-reduction policies.
26 May 16 - Carbon markets will expand on the back of the Paris Agreement, and carbon prices will need to rise to between $50 and $66 for the world to meet the climate change agreement's goals, a new survey says.
25 May 16 - Coastal management in Australia is subject to competing interests and challenges. These range from land use and strategic planning issues to ecosystems preservation.
24 May 16 - The big oil companies' on-off affair with renewable energies seems to be back on track.
23 May 16 - One week into Australia's extended federal election campaign, climate has not featured prominently.
23 May 16 - The Paris climate agreement has been praised for sending a strong signal to the world that we are now serious about cutting greenhouse emissions.
20 May 16 - The urban population of developing countries will double by 2030, while the area covered by cities could triple, says a new United Nations report.
19 May 16 - The Canadian province of Ontario is going carbon trading.
19 May 16 - Dust and sand storms in China have intensified and now pose provocative geopolitical challenges. Traces of China's deserts have been found as far away as New Zealand and the French Alps.
17 May 16 - Federated Farmers told the select committee considering the Resource Legislation Amendment Bill yesterday that current proposals will reduce the opportunity for public input, reduce opportunity for...
16 May 16 - Amidst the turmoil of the presidential impeachment process, members of Brazil's Congress are set to dismantle environmental protection laws.
---