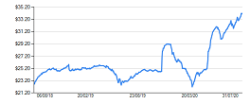 Tuesday - Spot NZUs opened at $34 bid and $34 offered this morning after last fixing at $34.05.

30 Jul 20 - Climate change is now swallowing the lion's share of the Government's environmental spending, prompting suggestions we should have a dedicated Climate Change Ministry.

28 Jul 20 - Today is the last day to enter the Sustainable Business Awards – get yours in by 5pm.

27 Jul 20 - Paying industry not to use electricity during peak demand should be considered as an alternative to a multi-billion-dollar new hydro scheme, an energy expert says.

27 Jul 20 - Companies responsible for 14 per cent of Australia's industrial emissions are coming together to figure out how to decarbonise the sector.

23 Jul 20 - Agricultural intensification is pushing up Canterbury's greenhouse gas emissions - but it's a different story in most other regions.

23 Jul 20 - Domestic carbon prices hit another record yesterday, with spot NZUs trading at $33.55.
---
21 Jul 20 - New Zealand's 2030 emissions reduction target might be consistent with the Paris Agreement – it all depends on how you look at it, officials have told the Government.
13 Jul 20 - The future of the Marsden Point oil refinery, the Glenbrook steel mill and large-scale wood processing are all at risk as New Zealand decarbonises, infrastructure and regional development minister...
9 Jul 20 - One of New Zealand's biggest greenhouse gas emitters is closing operations in New Zealand, potentially cutting the country's missions by more than 1.5 million tonnes a year.
9 Jul 20 - New Zealand carbon prices are at a new high – but sellers are still not coming to the party.
7 Jul 20 - If you're looking for pioneering carbon dealer Nigel Brunel outside trading hours, chances are you'll find him somewhere around Auckland on his bike.
3 Jul 20 - Climate minister James Shaw is nailing his colours to the mast of the Climate Change Commission.
1 Jul 20 - Parliament is sitting under urgency today.
26 Jun 20 - The third leg of the Government's climate change legislation trifecta came home this week.
24 Jun 20 - The Climate Change Commission has again told the Government that assessing the climate impact of projects should be mandatory under a new fast-track consenting process.
19 Jun 20 - By GAVIN EVANS | New funding deals New Zealand Green Investment Finance is working up will show a variety of low-carbon benefits from a range of sectors, chief executive Craig Weise says.
17 Jun 20 - Parliament has passed major changes to the Emissions Trading Scheme, bringing agricultural emissions into the scheme and, for the first time, setting a cap on emissions.
15 Jun 20 - By ADELIA HALLETT | A rapid rise in the price of carbon could leave some of us facing winter without fresh tomatoes. But that's as it should be.
---