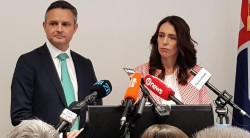 12 Oct 20 - Back in pre-COVID times last year, when New Zealand passed the Zero Carbon Act, Prime Minister Jacinda Ardern insisted "New Zealand will not be a slow-follower" on climate change. But how has she performed?

5 Oct 20 - The English city of York plans to build Britain's biggest zero-carbon housing project, boasting 600 homes in car-free cycling paradises full of fruit trees and allotments.

2 Oct 20 - Investors representing more $1.5 trillion in funds say their enthusiasm for low-carbon strategies hasn't been dented by the economic impacts of the covid-19 pandemic.

29 Sep 20 - Picking winners has been anathema to Australian policy-making for decades. The federal government's technology investment roadmap bucks the trend, targeting public investments in specific low-emissions technologies.

29 Sep 20 - UNITED STATES scientists have worked out how to feed nine billion people and save wild life from extinction, both at the same time – thanks to healthy lentils.

29 Sep 20 - Veteran New South Wales Labor right-winger Joel Fitzgibbon has threatened to quit the shadow cabinet if the opposition adopts a medium-term emissions reduction target he cannot live with.

18 Sep 20 - China is considering carbon neutrality as part of its long term climate plan, the country's foreign ministry announced following a summit with EU leaders.
---
17 Sep 20 - Ten years ago, a group of New Zealand chief executives was talking to former World Bank chief economist Lord Nicholas Stern about how this country could lead the world in low-carbon technology.
15 Sep 20 - The Asian Infrastructure Investment Bank is promising to end all coal financing, but has yet to write this into policy.
14 Sep 20 - Spot NZUs opened at $34.20 bid and $34.50 offered on CommTrade this morning, after last fixing at $34.30.
14 Sep 20 - Ten years ago, LanzaTech – then a New Zealand company – had signed a deal with one of China's largest coal producers to make fuels and chemicals from waste.
11 Sep 20 - France hopes to collaborate with Germany on clean hydrogen projects as part of Europe's green recovery from the pandemic, the country's finance minister has said ahead of a meeting with his German...
4 Sep 20 - Spot NZUs opened at $33.90 bid and $34.25 offered on CommTrade this morning after last fixing at $34.
31 Aug 20 - Ten years ago, New Zealand companies were racing to develop sustainable plastics and polymers.
28 Aug 20 - Soil and climate change is one of the topics on the agenda for an Organics Aotearoa New Zealand webinar today.
28 Aug 20 - A new study has uncovered scant disclosure by green bond issuers of their environmental impact, and a lack of social safeguards to protect communities from unintended consequences of financed...
28 Aug 20 - A new app tracks your carbon footprint in real-time. It's funded by BP.
26 Aug 20 - Cutting collection of household rubbish to fortnightly instead of weekly would reduce greenhouse gas emissions, the industry says.
26 Aug 20 - Spot NZUs opened at $33.75 bid and $34.10 offered on CommTrade this morning, after last fixing at $34.04.
---