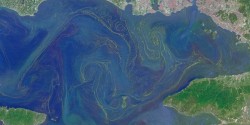 Tuesday - The deep past has cruel lessons for the near future, for example how ocean oxygen depletion can stifle the marine world. It could recur.

Tuesday - New studies confirm climate change's triple risk to Europe. The heat is on, lives are at risk and the floods are arriving earlier.

10 Aug 17 - It was freshwater at 10 paces on the first day of the Environmental Defence Society's Tipping Points conference yesterday, with both National and Labour releasing their policies.

31 Jul 17 - Seven weeks out from the general election, we've finally got a political leader talking climate change policy – and it's Winston Peters.

25 Jul 17 - Paying landowners not to cut down trees is cheaper than the carbon-related costs the destruction of the forests would cause, new research shows.

25 Jul 17 - Climate change campaigns that focus on correcting public beliefs about scientific consensus are likely to backfire and undermine policy efforts, according to an expert commentary.
17 Jul 17 - Summer in Auckland could, by the end of the century, be as hot as summer in Yokohama is now, a new report says.
---
13 Jul 17 - Climate scientists will be able to more accurately study Earth's temperature changes, thanks to a global database.
13 Jul 17 - Climate history locked in stalagmite evidence warns of 10,000 years of drought – 100 centuries – to come in the Middle East.
6 Jul 17 - The Ministry for the Environment is to get a new science adviser.
5 Jul 17 - Yet another study has exposed the cruel cost of climate change as it increases US poverty. It could be worse than the Great Recession.
3 Jul 17 - HALF-A-DEGREE of warming made a big difference to the type of weather Earth experienced in the past, scientists say.
28 Jun 17 - US academics are arguing with ferocity about how to achieve a fossil fuel phase out. But, for now, the debate is entirely academic.
21 Jun 17 - Parts of the agricultural sector are calling for farming to be included in the Emissions Trading Scheme and for a price on water.
21 Jun 17 - US scientists have just worked out how many lives, and at what price, solar power can deliver.
20 Jun 17 - Adaptation is about survival. Mitigation is about finding and implementing solutions to prevent the need to go into survival mode, says DR ANN SMITH chief executive of Enviro-Mark Solutions
19 Jun 17 - Canadian scientists have to think again as unusual Arctic warmth puts shipping at risk and icebergs freeze climate research plans.
15 Jun 17 - New Zealand's claims that its commercial fisheries are sustainably managed are under fire from international scientists.
9 Jun 17 - NIWA is investing $18 million in new supercomputers that will significantly enhance scientists' abilities to solve crucial issues facing the country.
---