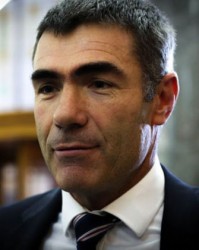 Today 10:00am - The Government is publicly acknowledging that the dairy industry is running into environmental limits.

Today 10:00am - Scientists have long been aware of a forest's ability to absorb carbon, but a new US study has discovered trees that emit methane.

21 Apr 17 - Chalk up another climate milestone … atmospheric carbon dioxide concentrations hit 410 parts-per-million this week, the highest they've been in more than 15 million years.

20 Apr 17 - The Harvard scientist who pioneered a "bionic leaf" that could generate the production of fuel has taken artificial photosynthesis a step further.

19 Apr 17 - By TIM RADFORD | Keep that seat belt buckled − it could be a bumpy flight. New research predicts that severe clear air turbulence in the stratosphere could increase by 149 per cent because of climate change.
12 Apr 17 - New Zealand's waterways are in trouble and climate change is making it worse, the Prime Minister's chief science adviser is warning.

10 Apr 17 - The world is "meandering into a failed future" because of its unwillingness to take decisive action on climate change, a leading UK academic has warned.
---
10 Apr 17 - Even in the white-out world of ice, the Arctic is growing greener. Plankton blooms below the frozen ocean and in Greenland's icy mountains meltwater ponds become little ecosystems that will...
7 Apr 17 - Spare a thought for the farmers of America: climate change is going to make their lives more difficult.
5 Apr 17 - The area of the world, and the numbers of city dwellers, exposed to serious risk from extreme heat will multiply later this century even if the world's nations keep their promise and contain global...
4 Apr 17 - By 2020, fossil fuels will no longer be subsidised by the taxpayer, anywhere in the world. And by then, carbon dioxide emissions worldwide will have started to fall.
3 Apr 17 - Substantial reductions in the intensity of greenhouse gas emissions at a South Canterbury farm show environmental gains can be made hand in hand with a farm's growth, government scientists say.
31 Mar 17 - Far below the Dead Sea, between Israel, Jordan and Palestinian territory, researchers have found evidence of a drought that has no precedent in human experience.
30 Mar 17 - Climate scientists puzzled by the traffic of carbon between soil and air might have to think more deeply about the role played by soil microbes − the planet's smallest inhabitants.
29 Mar 17 - Former environment minister Simon Upton – who last week delivered a major report critical of New Zealand's environmental performance – is likely to be the next Parliamentary Commissioner for the...
27 Mar 17 - The future for China is likely to become increasingly unclear – and lurking behind the obscured outlook in the nation's capital is the spectre of climate change.
27 Mar 17 - Scientists in the US have proved it yet again that, in a rapidly warming world, mammals face a diminished future.
23 Mar 17 - Scientists in California who turned a patch of natural grassland into a laboratory have established a subtle link between flowering times and the mix of species in an ecosystem – indicating that...
22 Mar 17 - If anything, it's worse than expected: sweeping cutbacks to environmental programmes; an abandonment of efforts aimed at cleaning up air and water pollution around the US; and, most worrying for the...
---