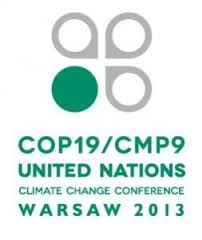 29 Nov 13 - Almost 200 countries have signed a deal on climate change in Warsaw, marking the start of a journey toward a binding international agreement at the 2015 UN climate talks in Paris.

22 Nov 13 - Climate Change Minister Tim Groser has put New Zealand's emissions-reduction credentials to the COP19 gathering in Warsaw.

22 Nov 13 - The European Union says it is seeking a balanced package of decisions out of Warsaw to advance international climate action.

15 Nov 13 - COP19 will be the critical test of the international community's will to prevent dangerous climate change, says Green Party climate change spokesman Kennedy Graham.

15 Nov 13 - Canada has officially applauded the decision by Australian Prime Minister Tony Abbott to repeal the country's carbon tax.
15 Nov 13 - With COP19 under way in Warsaw, CARBON MARKET SOLUTIONS looks at the background to international climate change agreements:
11 Nov 13 - The NZU market finished the week on a subdued note, as selling interest dries up for now. OMFinancial reports:
---
8 Nov 13 - Climate Change Minister Tim Groser says that next week's COP19 conference in Poland will lay the groundwork for a new international agreement on tackling climate change.
8 Nov 13 - A young man with a commerce degree and an interest in alternate energy will represent New Zealand at COP19 in Warsaw next week.
1 Nov 13 - New Zealand's expulsion from international carbon markets was a factor in the Government's setting of this country's 2020 emissions reduction target.
25 Oct 13 - A new government might not auction carbon units in 2015.
25 Oct 13 - Carbon Market Solutions chief WAYNE KING continues his analysis of ways in which climate change is being addressed in the Pacific:
11 Oct 13 - Westpac's carbon analysts cast their eyes across the international carbon markets.
4 Oct 13 - The Government says it has made no decisions yet on the auctioning of carbon credits.
20 Sep 13 - Our previous opinion piece considered the increasing impacts of climate change on small island countries, such as our Pacific neighbours, but which also apply to other small island countries such as...
30 Aug 13 - Last Sunday, Radio New Zealand's Down The List programme turned its satirical eye on New Zealand's 2020 emissions reduction target.
30 Aug 13 - While we here in New Zealand are worried about our pay checks and the next iphone due to emerge shortly, some thought needs to go out to our Pacific neighbours, says Carbon Market Solutions.
23 Aug 13 - New Zealand's 2020 emissions reduction target will be implemented under Kyoto Protocol rules.
23 Aug 13 - Leading climate policy and science experts say the Government's emissions reduction target is "markedly inadequate and disappointing".
---