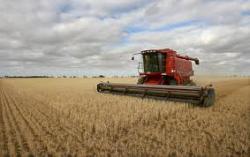 11 Jul 14 - Australian farmers and rural land owners are being told that they will be given powerful and direct incentives to store carbon in the land under the federal government's new climate policy.

13 Jun 14 - Australia's Emissions Reduction Fund is likely to be under-supplied when it comes to market next month, a new report says.

13 Jun 14 - As delegates gather once again for climate talks in Bonn, the question has to be asked: after decades of conferences, committees, procedures and protocols, is the multilateral approach to tackling climate change working?

30 May 14 - A litigator turned forest manager says that the Government's surprise move to close an arbitrage loophole for forest owners could be legally challenged.

23 May 14 - Participation by forestry in the Emissions Trading Scheme will come to a sudden halt because the Government has shown it will change the rules at the drop of a hat, industry sources say.

23 May 14 - The Government feared that an "arbitrage loophole" allowing forest owners to move in and out of the Emissions Trading Scheme could cost it up to $231 million over the next two years.

23 May 14 - Domestic carbon prices are up 25 per cent on last week – and are still climbing.
---
16 May 14 - The Maori Party says it is being forced against its will to support Government moves to stamp out arbitrage by one sector of the carbon market.
16 May 14 - The domestic market traded up this morning on news that the Government plans to stop owners of post-1989 forests from using Kyoto credits to meet exiting obligations.
16 May 14 - The Government says it is targeting post-1989 forest owners with its anti-arbitrage moves because it is the only sector that can move in and out of the Emissions Trading Scheme.
9 May 14 - The Government says it is unlikely to auction carbon units before 2016.
9 May 14 - Nearly 34 million carbon credits were traded on the New Zealand market last month – up 10 million on the previous month but down on the same time last year.
9 May 14 - The state of Australia's environment is a real worry – the report cards exist to prove it.
2 May 14 - Nearly seven million NZUs have been issued so far this year to owners of post-1989 forests.
17 Apr 14 - New Zealand's latest Greenhouse Gas Inventory submitted to the UN confirms National's policies are driving climate change, the Green Party says.
11 Apr 14 - New Zealanders' love affair with cars and cows has pushed our greenhouse gas emissions up by 25 per cent.
4 Apr 14 - By PROF NICK ROWLEY.- In Australia, any sense of the need for an urgent policy response has stalled, despite this week's reminder from the IPCC of the threats the country faces – not to mention the...
21 Mar 14 - Only a quarter of post-1989 forest owners registered in the Emissions Trading Scheme have submitted their 2013 emissions returns.
28 Feb 14 - The Climate Change Authority's new report on emission reduction targets makes a compelling argument for Australia to go much further in cutting greenhouse gas emissions, writes CLIVE HAMILTON,...
---