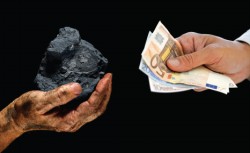 19 Aug 16 - New Zealand is stepping up the hunt for sources of quality carbon credits to help to meet its international emissions reduction targets.

18 Aug 16 - Carbon budgeting and a climate commission are not on the table for cross-party talks on climate change.
16 Aug 16 - Some of New Zealand's largest carbon emitters, along with forestry companies and even iwi are among the organisations that used cheap EURs to meet their liabilities under the Emissions Trading Scheme, a new report shows.
10 Aug 16 - Farmers – already exempt from liability for the majority of greenhouse gas emissions from their businesses – urged the Government to keep other subsidies in place to further protect them from carbon pricing.

18 Jul 16 - New Zealand needs a carbon tax as well as the Emissions Trading Scheme if it is to meet its promise to halve greenhouse gas emissions by 2050, new research shows.
12 Jul 16 - New Zealand will not get forestry investment on the scale needed to tackle climate change unless it cuts risk associated with the carbon market, says a company that planted 6500 hectares of carbon forests in the heyday of the Emissions Trading Scheme.
7 Jul 16 - Whether we consider wild weather, unprecedented Arctic melting and global temperatures, or the Great Barrier Reef, the global environment is generating alarming news.
---
7 Jul 16 - The final chapter of International Emissions Trading Association's oral history of the carbon market is out.
1 Jul 16 - The Paris climate agreement saw countries pledge to limit global warming to well below 2degC, and to aim to keep it within 1.5deg. The problem is that countries' current emissions targets are not...
29 Jun 16 - Carbon dioxide emissions are rising faster than ever – and political claims that population growth is causing it don't help, says one of New Zealand's leading climate scientists.
23 Jun 16 - The role of carbon funds in the growth of the carbon market is the subject of the fifth chapter of IETA's oral history of the carbon market, From Kyoto to Paris.
22 Jun 16 - The Government is unlikely to use New Zealand's banked carbon credits to make-good on hot-air credits we have already surrendered internationally, a Parliamentary select committee has heard.
20 Jun 16 - Climate Change Minister Paula Bennett says New Zealand might have to ratify the Paris Agreement on climate change this year, as large countries threaten to lock us out of the process to set the...
9 Jun 16 - Are you ready for the next instalment in the story of the birth of the world's carbon markets?
26 May 16 - Carbon prices jumped this afternoon on confirmation that the one-for-two subsidy is to be phased out, and could reach $20 by the end of the year.
26 May 16 - New Zealand's net greenhouse gas emissions have gone up 19 per cent under the National Government – and Climate Change Minister Paula Bennett is blaming population growth.
26 May 16 - More than a quarter of the units New Zealand used to meet its Kyoto commitments were hot-air credits, Climate Change Minister Paula Bennett said in Parliament yesterday.
26 May 16 - If the development of international carbon markets is your idea of a good story, settle back with your headphones and listen to this.
25 May 16 - The Paris Agreement could well come into force next year, says a New Zealander leading work to flesh out the details of the new global climate change pact.
---