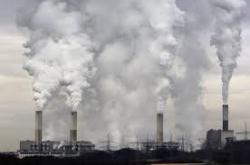 Monday - Scientists are calling for rapid cuts in the use of fossil fuels in the wake of data out today showing we have almost used up our fossil-fuel credit.

16 Sep 14 - With the failure of international agreements to fight climate change, the way is open to viewing the role of renewables as more than agents for reducing carbon emissions. Indeed, is it possible for countries to build their manufacturing industries, enhance their energy security — and contribute to reducing carbon emissions?

1 Sep 14 - Negotiating a global agreement to replace the Kyoto Protocol at climate change talks in Paris next year is critical to the survival of society, a visiting Nobel Prize-winning scientist says.

1 Sep 14 - Forest owners like the Labour Party's plan to set up an independent climate commission.

25 Aug 14 - There is bad news for farmers, and good and bad news for industrial emitters under Labour's climate change policy, released yesterday.

25 Aug 14 - An effective treaty to reduce greenhouse gas emissions will probably remain elusive, according to a new research study, because the steps likely to win political agreement would be ineffective, while those that could produce results would be politically unfeasible.
11 Aug 14 - More than 150 million NZUs are being held in accounts in the Emissions Units Register.
---
11 Aug 14 - A carbon price is still the best and fairest way to achieve emissions cuts, but as Australia and New Zealand show, it's not easy to get it right. How could carbon pricing be improved?
11 Aug 14 - By KAROLINA WYSOCZANSKA.- During Chinese premier Li Keqiang's last visit to Britain, China signed a series of deals on energy and low carbon technology, and a declaration of cooperation on climate...
1 Aug 14 - New Zealand might face claims under free-trade agreements for losses caused as a result of changes to the Emissions Trading Scheme.
11 Jul 14 - Australian farmers and rural land owners are being told that they will be given powerful and direct incentives to store carbon in the land under the federal government's new climate policy.
13 Jun 14 - Australia's Emissions Reduction Fund is likely to be under-supplied when it comes to market next month, a new report says.
13 Jun 14 - As delegates gather once again for climate talks in Bonn, the question has to be asked: after decades of conferences, committees, procedures and protocols, is the multilateral approach to tackling...
30 May 14 - A litigator turned forest manager says that the Government's surprise move to close an arbitrage loophole for forest owners could be legally challenged.
23 May 14 - Participation by forestry in the Emissions Trading Scheme will come to a sudden halt because the Government has shown it will change the rules at the drop of a hat, industry sources say.
23 May 14 - The Government feared that an "arbitrage loophole" allowing forest owners to move in and out of the Emissions Trading Scheme could cost it up to $231 million over the next two years.
23 May 14 - Domestic carbon prices are up 25 per cent on last week – and are still climbing.
16 May 14 - The Maori Party says it is being forced against its will to support Government moves to stamp out arbitrage by one sector of the carbon market.
16 May 14 - The domestic market traded up this morning on news that the Government plans to stop owners of post-1989 forests from using Kyoto credits to meet exiting obligations.
---