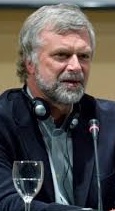 Wednesday - Carbon budgeting and an independent statutory body that reports on the Government's performance have been critical to the United Kingdom's success in cutting greenhouse gases, says a visiting expert.

Tuesday - Climate Change Minister Paula has again said that carbon prices need to be higher.
21 Apr 16 - Any carbon market controls in New Zealand's Emissions Trading Scheme should be based on supply, not price, says an international business organisation promoting markets to reduce climate change.

20 Apr 16 - Accusations that almost all the international units brought into the Emissions Trading Scheme are fraudulent are an exaggeration, says an expert who believes that the scheme could generate a nice international export in carbon credits.

19 Apr 16 - By editor ADELIA HALLETT | A climate change report released today by worried scientists should shake all New Zealanders, from the prime minister down, to their core.

18 Apr 16 - New Zealand's determination to use carried-over international carbon credits to meet its 2020 emissions reduction target make it party to an international fraud, a new report says.

14 Apr 16 - New Zealand is to join a select group of countries talking about developing a global carbon market.
---
13 Apr 16 - It could be year or more before New Zealand ratifies the Paris Agreement on climate change.
12 Apr 16 - New Zealand will sign the Paris Agreement in New York on April 22.
12 Apr 16 - An Australian think-tank claims to have done the impossible – come up with an effective climate policy that both sides of the political divide can live with.
12 Apr 16 - It seems there was a would-be John le Carre lurking among New Zealand's diplomatic corps at the Paris climate negotiations in December.
11 Apr 16 - New Zealand is building a "club of countries" to set the rules for international carbon trading.
11 Apr 16 - It's not yet clear whether New Zealand will be among the nations signing the Paris Agreement on climate change later this month.
5 Apr 16 - Air New Zealand's move to offset greenhouse gas emissions from its aircraft by supporting the restoration of native forests is picking up international momentum.
5 Apr 16 - Restoration ecologist and carbon sequestration expert Dr NEIL MITCHELL expands on his claim that New Zealand should be using native forests to offset greenhouse gas emissions
30 Mar 16 - Replacing just 10 per cent of the cars in New Zealand with electric vehicles would cut the country's greenhouse gas emissions by a million tonnes a year.
14 Mar 16 - More than 300m tonnes of plastics are manufactured each year for use in everything from packaging to clothing.
11 Mar 16 - It seems the Liberal Party is still having trouble letting go of climate denial, judging by the New South Wales branch's demand that the Turnbull government arrange a series of public debates on...
7 Mar 16 - The long and sometimes rocky road to the development of an emissions trading market has been mapped.
---