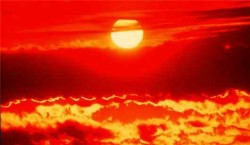 Today 9:00am - The Government is refusing to support a motion acknowledging that a third of the world's population is now exposed to deadly heatwaves because of climate change.

Wednesday - The Government is dealing with criticism of its industrial emissions target by turning it into a bottom line instead of a goal.
Tuesday - Parliament will be asked tomorrow to note that up to a third of the world's population is now exposed to deadly heatwaves as a result of climate change.

Tuesday - Seas are rising faster, prompting scientists to warn that coastal adaptation plans should be put in place urgently.

Monday - Federated Farmers is warning politicians of "consequences" if agricultural emissions are brought into the Emissions Trading Scheme before other countries put a carbon price on farming.

Monday - Australia's Climate Council is calling for the backlog of the nation's emissions data to be urgently released, with the Federal Government failing to provide the nation's quarterly data for more than six months.

23 Jun 17 - Carbon sequestration in soil has the potential to enhance food security and mitigate climate change, says an international team of soil experts.
---
21 Jun 17 - Parts of the agricultural sector are calling for farming to be included in the Emissions Trading Scheme and for a price on water.
21 Jun 17 - US scientists have just worked out how many lives, and at what price, solar power can deliver.
20 Jun 17 - New Zealand's two largest cities are failing to cut greenhouse gas emissions because of the Government's lack of action on climate change, new research shows.
20 Jun 17 - Adaptation is about survival. Mitigation is about finding and implementing solutions to prevent the need to go into survival mode, says DR ANN SMITH chief executive of Enviro-Mark Solutions
19 Jun 17 - Canadian scientists have to think again as unusual Arctic warmth puts shipping at risk and icebergs freeze climate research plans.
15 Jun 17 - The dairy industry is acknowledging it needs to cut greenhouse gas emissions.
14 Jun 17 - Treasury told its ministers that KiwiRail's decision to replace electric locomotives with diesels raised some significant matters, but it wasn't given enough time to assess the situation.
13 Jun 17 - New Zealand could have a thriving biofutures industry, producing clean products from waste and cutting greenhouse gas emissions, if it put as much effort into addressing climate change as it puts...
13 Jun 17 - A study of the interaction between sunlight, air, water and foliage should lead to better longer-term climate forecasts, scientists say.
9 Jun 17 - NIWA is investing $18 million in new supercomputers that will significantly enhance scientists' abilities to solve crucial issues facing the country.
9 Jun 17 - A project to improve the efficiency of freight in the Marlborough wine industry has seen the Port of Nelson cut greenhouse gas emissions by 1600 tonnes – and earned it a gong.
8 Jun 17 - Wet and dry extremes across the world will become more marked as the planet heats up, evidence from past climates shows.
---