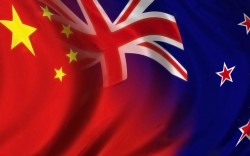 Friday - China's action on climate change makes New Zealand look like its "pussy-footing around", says climate minister James Shaw.

Thursday - New Zealand's support for Pacific countries threatened by climate change will be under the spotlight in Fiji next week.

Wednesday - Consultation on the next review of the Emissions Trading Scheme will start next month.

Tuesday - Ngai Tahu is planting a million native trees and converting some of its farms to horticulture as part of its strategy to deal with climate change.

16 Jul 18 - Banks can expect pressure from the country's largest urban authorities to get their money out of fossil-fuel investment.

13 Jul 18 - New central bank head Adrian Orr is warning of financial crisis and mass social unrest if the world doesn't urgently address climate change.

12 Jul 18 - Details of support for the Zero Carbon Bill by businesses responsible for half the country's greenhouse gas emissions have emerged today.
---
12 Jul 18 - Farmers could be interested into opting into the Emissions Trading Scheme – if the settings are right.
11 Jul 18 - Farmers should be able to opt into the Emissions Trading Scheme so they can get credit for introducing climate-friendly practices, says the Greater Wellington Regional Council.
10 Jul 18 - Greenhouse gases escaping from wetlands and permafrost could slash the world's carbon budget by nearly a quarter, scientists say.
9 Jul 18 - New Zealand's $39 billion public retirement fund is among major investors applying renewed pressure to carbon-intensive industries.
6 Jul 18 - One of the 53 big companies stepping up to publicly support the Zero Carbon Bill says it doesn't want New Zealand's climate policy to end up like that of Australia.
3 Jul 18 - Two-thirds of New Zealanders are prepared to take action to cut greenhouse gas emissions – although half might require some level of personal interest to take action, a new poll suggests.
28 Jun 18 - Fifty-three of New Zealand's biggest companies - including major players in the farming, forestry and fishing industries - appear to be ready to announce their support for the Zero Carbon Bill.
26 Jun 18 - Energy company Trustpower says the Government needs to use "joined-up thinking" on climate change.
25 Jun 18 - The Government might increase New Zealand's 2030 emissions reduction target.
20 Jun 18 - Access to international carbon credits could lower the cost of decarbonising the economy, the Government has been told.
20 Jun 18 - New Zealanders are among the billions of city dwellers who will be hit by the impacts of climate change within three decades, a new report shows.
20 Jun 18 - By JONATHAN McKEOWN | It is always refreshing when structures and processes work as they were designed to. It's an absolute triumph when it involves the public sector, an industry body and business.
---