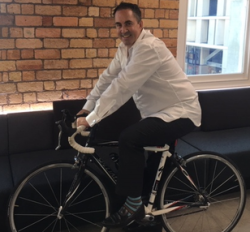 Today 8:00am - If you're looking for pioneering carbon dealer Nigel Brunel outside trading hours, chances are you'll find him somewhere around Auckland on his bike.

Monday - New Zealand's only cement producer is calling on local and central authorities to help it persuade the construction sector to accept lower-emissions cement.
Monday - Sustainable Business Council: A new programme, which sets a firm course for the Building and Construction sector to help reduce greenhouse gas emissions, is welcomed by the Sustainable Business Council.

Friday - Climate minister James Shaw is nailing his colours to the mast of the Climate Change Commission.

Thursday - The Government's plan to whizz some covid-19 pandemic economic recovery projects through the resource consenting processing is expected to be passed today.

1 Jul 20 - Infrastructure minister Shane Jones says New Zealand should be focusing its climate-change action on preparing for the impacts of a warming climate.

1 Jul 20 - Parliament is sitting under urgency today.
---
30 Jun 20 - Parliament sits today, with the Forests (Regulation of Log Traders and Forestry Advisers) Amendment Bill at number three on the order paper.
29 Jun 20 - The Climate Change and Business Conference will go ahead this year.
26 Jun 20 - The third leg of the Government's climate change legislation trifecta came home this week.
26 Jun 20 - The Carbon Market Institute holds a webinar today on participating in the Australian carbon market. OMFinancial's head of commodities, Nigel Brunel, is one of the speakers.
25 Jun 20 - New Zealand will take the proposed ground-breaking Agreement on Climate Change, Trade and Sustainability to the table in trade talks with the United Kingdom.
25 Jun 20 - Changes to the Resource Management Act requiring local councils to consider greenhouse gas emissions when granting resource consents are expected to be confirmed today.
24 Jun 20 - The Climate Change Commission has again told the Government that assessing the climate impact of projects should be mandatory under a new fast-track consenting process.
24 Jun 20 - The Government's determination to overhaul the Emissions Trading Scheme despite the covid-19 pandemic has won praise from the Climate Change Commission.
22 Jun 20 - Capital markets have consistently devalued the natural world, displaying "staggering ignorance over decades" as they have profited from exploiting it, says the head of Air New Zealand's...
19 Jun 20 - By GAVIN EVANS | New funding deals New Zealand Green Investment Finance is working up will show a variety of low-carbon benefits from a range of sectors, chief executive Craig Weise says.
18 Jun 20 - A report on the global dairy industry hugely overstates Fonterra's carbon footprint, the New Zealand co-operative says.
18 Jun 20 - Financial disclosure of companies' climate and carbon risk won't drive change without other measures, new research warns.
---