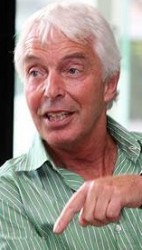 Today 10:00am - Two major reports on climate change – one on the likely impacts on New Zealand, the other on ways the country can cut emissions – were released a year ago by the country's top scientific body, the Royal Society. Energy expert RALPH SIMS, who chaired the report committee, reflects on progress.

Today 10:00am - Scientists have long been aware of a forest's ability to absorb carbon, but a new US study has discovered trees that emit methane.

Today 10:00am - The population of inland American cities will alter drastically if predictions of dramatic sea level rises by 2100 are correct, a new report suggests.

Thursday - Water quality in New Zealand's rivers is getting worse, says an official government report out today – and there's yet another warning that the country is running up against its environmental limits.

Thursday - Much of the public and scientific discussion around a slowdown, or hiatus, in the rate of global warming has been misguided, says prominent climatologist.

21 Apr 17 - Changes to New Zealand's weather caused by global warming are starting to affect the country's agricultural earnings.

21 Apr 17 - Chalk up another climate milestone … atmospheric carbon dioxide concentrations hit 410 parts-per-million this week, the highest they've been in more than 15 million years.
---
20 Apr 17 - From the ochre-coloured Australian outback to the windswept Scottish coast, cricket is defined almost entirely by the weather conditions. If they change, so does the essence of the game.
20 Apr 17 - The Harvard scientist who pioneered a "bionic leaf" that could generate the production of fuel has taken artificial photosynthesis a step further.
19 Apr 17 - Ekos founder Dr Sean Weaver is working on a new project – a non-market mechanism to raise private capital to fund climate-change adaptation projects in developing countries.
19 Apr 17 - By TIM RADFORD | Keep that seat belt buckled − it could be a bumpy flight. New research predicts that severe clear air turbulence in the stratosphere could increase by 149 per cent because of...
18 Apr 17 - Talks to establish links between carbon markets in New Zealand and Korea are under way.
18 Apr 17 - Climate minister Paula Bennett says carbon prices need to go higher, but she won't be putting a price on agricultural emissions and she doesn't think New Zealand needs a climate commission.
18 Apr 17 - Simon Upton's nomination to be the next Parliamentary Commissioner for the Environment has been confirmed by Parliament, but it wasn't unanimous.
18 Apr 17 - Any lingering hope that a worldwide nuclear power renaissance would contribute to combating climate change appears to have been dashed by US company Westinghouse, the largest provider of nuclear...
13 Apr 17 - Today could see one of the most important debates Parliament has ever had – a special session on proposals to make New Zealand carbon-neutral by the second half of the century.
13 Apr 17 - Permafrost, the layer of permanently frozen ground that lies just beneath the Earth's surface in the polar regions, has been found to be more sensitive to the effects of global warming than...
13 Apr 17 - Queensland's economy and tourism sector could suffer a billion-dollar hit, if extreme coral bleaching on the Great Barrier Reef continues, says a new report.
12 Apr 17 - New Zealand's waterways are in trouble and climate change is making it worse, the Prime Minister's chief science adviser is warning.
---