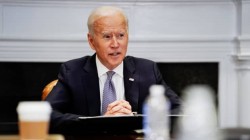 Today 11:45am - More than 300 businesses have called on President Joe Biden to nearly double U.S. targets to reduce planet-warming emissions below 2005 levels by 2030.

Today 11:45am - The world's wealthy must radically change their lifestyles to tackle climate change, a report says.

Today 11:45am - Media Release - When Dr Christopher Cornwall began his biological research career, three unanswered questions bothered him about how climate change might affect marine organisms.

Tuesday - Agriculture and the energy sector accounted for 90 per cent of New Zealand's gross greenhouse gas emissions in 2019, according to the Ministry of the Environment's Greenhouse Gas Inventory 1990 – 2019 released today.

Tuesday - A Bill requiring the financial sector to disclose the impact of climate change on their business and explain how they manage climate-related risks has its first reading in Parliament this week.

Tuesday - The US is negotiating a multi-billion dollar climate deal with Brazil that observers fear could help the reelection of president Jair Bolsonaro and reward illegal forest clearance in the Amazon.
Monday - Unions are calling for large-scale public investment as part of a "just transition" to a carbon-zero future in their submissions to the Climate Commission's draft report.
---
Monday - A fight over Greenland's rich oil, gas and mineral deposits is raging, as global warming melts ice and exposes rich reserves. Now Greenlanders are struggling to balance economic growth and...
Friday - The good news is that New Zealand's greenhouse gas emissions were down in the year to December 2020, the not so good news is that that same month saw household emissions reach their highest ever...
Friday - The week that was: The PM accepts invite to virtual climate summit; slow burn on coal boiler shutdown; renewable energy stocks tumble, and the kids hit the streets.
Friday - Every week journalists across the New Zealand media produce dozens of stories about climate change. We thought we'd start linking to some of the best from the preceding week each Friday. Here goes...
Friday - Just over a week since submissions closed on the Climate Change Commission's first draft advice to the Government, the commission says it is making good progress on reviewing feedback.
Friday - On Wednesday this week, the New South Wales Deputy Premier and Minister for Regional NSW, Industry and Trade John Barilaro stood next to a train packed with coal, hurtling past metres away as he...
Friday - Climate change may be sparking more lightning in the Arctic, a study has found.
8 Apr 21 - Ten years ago, the Government issued more than nine million carbon credits to the owners of post-1989 forests.
8 Apr 21 - China powers nearly 80 per cent of the global cryptocurrencies trade, but the energy required could jeopardise its pledge to peak carbon emissions by 2030.
8 Apr 21 - Wealthy frequent flyers who take several holidays a year should pay higher taxes each time they fly, a British charity says.
8 Apr 21 - With tropical fish and other marine creatures already shifting south along Australia's east coast, a new global study involving a USC ecology researcher has confirmed a drop in species numbers in...
7 Apr 21 - New regulations requiring the financial sector to disclose the greenhouse gas emission of their investment portfolios are needed, the Sustainable Business Network says in its submission to the...
---