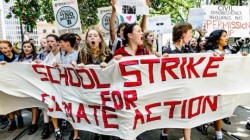 14 Dec 20 - Believe it or not, a 54 per cent rise in the price of NZUs this year does not make 2020 the year of the biggest gains.

14 Dec 20 - A training course on how to take part in the first Government auction of carbon credits will be held on Thursday.

14 Dec 20 - Rich nations are "lagging badly" on a longstanding pledge to channel $100 billion a year in funding, from 2020 onwards, to help poorer countries develop cleanly and adapt to the worsening impacts of climate change, the U.N. chief said on Saturday.

11 Dec 20 - New Zealand has again come in at 11th place overall in an international ranking of the environmental and social sustainability of countries.

11 Dec 20 - The Government is expected to update Southland today on talks to stop – or at least delay – the closing of the Tiwai Point aluminium smelter.

10 Dec 20 - Australia's hottest spring on record, which saw temperatures more than 2deg above average, would have been "virtually impossible" without human-caused climate change, new analysis has found.

10 Dec 20 - The grasslands of northern China and Mongolia could be about to lurch into a climate tipping point, an irreversible sequence of heat and drought.
---
10 Dec 20 - There's a serious mismatch between what New Zealand's Government identifies as the most pressing environmental issues, including climate change and freshwater quality, and the investments in...
10 Dec 20 - Brazil has announced it will aim for carbon neutrality by 2060, sparking anger among campaigners who say the pledge is meaningless and a deliberate distraction from president Jair Bolsonaro's...
9 Dec 20 - Z Energy is sticking with its dream of selling low-emissions biodiesel, albeit with an Australian product because its own production plant has been mothballed.
9 Dec 20 - Today is the fifth anniversary of the Paris Agreement on climate change – an event being marked by the group Parents for Climate Aotearoa (formerly Millions of Mothers) with a lunchtime toy picnic at...
9 Dec 20 - No-one who was in the hall that winter evening in a gloomy conference centre on the outskirts of the French capital will ever forget it. Tension had been building throughout the afternoon, as after...
8 Dec 20 - Greater Wellington Regional Council will debate today whether it should sell millions of dollars worth of carbon credits or hold them and wait for prices to go higher.
8 Dec 20 - The much-loved combination of beer and chips is being harnessed to tackle climate change.
7 Dec 20 - The UK government has announced it will slash greenhouse gas emissions at least 68 per cent by 2030, compared to 1990 levels, in line with independent advice.
7 Dec 20 - Denmark's climate minister is fairly certain that the deal to close down the nation's oil industry by 2050, announced on Friday morning, marks the biggest moment in his career.
4 Dec 20 - Carbon prices continued their upward charge yesterday, gaining 25 cents to contribute to a phenomenal 47 per cent rise over a year.
4 Dec 20 - This year is on track to be one of New Zealand's hottest on record, meaning five of the 10 warmest years have occurred since 2013, scientists say.
3 Dec 20 - New Zealand carbon prices have broken through a new price barrier, with spot NZUs now trading more than $1 above the fixed-price option.
---