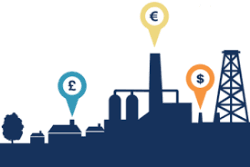 25 Nov 20 - Can you put a price on pollution? Some of the world's biggest economies are doing just that as they wrestle with how to make good on grand pledges to tame planet-warming emissions.

24 Nov 20 - Extinction Rebellion is launching a campaign of financial civil disobedience aimed at exposing the "political economy's complicity" in the unfolding ecological crisis.

23 Nov 20 - The European Commission has launched "the world's first ever 'green-list'" of sustainable economic activities for private investors by publishing draft guidelines under the EU's green finance taxonomy.

23 Nov 20 - British billionaire Chris Hohn is aiming to force hundreds of US and European companies to slash their greenhouse gas emissions by enlisting global investors to demand an annual vote on their climate plans at shareholder meetings.

17 Nov 20 - Power plants fuelled by natural gas will not be classed as "sustainable" or "transition" investments in Europe unless they meet emission limits which are so low that none are currently able to comply, draft rules show.

16 Nov 20 - European governments have approved a roadmap to turn the European Investment Bank into a "climate bank" with a €1 trillion green investment package to be spent by 2030.

12 Nov 20 - Blackrock has increased its stake in Meridian as part of its carbon-divestment strategy.
---
12 Nov 20 - United Nations special envoy and former Bank of England Governor Mark Carney wants stronger quality control on voluntary carbon markets to meet growing business demand.
11 Nov 20 - Large companies and financial institutions in the UK will have to come clean about their exposure to climate risks within five years under the terms of a tougher regime announced.
10 Nov 20 - The European Commission and senior EU lawmakers say they are ready to intensify dialogue with the US on climate change, listing car CO2 limits and green finance among areas where "real transatlantic...
5 Nov 20 - Former Reserve Bank director Bridget Coates and Chapman Tripp partner Ross Pennington are the new co-chairs of The Aotearoa Circle's Sustainable Finance Forum.
4 Nov 20 - New Zealand can have a sustainable financial system by 2030, driving environmental, social and economic prosperity, a panel of public and private-sector heavyweights says.
3 Nov 20 - One of Australia's largest pension funds has agreed to settle a landmark climate risk litigation filed by a 25-year-old member who alleged it was failing to protect his retirement savings against...
2 Nov 20 - Australia's economy will be six per cent smaller, there will be 880,000 fewer jobs and $3.4 trillion in economic opportunities will be lost if the climate crisis goes unchecked for next 50 years, new...
30 Oct 20 - The ANZ Bank says it will not take on any new customers using coal, and that by 2030 it will finance gas and renewable power generation only.
23 Oct 20 - The World Bank's private lending branch is indirectly backing one of the world's biggest new coal complexes, despite a new green policy.
22 Oct 20 - Switzerland has struck a carbon offsetting agreement with Peru, in what the two nations say is the first deal of its kind under Article 6 of the Paris agreement.
22 Oct 20 - Australian company directors want a more radical policy reset to recover from the covid-19 recession including bigger investments in infrastructure, reforms of industrial relations and a Green New...
20 Oct 20 - Current rules on company disclosures to help markets price in risks from climate change will become mandatory, a senior Bank of England official said on Friday.
---