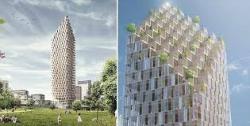 Monday - By PETER WILSON.- Vancouver architect Michael Green was unequivocal at a conference at which I heard him speak a while ago: "We grow trees in British Columbia that are 35 storeys tall, so why do our building codes restrict timber buildings to only five storeys?"

18 May 15 - The Government appears to be putting in place the ingredients of a national forestry policy, an industry leader says.

18 May 15 - Labour Party climate changes spokesperson MEGAN WOODS on why the Government's forestry policies are failing:

18 May 15 - Economic modelling and its associated forecasts are always open to criticism, particularly when the results align with the predisposition of the modellers or their paymasters.

18 May 15 - Last week's Australian Budget is very disappointing in the broad area of environmental protection.

11 May 15 - The Government has revealed how much it thinks cutting greenhouse gases might cost the country.

11 May 15 - New Zealand could turn "green into gold" by capitalising on emerging clean technologies and showing leadership on climate change.
---
11 May 15 - Forests may be the green investment with the richest returns for humankind, according to new research.
4 May 15 - Just five solar-power installation companies could create as many jobs as the Rotowaru coal mine, a new analysis says.
4 May 15 - A pilot project to encourage industrial users to switch to wood-fired boilers could cut greenhouse gas emissions by nearly 200,000 tonnes.
4 May 15 - New Zealand's leading scientists are putting their heads together to predict how climate change will affect New Zealanders.
4 May 15 - The firefighters are primed, hoses at the ready. May and June are often the peak months for forest fires in the southwest of the US, and the outlook for this year is grim.
4 May 15 - Malaysia's Home Ministry has seized an explosive book on timber corruption in the Malaysian state of Sarawak.
28 Apr 15 - New Zealand might fail to recognise just how economically dependent it is on the natural world until it's too late, a new Government report warns.
30 Mar 15 - The Government is calling for energy companies to explore the potential of more than 400,000 square kilometres of land and sea, maintaining that oil and gas have a role to play in a low-carbon world.
30 Mar 15 - The Government is sticking to its guns – forest planting is down because of the cyclical nature of the industry, and not because carbon prices are too low to encourage planting.
23 Mar 15 - Forest owners want the Government to put its money where its mouth is on sustainable forestry – and are gathering the numbers to back their case.
23 Mar 15 - The economic benefits of wiping out possums, rats, mice and mustelids in New Zealand would outweigh the costs, latest research shows.
23 Mar 15 - As a professor of ecology, Shahid Naeem knows all too well that there's no shortage of environmental ills to keep us awake at night – global warming, the spread of diseases, dead zones in the Gulf of...
---