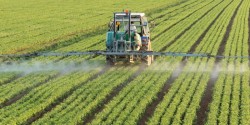 Friday - Farming is a dirty business – so dirty now that, according to new research, air pollution from agriculture in the form of fine particles of lung-choking dust outweighs all other human sources of that kind of pollution.
Thursday - New Zealand's net greenhouse gas emissions have gone up 19 per cent under the National Government – and Climate Change Minister Paula Bennett is blaming population growth.

Monday - New Zealand's net greenhouse gas emissions – the amount it actually contributes to damaging the climate – rose a whopping 56.7 per cent over 24 years in which it was supposed to be cutting emissions, new Government data shows.

19 May 16 - Dust and sand storms in China have intensified and now pose provocative geopolitical challenges. Traces of China's deserts have been found as far away as New Zealand and the French Alps.
12 May 16 - Storing carbon in forests is risky and should be used to meet no more than a fifth of New Zealand's emissions reductions, says a group of prominent scientists and other New Zealanders.

12 May 16 - Coal's share of the US energy market is rapidly plunging. Low-cost fracking-generated natural gas has overtaken the use of coal at America's power plants.

11 May 16 - The national airline, both major supermarket companies, one of the world's largest technology companies, and a company that makes flexible pipes are among the finalists in the Government's Green Ribbon Awards.
---
6 May 16 - Gun-shy forest investors are watching with interest as carbon creeps up to the magic $15 mark, but they'll need at least another $3 a tonne to make up for the political risk of investing in carbon...
6 May 16 - After some unusually wet years, Australia's landscape and ecosystems have once again returned to poorer conditions that were last experienced during the Millennium Drought.
5 May 16 - New Zealand is likely to need up to 220 million international credits to meet its 2030 emissions reduction target because even a domestic carbon price of $300 a tonne is unlikely to drive enough...
4 May 16 - The Government will unveil its electric vehicle policy tomorrow.
4 May 16 - Higher carbon prices and clear government policy are two of the measures needed to get New Zealanders to switch to electric cars, the Royal Society says.
4 May 16 - Converting the Huntly coal-fired power station to run on wood is technically feasible, but expensive.
2 May 16 - Carbon prices should be managed like the Reserve Bank manages the value of the New Zealand dollar, a submission on the Emissions Trading Scheme is recommending.
2 May 16 - Government officials are today working their way through a large stack of submissions on the technical aspects of the Emissions Trading Scheme.
2 May 16 - Your parents were wrong: money does grow on trees. Cities routinely rake in tens of millions of dollars from their urban forests annually in ways that are not always obvious.
2 May 16 - From creating transparent wood for solar panels or windows to turning carbon dioxide and plant waste into plastic bottles, scientists are finding ingenious ways to sidestep fossil fuels.
29 Apr 16 - Submissions on the second stage of the Emissions Trading Scheme review close tomorrow.
28 Apr 16 - Applications for the second round of the Government's Afforestation Grants Scheme are open.
---