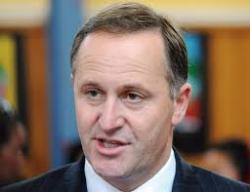 Friday - The Prime Minister says he accepts that 50,000 new jobs would be created by Maori following through on a promise to plant one million hectares of new forest if the Government lifts carbon prices.

Friday - The Government is refusing to adopt a national forestry policy, despite relying on tree planting to meet international greenhouse gas emissions reductions obligations.

Friday - By ALEX KIRBY, London.- Europe has the technology and the raw material to make a big cut in the amount of oil its transport uses, researchers say - but it will fail to reap the benefits on offer unless the European Union comes up with more radical policies.

28 Feb 14 - The Government might be getting ready to finally take action on dismal domestic carbon prices.

28 Feb 14 - Planting just over half of New Zealand's marginal land in forest would make the country carbon-neutral – and the Government knows it.

28 Feb 14 - The wood sector is gearing up to join Maori in making carbon prices an election issue.

28 Feb 14 - The Climate Change Authority's new report on emission reduction targets makes a compelling argument for Australia to go much further in cutting greenhouse gas emissions, writes CLIVE HAMILTON, Vice-Chancellor's Chair, Centre for Applied Philosophy and Public Ethics, Charles Sturt University.
---
28 Feb 14 - Geneticists have cracked the code for one of nature's fastest-growing plants: Spirodela polyrhiza, or duckweed - and the pay-off could come with higher deliveries of biofuel at lower cost to cropland...
21 Feb 14 - Frustrated Maori will take their carbon price grievances to the United Nations next week.
21 Feb 14 - By WAYNE KING. Australia's media is drip-feeding news and commentary on the economic downturn in Australia - particularly in energy developments, the political turmoil revolving around the current...
14 Feb 14 - A proposal by iwi to plant a million hectares of new forest over 10 years could provide the economies of scale needed to kick the New Zealand industry into large-scale processing.
14 Feb 14 - The destruction of hundreds of thousands of tree seedlings is part of a "market correction" and not due to a dysfunctional Emissions Trading Scheme, the Government says.
7 Feb 14 - Maori say they will lodge a $600 million Treaty of Waitangi claim if the Government doesn't move fast to shore up carbon prices.
31 Jan 14 - The Government is blaming a projected greenhouse gas emissions increase on forestry cycles.
31 Jan 14 - New Zealanders are willing to pay cold hard cash for the ecosystem services provided by plantation forests.
24 Jan 14 - KATE CROWLEY, Associate Professor of Public and Environmental Policy at the University of Tasmania, examines the tension between the economy and the environment in the state's politics:
20 Dec 13 - It's been an interesting year, with new carbon markets opening in some of the largest economies in the world, including North America and China.
20 Dec 13 - Deforesation and a lack of new planting means New Zealand is unlikely to meet its 2030 emissions reduction target, a forestry expert is warning.
20 Dec 13 - A new approach to carbon trading seeks to change the economic and ecological determinants of deforestation.
---