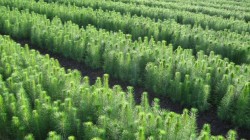 Friday - Heavy-emitting businesses could be buying more than $500 million worth of forestry credits a year by 2025, says the Crown Research Institute Scion.
Wednesday - Climate change minister Paula Bennett has reported to her colleagues on the second stage of the Emissions Trading Scheme review.

Tuesday - Scientific advisers warn that, by 2100, temperatures in Britain could rise by twice as much as the internationally agreed limit set at the Paris climate conference.

Tuesday - Evidence of increased greening of the northern hemisphere over the past half-century points to the dominant effect human-induced greenhouse gases have on climate.

18 Jul 16 - When most of us hear of Nauru we tend to think of immigration detention, or perhaps of the environmentally ruinous legacy of the island nation's ill-fated phosphate mining boom.

13 Jul 16 - The Government might have wanted agriculture kept out of the current review of the Emissions Trading Scheme, but that hasn't stopped scores of people, ranging from Air New Zealand to the country's Catholic bishops, talking about it anyway.
12 Jul 16 - New Zealand will not get forestry investment on the scale needed to tackle climate change unless it cuts risk associated with the carbon market, says a company that planted 6500 hectares of carbon forests in the heyday of the Emissions Trading Scheme.
---
12 Jul 16 - By TIM RADFORD | It is not enough just to conserve forest. It may be just as important not to disturb any of it.
11 Jul 16 - Scientists in Canada have confirmed once again an unexpected hazard in the world of climate change: the subterranean fire.
11 Jul 16 - Australia's economy might have ridden on the sheep's back, but the colonies' first export was actually eucalyptus oil.
11 Jul 16 - New Zealand scientists have played an important part in international efforts to develop systems that clean water flowing from farm tile drains.
7 Jul 16 - Cross-party political agreement on climate change action might have come a step closer.
6 Jul 16 - The Government is failing to prepare New Zealand for the impacts of climate change – and has slashed millions of dollars of funding for domestic policy advice on the issue, the Green Party says.
6 Jul 16 - Amalgamation of the country's two fire services should help them to prepare for the impacts of climate change – more fires and floods, says Green Party environment spokesperson Eugenie Sage.
5 Jul 16 - Nearly $NZ100 billion has been invested in climate bonds, a new global report says.
4 Jul 16 - The public attention might be on the Government's review of the Emissions Trading Scheme. But behind the headlines other, quiet, changes are being made.
1 Jul 16 - The Paris climate agreement saw countries pledge to limit global warming to well below 2degC, and to aim to keep it within 1.5deg. The problem is that countries' current emissions targets are not...
30 Jun 16 - Climate Change Minister Paula Bennett says she has not asked Finance Minister Bill English to set up a working group to assess the economic impacts of rising sea levels, as recommended by the...
27 Jun 16 - Researchers calculate the huge environmental and economic benefits to taxpayers of the trees that line many streets in California's cities and suburbs.
---