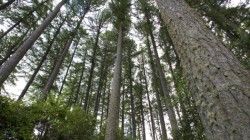 Today 11:00am - New Zealand will face significant economic damage from the Paris Agreement if carbon stored in forests is not recognised, the Emissions Trading Scheme is not linked internationally, and agricultural emissions incur a carbon price, a new report shows.

18 Aug 16 - Carbon budgeting and a climate commission are not on the table for cross-party talks on climate change.
16 Aug 16 - Some of New Zealandís largest carbon emitters, along with forestry companies and even iwi are among the organisations that used cheap EURs to meet their liabilities under the Emissions Trading Scheme, a new report shows.

11 Aug 16 - A lawyer who advised a carbon-farming company that was later prosecuted by the Overseas Investment Office is under investigation over the affair.

5 Aug 16 - Carbon credits have netted a dairy farmer more than he could have ever made from running livestock on his Taranaki hill country.

4 Aug 16 - Calls for cross-party policy on climate change, and complaints about ďcontinual and ad-hocĒ changes to the Emissions Trading Scheme dominated comments on the first stage of the latest review of the scheme.

2 Aug 16 - The waste, stationary energy, industrial processing and agricultural sectors mounted the biggest opposition to getting rid of the one-for-two carbon subsidy.
---
1 Aug 16 - New Zealandís experiment with free-market forestry has left it without the forests needed to combat climate change and supply the domestic market with wood, the industry says.
26 Jul 16 - The Governmentís mission to make New Zealand predator-free by 2050 could have a positive spin-off for the battle against a warming climate.
25 Jul 16 - Forests planted under the revived Afforestation Grant Scheme this year are expected to store 1.3 million tonnes of carbon.
22 Jul 16 - Heavy-emitting businesses could be buying more than $500 million worth of forestry credits a year by 2025, says the Crown Research Institute Scion.
20 Jul 16 - Climate change minister Paula Bennett has reported to her colleagues on the second stage of the Emissions Trading Scheme review.
19 Jul 16 - Scientific advisers warn that, by 2100, temperatures in Britain could rise by twice as much as the internationally agreed limit set at the Paris climate conference.
19 Jul 16 - Evidence of increased greening of the northern hemisphere over the past half-century points to the dominant effect human-induced greenhouse gases have on climate.
18 Jul 16 - When most of us hear of Nauru we tend to think of immigration detention, or perhaps of the environmentally ruinous legacy of the island nationís ill-fated phosphate mining boom.
13 Jul 16 - The Government might have wanted agriculture kept out of the current review of the Emissions Trading Scheme, but that hasnít stopped scores of people, ranging from Air New Zealand to the countryís...
12 Jul 16 - New Zealand will not get forestry investment on the scale needed to tackle climate change unless it cuts risk associated with the carbon market, says a company that planted 6500 hectares of carbon...
12 Jul 16 - By TIM RADFORD | It is not enough just to conserve forest. It may be just as important not to disturb any of it.
11 Jul 16 - Scientists in Canada have confirmed once again an unexpected hazard in the world of climate change: the subterranean fire.
---