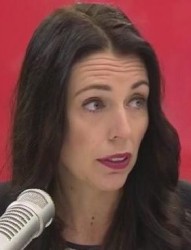 Friday - Carbon prices are rising on the back of the new government, hitting their highest level in a year within an hour of the market opening today.

17 Oct 17 - Acting climate minister Paula Bennett will deliver New Zealandís opening statement at the pre-COP climate talks in Fiji today.

10 Oct 17 - A large swathe of the East Coast will be at risk of fire for at least half of the year by the end of the century, a conference in Auckland has heard.

6 Oct 17 - Brisbane is set to become a hub for sustainable aviation fuel under an agreement between Virgin Australia and United States-based biofuel producer Gevo.

5 Oct 17 - New Zealand will be stuck with high-emitting technologies if it doesnít move to cut emissions soon, the Parliamentary Commissioner for the Environment is warning.

4 Oct 17 - The head of the National Partyís Bluegreens policy advisory group says pine trees should be planted on Department of Conservation land to offset New Zealandís greenhouse gas emissions.

20 Sep 17 - New Zealand could meet a large chunk of its Paris Agreement emissions reduction target through cuts in emissions at home, a new report says.
---
11 Sep 17 - Two of the parties that could be involved in any centre-left coalition after the election want to scrap the Emissions Trading Scheme.
11 Sep 17 - Week 12 of The Count ... and Prime Minister Bill English is still in the starting blocks.
7 Sep 17 - New Zealand wonít get more carbon-sequestering forests until land prices fall.
5 Sep 17 - The Green Party wants a regional research institute to develop high-value wood products as part of a strategy to reduce greenhouse gas emissions.
4 Sep 17 - New Zealand First leader Winston Peters has pulled ahead of Labour leader Jacinda Ardern in The Count, but the Greensí James Shaw is looking unassailable.
23 Aug 17 - The Labour Party has told KiwiRail that if elected next month it will halt State-owned rail companyís plans to ditch electric locomotives on the main trunk line.
23 Aug 17 - Carbon offsetting by the two major domestic airlines operating in New Zealand doesnít fully reflect carbon emissions caused by air travel, says Consumer New Zealand.
22 Aug 17 - Foresters are being urged to plant tree species resilient to climate change to save the timber industry as Swiss trees swelter.
15 Aug 17 - The deep past has cruel lessons for the near future, for example how ocean oxygen depletion can stifle the marine world. It could recur.
11 Aug 17 - Every dollar spent on planting New Zealandís waterways would pay returns of at least $3.
9 Aug 17 - The Productivity Commission could recommend changes to the Emissions Trading Scheme.
8 Aug 17 - Labourís climate spokesperson says the work of the cross-party Globe group on climate change must continue, even if founder Kennedy Graham is out of Parliament.
---