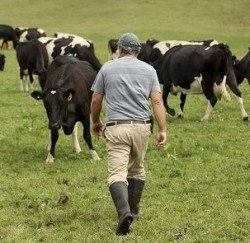 Monday - Farmers are overwhelmingly opposed to environmental taxes – unless the revenue comes to them.
19 Sep 18 - The thorny question of whether land is eligible for carbon forests could soon be solved – with a map.
17 Sep 18 - By SIR ALAN MARK | After decades of sitting on our hands, the simple the act of commissioning an inquiry into becoming a low-carbon economy has been hugely positive on public perception.

14 Sep 18 - The man who got politicians from both sides of Parliament to agree on climate change says there might be a third option for dealing with New Zealand's greenhouse gas emissions.

14 Sep 18 - Ground-breaking research suggesting New Zealand's native forests store more carbon than believed is being stepped up as the country pushes to carbon neutrality.

12 Sep 18 - Feeding animals a genetically engineered high-energy ryegrass could cut greenhouse gas emissions from New Zealand farms by more than 20 per cent, the Government has been told.
11 Sep 18 - A third investigation says New Zealand must make drastic cuts to methane emissions.
---
11 Sep 18 - Changing forrestry accounting rules under the Emissions Trading Scheme is expected to lead to the planting of 102 million trees in new forests by 2030.
5 Sep 18 - Recommendations for what is being called the biggest land-use change in New Zealand's history are pleasing foresters but not farmers.
4 Sep 18 - Farmers should be paying for greenhouse gas emissions – albeit at a subsidised rate, the Productivity Commission says.
3 Sep 18 - El Niño and La Niña – the weather patterns that bring New Zealand droughts on the one hand and storms on the other – will get worse as the climate warms, scientists say.
30 Aug 18 - Methane emissions – including those from agriculture - will have to be cut if the Paris Agreement is to be met, officials have told climate minister James Shaw.
29 Aug 18 - Bioenergy production using wood from locally grown and sustainably managed forests can provide one of the lowest-carbon energy options for New Zealand, Scion says.
28 Aug 18 - Cutting New Zealand's greenhouse gas emissions was on the Prime Minister's menu at a business breakfast in Auckland this morning.
28 Aug 18 - Companies might be cherry-picking sustainability measures that make them look good, with greenhouse gas emissions one of the least-reported factors.
20 Aug 18 - Synthetic greenhouses gases, like those used in refrigeration and air conditioning, could come under a new product stewardship regime.
17 Aug 18 - The high cost of land means that even at $24 a tonne, New Zealand cannot rely on new forests to meet its 2030 emissions reduction target, the forestry industry says.
17 Aug 18 - The Government's plan to use the Emissions Trading Scheme to encourage more native forests is a smart move and will help to protect farms, towns and infrastructure from extreme weather events, an...
16 Aug 18 - Carbon prices have smashed through the $24 barrier for the first time in nearly a decade of carbon trading in New Zealand, increasing pressure on the Government to lift the $25 price cap.
---