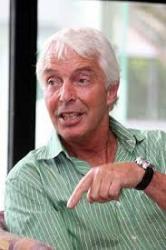 Monday - New Zealand is using smoke and mirrors to meet its 2020 emissions reduction target, when it could get there by using clean heating and transport technologies, says one of our leading scientists.

8 Dec 14 - New Zealand has a $3 billion carbon headache looming – and Treasury says that's the conservative estimate.

8 Dec 14 - A climate change lobby group is calling for a national carbon budget and legally binding emissions reduction targets.

8 Dec 14 - Climate Change Minister Tim Groser says New Zealand will "push the envelope" on post-2020 emissions reductions.

1 Dec 14 - Due diligence in investments has a slightly different connotation for retired politician Jeanette Fitzsimons.

1 Dec 14 - Researchers at KU Leuven's Centre for Surface Chemistry and Catalysis, in Belgium, have converted sawdust into building blocks for gasoline.

24 Nov 14 - The Government is under fire for the size of its contribution to a global fund to help developing countries to combat climate change.
---
24 Nov 14 - By editor ADELIA HALLETT.- New Labour Party leader Andrew Little appears to rank climate change only slightly more importantly than does Prime Minister John Key.
24 Nov 14 - Labour's new climate change and environment spokesperson says there's never been a time when she didn't believe in climate change.
17 Nov 14 - Kiwi cleantech company CarbonScape has hit its crowd-funding equity target.
17 Nov 14 - An eco-conscious Kiwi designer is saying goodbye to leather.
10 Nov 14 - The environment has long been a "silent casualty of war, United Nations Secretary-General Ban Ki-moon said yesterday as he warned that the fast-changing dynamic of conflict required solutions to...
3 Nov 14 - With the passage of the Emissions Reduction Fund through the Senate last week, Australia's federal government has taken a step toward achieving the country's minimum target to reduce greenhouse gas...
3 Nov 14 - By JACK PEZZEY.- "But who do you think's right, Prof? The optimists or the pessimists?" At the end of my sustainability economics course in 2007, students were challenging me to end 20 years of...
28 Oct 14 - In 2010, Taranaki farmer Neil Walker was enthusiastic about the potential for a combination of carbon farming and beekeeping to rejuvenate steep-land farming.
28 Oct 14 - Clean-coal company CarbonScape is the first clean-tech company in New Zealand to use crowd-funding to raise capital.
6 Oct 14 - There was little at the recent UN Climate Summit in New York in the way of new climate policy announcements, but 27 countries did sign a new forest agreement — the New York Declaration on Forests.
29 Sep 14 - When we think of renewable energy, it's easy to picture spinning wind turbines or rooftop solar panels. But what about bioenergy?
22 Sep 14 - A new handbook shows how forward-looking communities around the world are already moving away from reliance on fossil fuels and generating their own power with 100 per cent renewables − while...
---