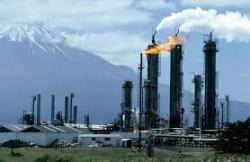 30 Mar 15 - The Government is calling for energy companies to explore the potential of more than 400,000 square kilometres of land and sea, maintaining that oil and gas have a role to play in a low-carbon world.

30 Mar 15 - The Government is sticking to its guns – forest planting is down because of the cyclical nature of the industry, and not because carbon prices are too low to encourage planting.

23 Mar 15 - Forest owners want the Government to put its money where its mouth is on sustainable forestry – and are gathering the numbers to back their case.

23 Mar 15 - The economic benefits of wiping out possums, rats, mice and mustelids in New Zealand would outweigh the costs, latest research shows.

23 Mar 15 - As a professor of ecology, Shahid Naeem knows all too well that there's no shortage of environmental ills to keep us awake at night – global warming, the spread of diseases, dead zones in the Gulf of Mexico, collapsing fisheries, mass extinction, and a hundred other things that are the stock and trade of environmental doomsayers.

16 Mar 15 - The Emissions Trading Scheme review is likely to be pushed into next year, forest owners say.

16 Mar 15 - Finland has launched a research centre for the refining of biomass into biochemicals as part of the country's drive to double its bio-economy.
---
9 Mar 15 - Latest figures show that New Zealand is not planting enough trees to meet its climate change pledges, and a carbon forestry expert says that the Government is to blame.
2 Mar 15 - International business leaders say that the success of new climate and energy plans for Europe hang on how effectively they are implemented.
2 Mar 15 - MEDIA RELEASE: The real-world performance of 'green' development will be under the microscope at next month's Green Property Summit in Auckland
23 Feb 15 - New Zealand's Emissions Trading Scheme legislation is so full of "words, fishhooks and traps" that giving sound legal advice on it to businesses is almost impossible, says one of our leading legal...
23 Feb 15 - Distinguished law fellow Sir Geoffrey Palmer, QC, has been at or near the heart of our attempts to tackled climate change for nearly three decades.
16 Feb 15 - MEDIA RELEASE: Forest Conservation Policy Asia Pulp & Paper has welcomed the Rainforest Alliance independent evaluation of its
9 Feb 15 - One of New Zealand's most influential leaders on climate change has died.
9 Feb 15 - Policy procrastination over climate change is costing Australia money, a new analysis shows.
9 Feb 15 - By RUTH EVANS.- A European Union decision to give consumers more information about the food they buy could mean good news for tropical countries whose forests are threatened by the expanding trade in...
2 Feb 15 - In a piece published in the Guardian recently, Australian Environment Minister Greg Hunt was purported to have once again rejected claims that a price on carbon would benefit emissions reduction...
28 Jan 15 - NZUs continue to remain a $5.85/$6.05 market, with no volume changing hands this week to-date.
27 Jan 15 - Foresters are calling for an honest analysis of the costs of the intensification of dairying.
---