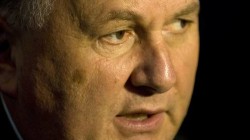 Thursday - The wood industry is in love with its new forestry minister.

Wednesday - New Zealand's largest oil and gas exploration company wants carbon credits for capturing and storing emissions from fossil fuel production – and says it's viable at a carbon price of just $18 a tonne.

Monday - By publisher ADELIA HALLETT | When it comes to action on climate change, we're pretty much back to where we were 10 years ago, when Carbon News started publishing.

Monday - The Government is looking at ending oil and gas exploration.

Monday - Climate and energy expert Professor RALPH SIMS explains why natural gas is not a "bridging" fuel between dirtier fossil fuels and low-carbon energy. Searching for it and using it, he says, will delay New Zealand reaching its Paris Agreement emissions reduction target.

Monday - … the Government was getting ready to plead New Zealand's case to allow the owners of pre-1990 forests to clear them without facing a carbon penalty, BP was warning against introducing a compulsory biofuels component into the nation's petrol and diesel supplies, Trustpower was finding a ready market for credits from its Tararua windfarm, Orcon founder Seeby Woodhouse was moving into carbon, and businesses wanted to be allowed to use credits from nuclear power plants.

16 Mar 18 - Climate minister James Shaw appears to be convincing business he knows what he's doing.
---
15 Mar 18 - Meeting New Zealand's Paris Agreement pledge from domestic emissions cuts alone would put the country on a straight line to carbon-neutrality by 2050, officials have told the Government.
13 Mar 18 - Microplastics are contaminating rivers as well as the ocean, say scientists.
9 Mar 18 - Cities are generating up to 60 per cent more greenhouse gases than thought, thanks to their reliance on goods and services from outside their borders.
8 Mar 18 - Auckland Council could issue green bonds to cover the cost of cutting emissions and adapting to climate change.
6 Mar 18 - The Government knows delaying lifting the carbon price cap could cost taxpayers money, but says it is unlikely to move until next year.
5 Mar 18 - The Ministry for the Environment is looking to form direct partnerships with businesses to cut emissions out of the New Zealand economy.
1 Mar 18 - Fifteen per cent of global greenhouse gas emissions are now covered by trading schemes.
1 Mar 18 - Three New Zealand urban areas are among 101 global cities getting more than 70 per cent of their electricity from renewable sources.
28 Feb 18 - Mike Bennetts is determined his company, Z Energy, will not have a Kodak moment.
27 Feb 18 - Primary industries contribute nearly two-thirds of the country's greenhouse gases but account for less than 8 per cent of economic production, new figures show.
27 Feb 18 - New Zealand could run its heavy vehicles on locally produced low-carbon biofuels – but only if the country decides collectively to act.
27 Feb 18 - Biofuels, liquid and gaseous, will have a role to play in moving towards net zero greenhouse gas emissions by around mid-century in both New Zealand and globally, says Professor Ralph Sims.
---