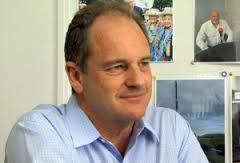 Friday - The Government could use its buying power to support New Zealand's clean-tech pioneers, the Labour Party says.

Friday - The NXT Fuels biofuels refinery project could be a breakthrough for the industry, says fuel retailer Gull New Zealand.

Friday - By CHIS BAKER, CEO, Straterra. Some New Zealanders are calling for an immediate ban on all new coal mines.

Friday - A report launched in Wellington yesterday lays the foundations for new laws around the storage of carbon dioxide as a way to reduce greenhouse gas emissions.

Friday - China is facing significant environmental and social challenges that must be addressed if it is to achieve its sustainable development goals, the United Nations says.

Friday - The wind energy industry is calling for New Zealand's baseload gas-fired generation to be retired to converted to peaker plants.

Friday - A new sustainable wool and rice straw blended upholstery fabric developed by a Wellington company goes into commercial production next year with the potential to create significant demand for New Zealand crossbred wool.
---
Friday - Rilean Construction has started work on its first permanent evolution series show home at Jack's Point Queenstown to help educate people on eco-friendly building methods.
Friday - The stationary fuel cell market is forecast to show massive growth, climbing from $390m in 2012 to $7.52 billion by 2020, a new report shows.
29 Nov 13 - Foodstuffs is looking to drastically cut emissions and energy costs by switching to natural refrigeration.
29 Nov 13 - The small-wind power market is expected to increase massively, from $609m in 2012 to $3 billion by 2020, says a new report.
29 Nov 13 - The Australian Government has made progress on establishing a one-stop-shop environmental approval process for offshore petroleum and greenhouse gas storage activities with the release of two draft...
29 Nov 13 - Auckland's NZI Centre has been awarded a five-star 'market leading' base building Certified Rating for energy use under NABERSNZTM, the office building energy rating scheme.
29 Nov 13 - The economic loss suffered by the Pacific region could range from 2.9 per cent to as high as 12.7 per cent of annual GDP by 2100, according to a new study from the Asian Development Bank.
29 Nov 13 - An motoring organisation has earned national recognition for leading the way with energy-efficient buildings and cutting carbon emissions in Australia.
22 Nov 13 - Sustainability makes good business sense – but talking the talk is not enough, says the winner of the supreme award in this year's NZI Sustainable Business Network Awards.
22 Nov 13 - Climate Change Minister Tim Groser has put New Zealand's emissions-reduction credentials to the COP19 gathering in Warsaw.
22 Nov 13 - Australia's Emissions Reduction Fund is likely to cost its government $A20 a tonne, and possibly $40 a tonne, an analyst says.
22 Nov 13 - Businesses looking for a steer on how Australia's Emissions Reduction Fund scheme will work could find it at the Carbon Expo Australasia next month.
---