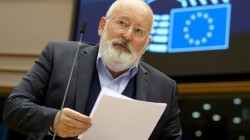 Today 11:00am - The European Commission will not stand in the way of countries that choose to build new nuclear power stations, said EU climate chief Frans Timmermans.

Friday - Ten years ago, New Zealand's Windflow Technologies was about to build two turbines for California.

Friday - The World Bank's private lending branch is indirectly backing one of the world's biggest new coal complexes, despite a new green policy.

Friday - Forests are the planet's biggest carbon "sink" – absorbing more carbon dioxide from the atmosphere than they emit – but their contribution to cooling the earth's climate is currently not fully accounted for under UN rules, experts say.

Thursday - The Government's new carbon-auctioning site could be connected to platforms in the secondary market.

Thursday - Businesses want the new Government to back $7.23 billion worth of projects they say will cut the country's greenhouse gas emissions by 5.5 per cent over the next decade.

Thursday - The European Commission will table new EU-wide regulations this autumn to ensure that batteries manufactured or imported into Europe are "the greenest on this planet".
---
21 Oct 20 - NZX has won the right to set up and operate the Government's carbon-auctioning platform.
21 Oct 20 - Oil company ConocoPhillips has a problem; it wants to pump 160,000 more barrels of oil each day from a new project on Alaska's North Slope, but the fossil fuels it and others produce are leading to...
20 Oct 20 - Carbon markets have barely reacted to the general election, which returned Labour to power with an absolutely majority and arguably an endorsement of its actions on climate change.
20 Oct 20 - Electrification of more of the economy to reduce the country's greenhouse gas emissions will require a resolution to the risk posed by dry years to the hydro-electricity system, says Climate Change...
20 Oct 20 - Three weeks after China told the world it is aiming for carbon neutrality, an important study outlines a roadmap to that goal, and challenges along the way.
19 Oct 20 - Who will be New Zealand's next climate minister? Carbon News canvasses the options and comes up with four names.
19 Oct 20 - The world is dragging its feet on efforts to tackle the climate crisis by reducing its energy use, according to a global watchdog.
16 Oct 20 - Australian resources giant BHP may finally be starting to establish itself as a primary supplier of materials to the battery and electric vehicle markets, confirming that it has started to boost...
15 Oct 20 - Forestry's role under the Emissions Trading Scheme would be reviewed under a National Government and agricultural emissions would not face a carbon price until other countries do the same.
15 Oct 20 - Economic growth is driving New Zealand's rising greenhouse gas emissions, a new report confirms.
15 Oct 20 - Green hydrogen, low-carbon aviation fuel and electric trucks are among 55 clean technologies that can help the European Union to reach its goal of climate neutrality by mid-century, new research...
14 Oct 20 - For the first time, the International Energy Agency has set out what would need to happen this decade to reach net-zero emissions globally by 2050.
---