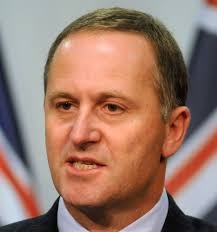 Monday - Prime Minister John Key today will lead a high-powered call for an end to fossil fuel subsidies – despite the fact his Government is subsidising fossil fuel exploration.

Monday - A Taupo farming operation that found a way to live within a nitrogen cap took the top award at this year's Sustainable Business Network awards.

Monday - With the food system accounting for up to a third of global greenhouse gas emissions, anything that reduces its impact will make a big difference to the climate.

Monday - The coal, oil and gas sectors have been warned that trillions of dollars of assets could be stranded if a global agreement on limiting climate change is reached at the UN summit in Paris.

Monday - A large solar thermal electricity plant will soon begin operating near Ouarzazate, Morocco, which will reportedly bring energy to a million people when fully complete.

Monday - The UK government is giving no sign that it intends to replace fossil fuels with renewables, so the only way to avoid the carbon emissions from burning natural gas and oil is the widespread use of carbon capture and storage technology to extract CO₂ from the exhaust gases.

Monday - Renewable energy sources such as solar and wind by 2030 will cost a similar amount to fossils fuels such as coal and gas, thanks to falling technology costs, according to new forecasts.
---
Monday - Toyota dealers around the country have saved a total of $125,000 in energy costs as part of a drive to get Enviro-Mark Gold certification.
23 Nov 15 - Bluff aluminium smelter owner Rio Tinto – which threatened to quit New Zealand if a carbon price was introduced - is one of the world's worst-prepared mining companies for carbon regulation, says a...
23 Nov 15 - Reduced river flows in Brazil, as global warming intensifies the drought there, mean more damage from a burst dam, scientists say.
23 Nov 15 - Russia has a reputation as one of the more difficult states involved in international climate negotiations – and don't expect things to change at the latest UN conference in Paris.
23 Nov 15 - The Organisation for Economic Co-operation and Development countries have agreed to limit subsidies for the export of inefficient coal-fired power plant technologies.
23 Nov 15 - New Zealand is proposing in Paris a climate agreement that is not legally binding. PETER NEWELL, Professor of International Relations at the University of Sussex, explains why legally binding...
23 Nov 15 - Several regions have been meeting in the run-up to the Paris climate talks to deliberate on pressing climate issues. Africa is no exception.
23 Nov 15 - Most books report on what has already happened. John O'Brien has written one that describes the future.
23 Nov 15 - Liechtenstein, Germany and Italy have the highest per capita rate of installed solar generation in the world.
16 Nov 15 - Fonterra and 11 other major New Zealand companies failed to disclose to a global business organisation information about what they are doing on climate change.
16 Nov 15 - Business has a clear plan for how it will lead on climate change over the next five years, according to the Sustainable Business Council.
16 Nov 15 - Judges for the 2015 NZI Sustainable Business Network Awards have announced the finalists for the EECA Business Energy Management Award.
---