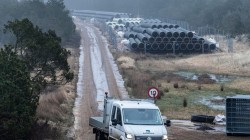 Today 11:15am - Europe is building or planning to build €87 billion worth of fossil gas infrastructure in a continued expansion of pipelines and LNG terminals, despite the need to halve emissions by 2030.

Tuesday - With support from the Australian government, the Adani corporation is pushing ahead with an environmentally destructive coal mine in Queensland. But the traditional Aboriginal owners of the land, the Wangan and Jagalingou nation, are waging a determined fight to stop them.
Monday - Unions are calling for large-scale public investment as part of a "just transition" to a carbon-zero future in their submissions to the Climate Commission's draft report.

Monday - A new study has found that economic growth and total greenhouse gas emission have been decoupled in 32 developed nations - including New Zealand... just.

9 Apr 21 - The good news is that New Zealand's greenhouse gas emissions were down in the year to December 2020, the not so good news is that that same month saw household emissions reach their highest ever level.

9 Apr 21 - The week that was: The PM accepts invite to virtual climate summit; slow burn on coal boiler shutdown; renewable energy stocks tumble, and the kids hit the streets.

9 Apr 21 - When President Xi Jinping committed China to achieving carbon neutrality by 2060 at the UN General Assembly, this was good news for many, including electric vehicle manufacturers and the renewable energies industries. One sector that stands to lose is the coal industry.
---
9 Apr 21 - On Wednesday this week, the New South Wales Deputy Premier and Minister for Regional NSW, Industry and Trade John Barilaro stood next to a train packed with coal, hurtling past metres away as he...
8 Apr 21 - New coal boilers used in manufacturing and production are to be banned by the end of the year, the government announced today.
8 Apr 21 - In Bath, England, even the smallest investors can support – and profit from – the city's green energy boom.
7 Apr 21 - Tomorrow Professor Frank Convery – founding director of the Earth Institute, University College Dublin, and expert on the low emission transition in Ireland's agriculture sector - in conversation...
7 Apr 21 - MEDIA RELEASE - Renewable LPG can supply New Zealand's LPG needs and achieve the emissions reductions proposed by the Climate Commission without the need to ban new connections, a new study shows.
7 Apr 21 - MEDIA RELEASE - MBIE is asking for feedback on whether New Zealanders think the Building Code should be updated to require more insulation in new homes and buildings. The proposals also suggest...
7 Apr 21 - Zimbabwean teenager Nkosilathi Nyathi has introduced solar power to his school and his now campaigning globally to fight climate change.
7 Apr 21 - Ten years ago British electricity generators were facing a minimum carbon price of 16 quid a tonne - more than twice being paid by those in NZ at the time.
6 Apr 21 - An NZU price of $50 is all that's needed to deliver net-zero emissions by 2050, according to the NZ Initiative.
6 Apr 21 - The annual Carbon Market Survey is now open, with the report due out in May.
6 Apr 21 - MEDIA RELEASE - The Youth of NZ will once again be standing up for climate action on April 9th of 2021. From Auckland to Dunedin and everywhere in between we will demand fast and effective climate...
1 Apr 21 - United States President Joe Biden says his new infrastructure plan will allow "transformational progress in our ability to tackle climate change" by bolstering investments in clean energy, electric...
---