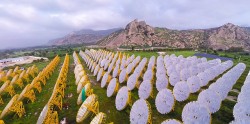 Wednesday - India wants to provide its entire population with electricity and lift millions out of poverty, but in order to prevent the world overheating it also needs to switch away from fossil fuels.

Wednesday - The UK has laid out a welcome mat for any nuclear operators in the world who want to showcase their latest designs in Britain − the one exception being the Russian state company Rosatom.

Tuesday - Improved energy efficiency is helping New Zealand to cut thousands of tonnes of carbon emissions, as well as saving millions of dollars a year, the Government energy efficiency agency reports.

Tuesday - Risk has become a central construct for how businesses should respond to climate change.

Tuesday - Job growth is a prime topic in the US presidential race, but Donald Trump and Hillary Clinton have very different takes on the role clean energy could play in creating employment.

Tuesday - As the global population grows from seven billion to nearly 10 billion by 2050, we will need to build the equivalent of a city of one million people every five days to house them.

Friday - New Zealanders are producing more greenhouse gas emissions from the use of diesel, according to new figures.
---
20 Oct 16 - Non-forestry carbon credits worth more than $350 million – many of them given by taxpayers to large industrial emitters – are sitting in private carbon accounts.
20 Oct 16 - A plant virus has developed the trick of attracting bees to the plants it has attacked to make sure they produce plenty of seed.
20 Oct 16 - Many Americans value environmental protection and want to see more of it.
19 Oct 16 - New Zealand now has more than 2000 electric vehicles – twice as many as at the start of the year.
19 Oct 16 - The pre-industrial atmosphere contained more particles, and so brighter clouds, than we previously thought.
18 Oct 16 - AUSTRALIA'S conservative government might have ditched the country's emissions trading scheme, but businesses across the Tasman still want to get involved in international carbon trading, a survey...
18 Oct 16 - Brazilian scientists, alarmed at the ongoing destruction of the Amazon rainforest, have proposed a radical plan to save it.
18 Oct 16 - Public opposition to pumping water and chemicals into the ground to extract gas from shale − the technique known as fracking − is growing even in the countries whose governments are most...
17 Oct 16 - Some of New Zealand's largest businesses are pledging to convert their vehicle fleets to electricity, collectively avoiding more than 3000 tonnes of carbon dioxide emissions a year within three years.
14 Oct 16 - Should New Zealand follow the UK model of an independent, statutory climate committee?
14 Oct 16 - When Canadian farmer Joe Dorgan noticed about 11 years ago that cattle in a paddock by the sea were more productive than his other cows, he didn't just rediscover an Ancient Greek and Icelandic...
12 Oct 16 - New Zealand could impose a minimum price on carbon.
---