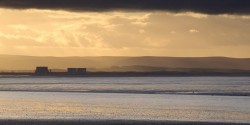 Friday - The shock waves felt round the world at the UK's decision in a referendum to leave the European Union will have unexpected consequences for some major projects linked to climate change.

Friday - The Paris climate agreement saw countries pledge to limit global warming to well below 2degC, and to aim to keep it within 1.5deg. The problem is that countries' current emissions targets are not enough to meet these goals.
Thursday - New data on urban air quality from the World Health Organisation recently led Onitsha, Nigeria, to be given the title of "most polluted city" in the world.

Thursday - Electric vehicles will need to increase their combined market share to 16 per cent by 2020 to achieve the aggressive fuel economy standards set by regulators, according to new research by the World Energy Council.
Wednesday - Three years' worth of information on New Zealand's energy use is now available to the public.

Wednesday - Strategically siting wind turbines where their energy can most easily be fed into the national grid could help to meet more than a quarter of China's massive electricity demand.

Tuesday - Europe's carbon market faces ruin without a price floor, an international think-tank says.
---
Tuesday - Across the world, solar photovoltaics and wind are the dominant clean energy technologies. This dominance is likely to become overwhelming over the next few years, preventing other clean energy from...
24 Jun 16 - New Zealand businesses should now be asking how they are going to cut emissions in line with the country's international pledges – even if those commitments are not yet going far enough, says Toyota...
24 Jun 16 - The fossil fuel industry has spent many millions of dollars on confusing the public about climate change. But the role of vested interests in climate science denial is only half the picture.
24 Jun 16 - By itself, concrete is a very durable construction material. The magnificent Pantheon in Rome, the world's largest unreinforced concrete dome, is in excellent condition after nearly 1900 years.
23 Jun 16 - As the world moves to combat climate change, it's increasingly doubtful that coal will continue to be a viable energy source, because of its high greenhouse gas emissions. Part 5 of a series.
23 Jun 16 - If you despair of Australia's lacklustre climate policies, you might take heart from the Greens' stated goal of limiting global warming to 1.5degC. But are the party's own policies up to the job?
22 Jun 16 - Pricing the true cost of carbon pollution into fossil fuels would push retail petrol prices up 42 cents a litre, making electric vehicles far more attractive, according to a new report.
22 Jun 16 - The decision by four Australian Catholic orders to divest fully from fossil fuels can be interpreted as a direct response to the encyclical on the environment, issued by Pope Francis almost exactly a...
22 Jun 16 - Greenpeace has pooled its renewable energy and legal experts to create a solar hot desk to help people affected by New Zealand's first charge for using solar energy.
22 Jun 16 - Engineers from WelTec's School of Engineering and the School of Creative Industries have designed and built a solar-powered cell-phone charging tower.
22 Jun 16 - Coal played a vital role in the Industrial Revolution and continues to fuel some of the world's largest economies. This series looks at coal's past, present and uncertain future.
22 Jun 16 - Petrol-powered vehicles are predicted to dominate the Australian car market in the year 2030 despite the growing concern of carbon emissions and its impact on the environment, a new study has found.
---