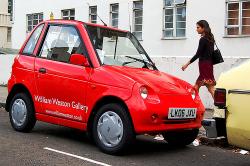 Monday - New Zealand needs to embrace biofuels, electric vehicles and energy forests, and get rid of coal and gas-fired industrial processes if it wants to meet its 2050 emissions reduction commitment, officials have told the Government.

Monday - China's commitment to pricing carbon throughout its economy from 2017 means that the rest of the world should now be factoring the cost of greenhouse gas emissions into business projections, says a leading public policy analyst.
Monday - New Zealand's energy sector is being transformed from a top-down centralised system to one that is much more interactive, yet also decentralised and fragmented, a new report says.

Monday - The second round of Australia's Emissions Reduction Fund auction may see up to $1 billion worth of contracts entered into for the delivery of emissions reductions from land-use and high-emitting companies.
Monday - The world's most influential banker says an orderly switch from fossil fuels to renewables is needed to avoid turmoil on world stock markets.

Monday - Researchers have developed a battery that uses a common food additive to enable abundant solar and wind power to be stored cheaply and safely in homes and offices.

Monday - China has added itself to the list of countries prepared to price carbon. Of course, Australia knows more about putting a national price on carbon than almost any other country. And it also knows about dismantling such a price.
---
Monday - As Volkswagen has found out, sustainability is about much more than promises to customers, says Professor FRANCISCO SZEKELY of the IMD Global Centre for Sustainability Leadership in Switzerland. It...
Monday - This article is not about how to prevent ants from eating your sandwich on a picnic. But it is about mankind's greatest competitor for our global food resource: insects.
Monday - Global concentrated solar power capacity will increase more than fourfold by 2020, a new report shows.
Monday - Australia's first commercial diesel-displacement solar plant has begun operating at a remote mine in northern Queensland.
Monday - By adapting a tropical grass to grow in the British climate, scientists hope to be able to replace coal in power stations with biofuel.
28 Sep 15 - The United Nations is offering Kyoto-compliant carbon credits directly to the public.
28 Sep 15 - China, the world's largest carbon polluter, has reiterated its carbon trading commitment and has pledged $3.1 billion in climate financing to assist developing countries.
28 Sep 15 - The world should abandon fossil fuel support policies which belong in a past when healthy economies depended on pollution, say wealthiest nations.
28 Sep 15 - As momentum builds for a new deal on climate change, investors are becoming increasingly nervous about having their cash in fossil fuels.
28 Sep 15 - The Asia-Pacific region will overtake Europe to become the largest contributor to global solar photovoltaic installed capacity, says a new report.
28 Sep 15 - If Arctic soils melt and release frozen carbon, the impact would cost almost half the world's annual gross domestic product, researchers say.
28 Sep 15 - India, the world's third-largest polluter, is planning to balance development with environment protection as it tackles climate change.
---