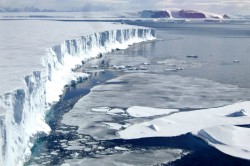 Today 10:00am - The world has warmed about a degree since the Industrial Revolution, and on our current emissions trajectory we will likely breach these limits within decades.

Thursday - With every passing year, Southeast Florida faces more pressure to adapt to climate change.

Thursday - Electrifying transportation is one of the most promising ways to significantly cut greenhouse gas emissions from vehicles, but so-called range anxiety – concern about being stranded with an uncharged car battery – remains a barrier to electric vehicle adoption.

Tuesday - Balancing the environment with development is tricky. One way for policymakers to include the value of ecosystems in development is to set limits for pollution and other environmental impacts, known as environmental bottom lines.

Tuesday - Geologists have resolved one great problem about the capture of carbon dioxide from coal-fired or gas-fired power stations and its sequestration deep in the Earth, with what appears to be the prospect of rock-solid carbon storage.

Tuesday - Sugarcane waste is to be turned into power in new biomass plants in the Philippines.

Monday - Replacing a million fossil fuel-driven cars with electric vehicles would cut New Zealand's greenhouse gas emissions by more than 20 per cent in the crucial 2021-2030 period, officials say.
---
Monday - Switch off your computer, dust off your old typewriter, sharpen all the pencils you can find, lay in stocks of postage stamps − and that's just the start.
16 Aug 16 - Some of New Zealand's largest carbon emitters, along with forestry companies and even iwi are among the organisations that used cheap EURs to meet their liabilities under the Emissions Trading...
15 Aug 16 - The Government is offering money for projects to help to switch the nation's fleet to electric vehicles.
15 Aug 16 - Fonterra energy manager Linda Thompson has been named Young Energy Professional of the Year 2016 at the Deloitte Energy Excellence Awards.
12 Aug 16 - New Zealand Steel wants the steel industry excluded from the Emissions Trading Scheme, saying that rising carbon prices are putting the industry at risk.
11 Aug 16 - A lawyer who advised a carbon-farming company that was later prosecuted by the Overseas Investment Office is under investigation over the affair.
11 Aug 16 - Artificial photosynthesis could be used to store carbon dioxide in synthetic "leaves".
11 Aug 16 - United States Republican presidential candidate Donald Trump has repeated his pledge to get rid of his country's climate change policies – including its commitment to the Paris Agreement – if he...
10 Aug 16 - Farmers – already exempt from liability for the majority of greenhouse gas emissions from their businesses – urged the Government to keep other subsidies in place to further protect them from carbon...
10 Aug 16 - New Zealand has hit its target of 90 per cent renewable electricity production this year.
10 Aug 16 - The global offshore oil and gas industry has installed a wide variety of infrastructure throughout our oceans, including tens of thousands of wells, thousands of platforms and many thousands of...
9 Aug 16 - Insurance company IAG and property investor Goodman have been awarded a 5-star NABERSNZ whole-building rating for their Christchurch office.
---