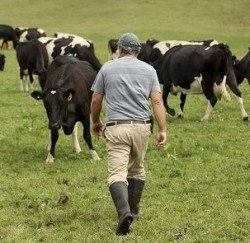 Monday - Farmers are overwhelmingly opposed to environmental taxes Ė unless the revenue comes to them.

Friday - A wet and windy winter slashed New Zealandís greenhouse gas emissions from electricity generation.

Thursday - Requiring all new buildings to be carbon-neutral is the most cost-effective emissions-reduction action New Zealand can take, the Government is being told.
17 Sep 18 - By SIR ALAN MARK | After decades of sitting on our hands, the simple the act of commissioning an inquiry into becoming a low-carbon economy has been hugely positive on public perception.

14 Sep 18 - The man who got politicians from both sides of Parliament to agree on climate change says there might be a third option for dealing with New Zealandís greenhouse gas emissions.

12 Sep 18 - Feeding animals a genetically engineered high-energy ryegrass could cut greenhouse gas emissions from New Zealand farms by more than 20 per cent, the Government has been told.
11 Sep 18 - A third investigation says New Zealand must make drastic cuts to methane emissions.
---
6 Sep 18 - New Zealand is backing other Pacific nations calling for the United Nations to up its game over the security threats posed by climate change.
5 Sep 18 - Recommendations for what is being called the biggest land-use change in New Zealandís history are pleasing foresters but not farmers.
4 Sep 18 - Carbon prices of $200 a tonne, the end of fossil-fuels and agriculture subject to carbon pricing are on the cards if the Government picks up a new report.
4 Sep 18 - Fossil fuels should be consigned to history, the Productivity Commission says.
31 Aug 18 - New research released by the Parliamentary Commissioner for the Environment confirms that New Zealandís methane emissions must be cut.
30 Aug 18 - Methane emissions Ė including those from agriculture - will have to be cut if the Paris Agreement is to be met, officials have told climate minister James Shaw.
29 Aug 18 - Bioenergy production using wood from locally grown and sustainably managed forests can provide one of the lowest-carbon energy options for New Zealand, Scion says.
29 Aug 18 - Auckland is promising to halve the amount of waste being sent to rubbish dumps by 2030.
29 Aug 18 - Five teams have been short-listed in a global design competition that could see two Auckland carparks redeveloped as eco-housing centres.
28 Aug 18 - Cutting New Zealandís greenhouse gas emissions was on the Prime Ministerís menu at a business breakfast in Auckland this morning.
28 Aug 18 - Companies might be cherry-picking sustainability measures that make them look good, with greenhouse gas emissions one of the least-reported factors.
27 Aug 18 - The Governmentís Provincial Growth Fund should be backing production in New Zealand of biofuel, says one of the players in a biojet consortium.
---