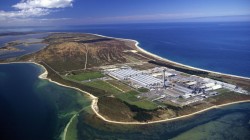 Friday - Carbon prices have reacted to yesterday's news that one of the country's biggest electricity users and emitters of greenhouses gases is shutting up shop.

Friday - One of Australia's biggest industry superannuation funds plans to sell down its investments in thermal coal miners in a bid to protect its members from the financial impact of climate change.

Thursday - One of New Zealand's biggest greenhouse gas emitters is closing operations in New Zealand, potentially cutting the country's missions by more than 1.5 million tonnes a year.

Thursday - New Zealand carbon prices are at a new high – but sellers are still not coming to the party.
Thursday - MEDIA RELEASE - COAL ACTION NETWORK AOTEAROA -The announced closure of Tiwai Point is welcome news for the clean energy future of New Zealand, and presents huge opportunities in areas such as electrifying transport and developing new, high-tech industries, Coal Action Network Aotearoa said today.

Tuesday - A push to cut greenhouse gas emissions from the construction sector will inevitably lead to more wood in buildings, forest owners say.

Tuesday - If you're looking for pioneering carbon dealer Nigel Brunel outside trading hours, chances are you'll find him somewhere around Auckland on his bike.
---
Tuesday - Electric vehicles have a clear environmental advantage over their gas-guzzling counterparts, but when it comes to longevity, the two are in a dead heat.
6 Jul 20 - New Zealand's only cement producer is calling on local and central authorities to help it persuade the construction sector to accept lower-emissions cement.
6 Jul 20 - Prime Minister Jacinda Ardern is hinting at a major announcement on renewable energy.
6 Jul 20 - At least $10 billion worth of gold, platinum and other precious metals are dumped every year in the growing mountain of electronic waste that is polluting the planet, according to a new UN report.
6 Jul 20 - Sustainable Business Council: A new programme, which sets a firm course for the Building and Construction sector to help reduce greenhouse gas emissions, is welcomed by the Sustainable Business...
2 Jul 20 - New Zealand carbon prices are at record levels, but how high are they going?
2 Jul 20 - Global oil demand and carbon dioxide emissions probably peaked in 2019 as the Covid-19 pandemic will have a lasting impact on both, says energy consultancy DNV GL.
2 Jul 20 - A Texas company has plans to store surplus electricity under ground - in pressurised water.
2 Jul 20 - Welcome to the Energy Vault - a giant tower with a crane at its centre and thousands of massive stackable bricks, each weighing more than a fully loaded school bus.
1 Jul 20 - Infrastructure minister Shane Jones says New Zealand should be focusing its climate-change action on preparing for the impacts of a warming climate.
1 Jul 20 - Spain is on track to become a coal-free country in record time. All of its remaining coal-fired thermal power plants started shutting down yesterday, a year-and-a-half after the closure of the coal...
30 Jun 20 - The Government is aware of the role the Marsden Point oil refinery could play in the transition to a low-carbon economy, but buying it back is not on the agenda, the infrastructure minister says.
---