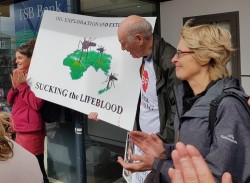 Monday - The mining sector is positioning itself as part of the solution to climate change, as protesters gear up to disrupt the industryís annual gathering this week.

Monday - Got an idea to save the world? It might just qualify for support under a new billion-dollar scheme.

Friday - Companies in New Zealand could face compulsory climate-risk disclosure through new accounting standards.

Thursday - Renewables firm Pangea Energy and vanadium battery producer CellCube have signed on to build a 50MW storage system alongside a solar farm in South Australia.

Wednesday - New Zealandís political elder statesman on climate change is warning of a potential gilets jeune-style backlash against the costs of climate action.

21 May 19 - National Party MPs are meeting this morning to decide whether they will support the Governmentís zero carbon bill.

21 May 19 - In Finland, end-of-life textiles no longer end up in landfills, but there is still a lot of room for improved efficiency in their recycling and reuse.
---
17 May 19 - The Government is exposing the country to significant risk by delaying changes to the carbon pricing regime, says one of the architects of the Emissions Trading Scheme.
15 May 19 - Technologies like turning human waste into electricity could meet a large chunk of the Government's 2030 methane reduction target.
14 May 19 - United Nations Secretary-General Antonio Guterres says income taxes should be replaced with carbon taxes.
13 May 19 - Organic farmer and former Green Party co-leader JEANETTE FITZSIMONS says farmers can cut methane now while increasing farm profits.
13 May 19 - Two major financial companies are issuing warnings to investors over climate change.
13 May 19 - United Nations Secretary-General Antonio Guterres is praising New Zealandís efforts on climate change.
10 May 19 - The Government will have to explain why it ignores any recommendations on the Emissions Trading Scheme from the proposed Climate Change Commission, officials say.
9 May 19 - A poll to be released today shows a majority of New Zealanders Ė including National Party supporters - think the country needs to take action now on climate change.
9 May 19 - New Zealandís farmers might have to reduce methane emissions from animals by nearly four million tonnes a year under the Governmentís climate change plans.
9 May 19 - Taranaki will be home to a $27 million clean-energy centre, Prime Minister Jacinda Ardern has just announced.
8 May 19 - New Zealandís agricultural emissions will be cut Ė but not as much as other gases.
7 May 19 - New Zealand is being asked to declare a climate emergency just as the world is again reminded of the precarious state of the planet.
---