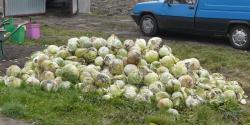 Tuesday - An unsung success story in the switch to renewable energy is the use of waste to produce gas – and a valuable by-product.

Tuesday - With investment in renewable electricity sources now outstripping polluting fossil fuels, a new study sees signs of change in global attitudes towards climate risks.

Tuesday - Science can now make energy by building immense wind turbine blades and filtering carbon from the air, but the challenge is commercial viability.
Tuesday - Half the people worried about climate change are not willing to make any changes to their lives to prevent it, a new study suggests.

2 Feb 16 - Australia's Emissions Reduction Fund is expected to run out of money by the end of the year, after the Government said it won't put in any more.

2 Feb 16 - The foundation stone of a new solar power club of 122 nations has been laid in Gurgaon, India, by Indian Prime Minister Narendra Modi and French President François Hollande − cementing an agreement the two leaders made at the Paris climate talks last December.

2 Feb 16 - Global agreements to aim for "well below" 2deg warming are nice enough, but now it's time to develop some detailed policies to help us to get there.
---
2 Feb 16 - South Africa's Western Cape plays an important role in the agricultural economy, but is particularly vulnerable to a changing climate.
2 Feb 16 - Billions of gallons of oil and huge quantities of gas, already discovered and which companies were about to extract, are currently being left unexploited because of the plunge in oil prices.
2 Feb 16 - Wind power and solar power are ways to reduce carbon emissions, but these generation sources are dependent on the vagaries of the weather, which means neither wind nor solar can produce electricity...
25 Jan 16 - Former Prime Minister Helen Clark is calling for "fearless leadership" to get global agreements implemented – including the recently negotiated Paris Agreement on climate change.
25 Jan 16 - Sydney has announced a series of measures to help the city to cope with soaring temperatures, worsening storms and rising sea levels.
25 Jan 16 - To tackle chronic energy shortages Pakistan plans to mine and burn millions of tonnes of coal, helped by China's money and expertise.
25 Jan 16 - Call for governments to give financial backing for technology that could help to save the world from overheating by preventing CO2 escaping into the atmosphere
25 Jan 16 - It's official: 2015 was the warmest year on record. But those global temperature records only date back to 1850 and become increasingly uncertain the further back you go.
18 Jan 16 - Using energy-efficient LED bulbs is saving flight catering services company LSG Sky Chefs $77,000 a year worth of power – and reducing greenhouse gas emissions by 42 tonnes a year.
18 Jan 16 - In an American lection year, with two parties dug in on opposite sides of the climate issue, perhaps only extreme weather will roil the debate.
18 Jan 16 - Jaguar Land Rover has become the latest car manufacturer to announce its entry into the world's first fully electric racing series – the FIA Formula E World Championship.
18 Jan 16 - Rising temperatures and reduced rainfall will make the flow of rivers less dependable, affecting supplies to the electricity generators that rely on them.
---