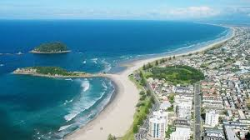 Today 11:00am - New Zealanders are among the billions of city dwellers who will be hit by the impacts of climate change within three decades, a new report shows.

Today 11:00am - By JONATHAN McKEOWN | It is always refreshing when structures and processes work as they were designed to. It's an absolute triumph when it involves the public sector, an industry body and business.

Monday - By publisher ADELIA HALLETT | Is Opposition Leader Simon Bridges' offer to work with the Government on climate change policy worth any more than a dodgy hot-air carbon credit?

Friday - A document likely to underpin the Government's plans to decarbonise the economy is being called dangerously misleading.

12 Jun 18 - Climate minister James Shaw has invited the National Party to help him to draft the Zero Carbon Act.

11 Jun 18 - Developing a sustainable hydrogen energy industry will be on the agenda for talks between New Zealand and Japan this week.

11 Jun 18 - Entries are open in this year's Sustainable Business Network awards.
---
8 Jun 18 - The Zero Carbon Bill gives the certainty that has been lacking to tackle one of the biggest problems facing business, says Z Energy chief executive Mike Bennetts.
7 Jun 18 - Carbon prices of more than $800 a tonne will be needed if New Zealand doesn't tackle greenhouse gas emissions from agriculture, the Government has been told.
6 Jun 18 - The Interim Climate Change Committee will investigate the impact of further oil and gas exploration on New Zealand's emissions reduction targets.
5 Jun 18 - Companies with nearly $37 trillion under investment are calling on the world's governments to step up action on climate change to meet the Paris Agreement targets.
29 May 18 - Climate minister James Shaw is to visit the world's largest carbon market – China.
28 May 18 - By publisher ADELIA HALLETT | Debate about the future of oil prospecting in New Zealand is ignoring one very important point - the world is facing an emissions crisis, and the future does not include...
23 May 18 - New Zealand's greenhouse gas emissions could be cut by more 640,000 tonnes a year by burning wood instead of coal in boilers in the Otago region alone.
23 May 18 - An increasing number of reports are identifying limiting global warming to 1.5deg as critical for the future of humans and nature.
21 May 18 - Officials have confirmed that at the rate we're using it, New Zealand has about 10 and a half years' worth of natural gas reserves.
17 May 18 - Another organisation is telling the Government to shift the tax burden from the production of private wealth to the consumption of public wealth, aka the environment.
10 May 18 - Natural gas is not a transition fuel to a low-carbon economy – and the Government should go further than just banning all new offshore exploration licences, a new report says.
8 May 18 - Covering 0.06 per cent of New Zealand's land with solar panels would provide enough power for the country's total energy needs, a new study says.
---