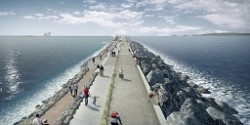 Friday - Ambitious plans have been drawn up for a network of "tidal lagoons" around the UK coast that could provide up to a quarter of the country's electricity – and there is potential to roll out the technology in many parts of the world.

Friday - A leading UK voice in the debate on climate change says more attention should be paid to positive action being taken to tackle CO2 emissions in China rather than worrying about the US and Donald Trump.

Friday - Solar power in Australia is more affordable than new fossil fuel and nuclear power, with costs plummeting by almost 60 per cent over the past five years, a new report released by the Climate Council has found.
Thursday - In some political circles, hostility to climate policy has become a way of showing off one's conservative credentials. But a suggestion for pricing carbon, grounded in classic conservative principles, has now emerged in the United States.

Thursday - Every mouthful of food eaten by virtually every creature on Earth depends ultimately on the sun.

Wednesday - Company bosses need to walk-the-walk when it comes to greening their business with technology, with new research finding that just buying green IT, doesn't make you green.

Tuesday - The Government risks court action over its latest energy efficiency strategy, says energy campaigner Jeanette Fitzsimons.
---
Tuesday - Concern about the environmental impact of industrialised farming through the use of pesticides and the destruction of the rainforest has even spread to Brazil's famous Rio carnival.
20 Feb 17 - New Zealand's small businesses are lagging behind in adopting energy efficiency measures that could save them significant amounts of money – even though most say that their energy costs are...
20 Feb 17 - New Zealand and China have held their first ministerial meeting under the bilateral carbon agreement.
20 Feb 17 - President Trump has made it clear he intends to dismantle the Obama administration's policies for reducing US greenhouse gas emissions.
17 Feb 17 - Here is a vision of the future in a warming world without fossil fuels:
17 Feb 17 - Climate change may be about to set a trap for African penguins and send them foraging for food in places that the fish have departed, according to satellite trackers.
15 Feb 17 - The Government's energy policies take a battering in new research from Otago University.
15 Feb 17 - One of the most unexpected political developments in recent months has been the political awakening of scientists in the United States.
14 Feb 17 - America's power supply could one day falter just when customers need it most.
14 Feb 17 - Ski resorts all over the world are increasingly turning to expensive snow-making machines as the climate warms. This method uses so much fuel that it contributes to global warming.
13 Feb 17 - By editor ADELIA HALLETT | Try these numbers: Humans are causing the climate to change at 170 times the natural rate. Our "carbon budget" to keep warming below 1.5deg will be used up in five years....
13 Feb 17 - Australia's energy system must be overhauled to ensure reliable power in the face of severe heatwaves and other extreme climate change-driven weather, says the Climate Council.
---