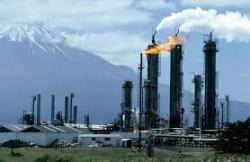 Monday - The Government is calling for energy companies to explore the potential of more than 400,000 square kilometres of land and sea, maintaining that oil and gas have a role to play in a low-carbon world.

Monday - A third thermal power station is closing because it can't compete economically against renewables.

Monday - Australia's flagship climate change scheme will buy the country just half of its 2020 emissions reduction target, a market watcher says.

Monday - By KEIRAN COOKE.- Zheng Guogang, head of the China Meteorological Administration, says future variations in climate are likely to reduce crop yields and damage the environment.

Monday - Maximizing the efficiency of converting sunlight to electricity was the primary goal for much of the history of solar power industry. Because solar cells were so expensive to make, they were used only in special applications, such as on spacecraft, where performance was more important than cost.

Monday - A new housing development in Auckland's Wynyard Quarter will be the first to use the new 7 Homestar environmental rating.

23 Mar 15 - New Zealand could be one of the first countries with a complete network of charging stations for plug-in electric vehicles, the Electricity Networks' Association says.
---
23 Mar 15 - A global investigation into every coal-fired power plant proposed in the past five years shows that only one in three of them has actually been built.
23 Mar 15 - As a professor of ecology, Shahid Naeem knows all too well that there's no shortage of environmental ills to keep us awake at night – global warming, the spread of diseases, dead zones in the Gulf of...
23 Mar 15 - Without cooling, the supply of food, medicine and data would simply break down.
23 Mar 15 - The world needs a lot of energy. Global energy demand is expected to increase by 37 per cent percent over the next 25 years, according to the International Energy Agency's World Energy Outlook 2014.
23 Mar 15 - By KIERAN COOKE.- The wind turbines are turning across America, and a major report by the US Department of Energy says the wind energy sector now supplies 4.5 per cent of the nation's electricity.
23 Mar 15 - Got ideas for cutting water use in manufacturing, energy production or the resources sector? Australia wants to hear them.
23 Mar 15 - A Tauranga wind engineer has been made a fellow of the Institution of Professional Engineers New Zealand for his leadership in the development of wind generation.
16 Mar 15 - Finland has launched a research centre for the refining of biomass into biochemicals as part of the country's drive to double its bio-economy.
16 Mar 15 - Analysis of temperature records and reconstructions of past climates indicates that the pace of global warming is about to accelerate.
16 Mar 15 - There are many uncertainties with respect to global climate change, but there is one thing about which I have no doubts: we will not solve climate change by running out of fossil fuels.
16 Mar 15 - Time is divided by geologists according to marked shifts in the Earth's state. Human activity has clearly altered the land surface, oceans and atmosphere, and re-ordered life on Earth. This suggests...
16 Mar 15 - The economics of environmentalism will be under the spotlight in Tauranga next week.
---