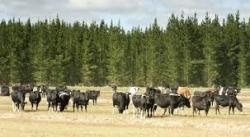 Monday - There is bad news for farmers, and good and bad news for industrial emitters under Labour's climate change policy, released yesterday.

Monday - Some of New Zealand's biggest companies are working out how they can use their purchasing power to drive the new economy.

Monday - Prime Minister John Key launched National's election campaign yesterday without mentioning the environment.

Monday - Britain's advertising watchdog has ruled that an advertisement for "clean coal" by the world's largest private sector coal firm, Peabody Energy, was misleading and should not be published again in its current form.

Monday - This week Brisbane hosts the final meeting of the G20 Energy Sustainability Working Group before the main G20 summit in November, when government officials and energy experts from 20 of the most powerful countries in the world will discuss how the world governs energy.

Monday - It's tempting to view The Australian's latest broadside at the ABC as just another salvo fired between the nation's two biggest media organisations.
Monday - An international energy market watcher is predicting price rises in European carbon.
---
Monday - Climate change is gradually turning Spain into a fire zone – but it's also the change in the economic climate that is inflaming the situation.
18 Aug 14 - Researchers have discovered that the world's energy needs could easily be met by harnessing the power potential of high-altitude winds.
18 Aug 14 - A Texas judge has dismissed a million dollar lawsuit filed by a family who say their lives have been ruined by noxious emissions from oil and gas facilities near their home.
18 Aug 14 - If you want a safe bet, don't invest in some of today's tempting oil and gas projects. That's the message from a UK-based financial think-tank that aims to align the global energy market with climate...
18 Aug 14 - Statoil, the Norwegian state-owned company, has announced that it has failed to find commercial quantities of oil and gas in the Barents Sea this year.
18 Aug 14 - By JON MAJOR.- Whenever I tell people I work with solar cells, I am asked the same two questions: are they ever going to be really cheap? And can you get me some?
18 Aug 14 - French economist widely debated Thomas Piketty and his book Capital in the Twenty-First Century are a global publishing phenomenon. But while Piketty's writing on wealth inequality has been widely...
18 Aug 14 - Transportation continues to generate a large proportion of emissions worldwide, even as emissions from other areas of the economy fall.
18 Aug 14 - Groups for and against US government plans for new regulations aimed at cutting greenhouse gas emissions have been slugging it out at a series of heated debates across America.
18 Aug 14 - Canon New Zealand is calling for Kiwis to get creative and apply for its annual Environmental Grants Programme, offering $15,000 worth of grants in-kind to schools, community groups and...
11 Aug 14 - Kawerau might have a new future as a flower town as part of a drive by Maori to build sustainable green businesses on their land.
11 Aug 14 - Beijing will ban coal sales and use in its six main districts and other regions by the end of 2020 to cut air pollution.
---