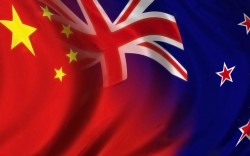 Friday - China's action on climate change makes New Zealand look like its "pussy-footing around", says climate minister James Shaw.

Wednesday - Consultation on the next review of the Emissions Trading Scheme will start next month.

13 Jul 18 - New central bank head Adrian Orr is warning of financial crisis and mass social unrest if the world doesn't urgently address climate change.

12 Jul 18 - Farmers could be interested into opting into the Emissions Trading Scheme – if the settings are right.

11 Jul 18 - Farmers should be able to opt into the Emissions Trading Scheme so they can get credit for introducing climate-friendly practices, says the Greater Wellington Regional Council.
29 Jun 18 - Keeping organic waste out of rubbish dumps will double its carbon footprint and deny the country an important source of renewable energy, says the country's largest landfill operator.

27 Jun 18 - The future of low-emissions transport is not necessarily electric, car makers are telling the Government.
---
20 Jun 18 - By JONATHAN McKEOWN | It is always refreshing when structures and processes work as they were designed to. It's an absolute triumph when it involves the public sector, an industry body and business.
18 Jun 18 - By publisher ADELIA HALLETT | Is Opposition Leader Simon Bridges' offer to work with the Government on climate change policy worth any more than a dodgy hot-air carbon credit?
15 Jun 18 - The National Party says it will work with the Government to establish a climate change commission.
14 Jun 18 - Carbon prices of $50 to $350 a tonne by 2020 will drive investments in low-emissions development of Maori land, creating jobs and alleviating poverty along the way, the Government is being told.
11 Jun 18 - The Government has finally released some of its proposed changes to the Emissions Trading Scheme's forestry rules – but the sector won't see the rest until the end of the year.
7 Jun 18 - Carbon prices of more than $800 a tonne will be needed if New Zealand doesn't tackle greenhouse gas emissions from agriculture, the Government has been told.
31 May 18 - Today is Emissions Trading Scheme Surrender Day – the last day for emitters to surrender units to cover their emissions last year.
29 May 18 - Climate minister James Shaw is to visit the world's largest carbon market – China.
24 May 18 - Linking New Zealand's carbon market to the European Emissions Trading Scheme could be part of a new free-trade deal.
22 May 18 - The bureaucratic costs of shifting to a carbon-free economy are starting to be felt.
17 May 18 - Another organisation is telling the Government to shift the tax burden from the production of private wealth to the consumption of public wealth, aka the environment.
14 May 18 - Taxes should be aiming at keeping human activity within the planet's physical capacity – and that means carbon prices that deliver fast, deep and sustained emissions reductions, the Government's Tax...
---