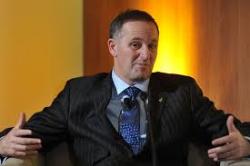 Tuesday - By editor ADELIA HALLETT.- Voters in this weekend's general election face a simple choice when it comes to climate change – you either believe it is a real and massive problem requiring transformation of the economy, or you don't.

8 Sep 14 - New Zealand should be knocking on China's door now if it wants to exploit huge potential from that country's apparent determination to put a national emissions trading scheme in place in 2016, says a leading local carbon trader.

8 Sep 14 - New Zealand has the lowest carbon prices in the world, the World Bank says.

8 Sep 14 - Korea's booming car industry appears to have won over the government in the country's latest road map for emissions reduction.

1 Sep 14 - The one-for-two deal that halves emitters' carbon liabilities would be scrapped by a Labour government.

1 Sep 14 - Forest owners are welcoming the reinstatement of the Afforestation Grant Scheme – but say that lifting carbon prices would reverse deforestation overnight.

1 Sep 14 - Forest owners like the Labour Party's plan to set up an independent climate commission.
---
1 Sep 14 - No matter what the aviation industry does to reduce emissions, it will be outweighed by growth in air travel, according to a new analysis.
25 Aug 14 - There is bad news for farmers, and good and bad news for industrial emitters under Labour's climate change policy, released yesterday.
25 Aug 14 - An international energy market watcher is predicting price rises in European carbon.
18 Aug 14 - For the first time, economists have put a financial cost on the impact of greenhouse gases released by the industrialisation of developed countries.
18 Aug 14 - French economist widely debated Thomas Piketty and his book Capital in the Twenty-First Century are a global publishing phenomenon. But while Piketty's writing on wealth inequality has been widely...
11 Aug 14 - A carbon price is still the best and fairest way to achieve emissions cuts, but as Australia and New Zealand show, it's not easy to get it right. How could carbon pricing be improved?
4 Aug 14 - The company that threatened to leave New Zealand if it introduced the Emissions Trading Scheme has had a $6 million windfall from taxpayers in the form of free carbon credits.
4 Aug 14 - More than 750 owners of post-1989 forests left the Emissions Trading Scheme over the past year as New Zealand's net forestation rate plummeted.
4 Aug 14 - Just 0.5 per cent of the more than 45 million carbon units surrender for the 2013 emissions year were our home-grown units.
4 Aug 14 - Government claims that lifting carbon prices would cost householders $500 more a year in electricity bills have been debunked.
1 Aug 14 - New Zealand might face claims under free-trade agreements for losses caused as a result of changes to the Emissions Trading Scheme.
1 Aug 14 - Spot NZUs sold down to $3.90 on decent volume – circa 50K. OMFinancial reports
---