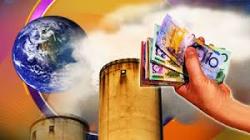 Friday - In the short term, the repeal of Australia's carbon tax, passed in the Senate yesterday, may provide some relief for businesses and households as electricity bills fall — although possibly not as much as official estimates.

Friday - Carbon emissions in Australia's national electricity market would have been 11 to 17 million tonnes higher if Australia had not introduced a carbon price.

Friday - The sale of carbon credits for the first time will finance projects that help to tackle climate change.
Friday - We saw more trading of NZUs under $4 yesterday. OMFinancial reports:

11 Jul 14 - Europe's structural funding cash pool for energy efficiency and renewables projects has soared by 40 per cent to an estimated $NZ46 billion and could be used to broker a 2030 clean energy targets deal with cost-concerned east European states, EurActiv reports.

11 Jul 14 - Australian farmers and rural land owners are being told that they will be given powerful and direct incentives to store carbon in the land under the federal government's new climate policy.

11 Jul 14 - By RUSSEL NORMAN, Green Party co-leader.- Thanks to Federated Farmers' incoming president William Rolleston for taking the time to write about the Green Party's Climate Tax Cut in last week's Carbon News.
---
4 Jul 14 - Newly elected Federated Farmers' president Dr William Rolleston explains why he thinks the Green Party's carbon tax proposal is not a runner:
27 Jun 14 - Australia's emissions trading scheme is on again. Maybe.
27 Jun 14 - Associate Climate Change Minister Simon Bridges says New Zealand's is respected internationally for its action on climate change.
27 Jun 14 - New Zealand's emissions price beacon is "obscured in the fog of policy uncertainty", but dumping it in favour of a carbon tax isn't the only way to fix it, say Motu Research's Catherine Leining and...
27 Jun 14 - The bill to repeal Australia's carbon tax is poised to pass the Senate, potentially leaving Australia without a working price on carbon.
27 Jun 14 - An international carbon market watchdog is welcoming Australian politician Clive Palmer's shift on climate change.
20 Jun 14 - By CHARLES ETHERINGTON, Warren Forestry Ltd.- The Greens are giving the impression of being ahead on the topic of a carbon tax versus the Emissions Trading Scheme, but, as usual, they are actually...
13 Jun 14 - New Zealand appears unenthusiastic about our Tasman neighbour's plans to form a conservative alliance on climate change.
13 Jun 14 - STEPHEN KNIGHT-LENIHAN, JULIA HARKER and PRUE TAYLOR argue for transparent emissions-reduction reporting, in the same way that we report on the share market and exchange rates.
6 Jun 14 - New Internet Party leader Laila Harre is no fan of the Emissions Trading Scheme
6 Jun 14 - In 2008, the European carbon market crashed.
6 Jun 14 - By ALEX KIRBY.- Analysts believe that China − the world's largest producer and consumer of coal, accounting for almost half of global consumption − could be close to making an abrupt and...
---