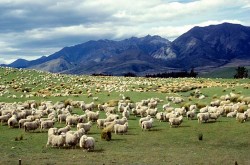 Thursday - Farmers want research into alternative land uses to help them to cope with climate change, and greater incentives to plant carbon-storing trees on their farms.

20 Feb 17 - New Zealand and China have held their first ministerial meeting under the bilateral carbon agreement.
16 Feb 17 - A little of Treasury's thinking on how to protect the economy from carbon exposure has been revealed – including a hint that it wants to talk to the business community.

15 Feb 17 - The Government's energy policies take a battering in new research from Otago University.

9 Feb 17 - New Zealand cannot rely on international carbon credits to meet its emissions reductions targets after 2030, officials have told the Government, warning that credits could be expensive and in short supply.

3 Feb 17 - Our former climate ambassador says that agriculture should be brought into the Emissions Trading Scheme – even if it is treated differently.

1 Feb 17 - New Zealand could cut the cost of meeting its international emissions reductions targets by linking its carbon market to emerging markets in Asia.
---
27 Jan 17 - Mexico is drawing on international business experience to develop the country's emissions trading scheme.
26 Jan 17 - New Zealand shipping companies say it is unfair they are paying for their greenhouse gas emissions but international companies competing with them on coastal routes are not.
19 Dec 16 - The climate portfolio is now held by the deputy prime minister – the highest ranking it has ever had in New Zealand.
15 Dec 16 - The Government's plan to cut the emissions intensity from industrial heat generation by 1 per cent a year is just business as usual, and will do little to achieve New Zealand's Paris Agreement...
9 Dec 16 - An international economist is in New Zealand preparing a report on how the country can cut all greenhouse gas emissions by 2050.
6 Dec 16 - Australian investors want clear climate policy that delivers certainty – and access to international carbon markets, says the Investor Group on Climate Change.
2 Dec 16 - New Zealand has joined a World Bank group promoting carbon pricing.
2 Dec 16 - The European Commission's Winter Package is a further step toward harmonising the bloc's climate and energy strategy, says the International Emissions Trading Association.
30 Nov 16 - The average New Zealand household's emissions fell 11 per cent between 2006 and 2012, new research shows.
25 Nov 16 - New Zealand has started talking to countries about supplying carbon credits to help to meet its Paris Agreement emissions reduction pledge.
23 Nov 16 - A first report on how New Zealand can adapt to climate change – including environmentally sustainable economic growth - should be with the Government by May.
18 Nov 16 - The Prime Minister says the Emissions Trading Scheme is operating "pretty well".
---