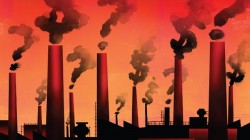 Thursday - A carbon price floor would be challenging but would give businesses certainty and guarantee foresters a price that made planting trees worthwhile, officials told the Government.

Wednesday - The Government is unlikely to use New Zealand's banked carbon credits to make-good on hot-air credits we have already surrendered internationally, a Parliamentary select committee has heard.

Tuesday - New Zealand's carbon price cap will not rise above $25 for a long time – but neither will it go down, Climate Change Minister Paula Bennett has told a select committee.
20 Jun 16 - By DEBORAH COTTON | In April 2011, not long after Julia Gillard was returned to power in the 2010 federal election, I asked a representative sample of Australians about their attitudes to climate policy.

17 Jun 16 - A "yes" Brexit vote would leave a large pro-market void in Brussels and will hold back the development of international carbon markets, the International Emissions Trading Association is warning.

15 Jun 16 - New Zealand's carbon prices should be kept within a band of $15 to $50, says a forestry company that has played a leading role in developing the carbon market.

15 Jun 16 - The Paris climate agreement was an important success for climate diplomacy as nation states showed a strong will to cooperate on climate action.
---
3 Jun 16 - Carbon prices have climbed 10.9 per cent in the week since the phase-out of the one-for-two subsidy was announced.
2 Jun 16 - Washington state has published a revised plan for an emissions trading scheme, targeting a 1.7 per cent annual reduction in emissions from industrial and electric power installations.
1 Jun 16 - The announcement yesterday of a formal working relationship between the Labour and Green parties is a potential turning-point in New Zealand's battle to adapt to climate change.
1 Jun 16 - The organisers of yesterday's Yes We Can! seminar on how to transition the New Zealand energy system to a low-carbon future have got a good problem – too many ideas.
30 May 16 - Officials warned the Government that New Zealand was at risk of over-shooting its 2030 emissions reduction target by 150 million tonnes – due largely to subsidies to emitters and a stockpile of...
30 May 16 - Phasing out the one-for-two carbon subsidy is a step in the right direction, but more needs to be done to get the Emissions Trading Scheme working - including bringing agriculture in - says the Wood...
27 May 16 - Carbon has hit the magic $15 mark this morning on the back of the Government's Budget announcement on the Emissions Trading Scheme.
27 May 16 - What's in the Budget for climate change?
27 May 16 - Budget – what they said on the removal of the one-for-two carbon subsidy:
26 May 16 - The one-for-two subsidy to emitters will be phased out from January, but the $25 price cap and the allocation of free credits to trade-exposed heavy emitters are staying, the Government has just...
23 May 16 - One week into Australia's extended federal election campaign, climate has not featured prominently.
20 May 16 - A group of scientists and other prominent New Zealanders has had a reply to a letter accusing the Government of an "indefensible" lack of leadership on climate change.
---