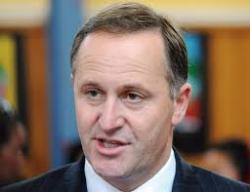 Friday - The Prime Minister says he accepts that 50,000 new jobs would be created by Maori following through on a promise to plant one million hectares of new forest if the Government lifts carbon prices.

Friday - The Government is refusing to adopt a national forestry policy, despite relying on tree planting to meet international greenhouse gas emissions reductions obligations.

Friday - The Government still won't confirm that it will not auction NZUs.

Friday - Nearly 12 million carbon credits were traded on the domestic carbon market last month.
Wednesday - NZUs touched $3.05 yesterday on decent volume, and closed at $3.05/$3.10 on CommTrade. OMFinancial reports:

28 Feb 14 - Planting just over half of New Zealand's marginal land in forest would make the country carbon-neutral – and the Government knows it.

28 Feb 14 - From April buyers will know whether the NZUs they are buying come from carbon sequestration or are free units given to emitters by taxpayers.
---
28 Feb 14 - The idea of the "green economy goes in and out of fashion, not least because it is rarely defined and frequently misunderstood, writes PAUL EKINS, Professor of Resource and Environmental Policy,...
21 Feb 14 - A loophole allowing heavy industrial emitters to coin it at the expense of taxpayers by selling free carbon credits is likely to be closed under a Labour-Greens government.
21 Feb 14 - Iwi threatening to take a claim to the Waitangi Tribunal over carbon prices have the support of at least two major political parties.
21 Feb 14 - By WAYNE KING. Australia's media is drip-feeding news and commentary on the economic downturn in Australia - particularly in energy developments, the political turmoil revolving around the current...
14 Feb 14 - A proposal by iwi to plant a million hectares of new forest over 10 years could provide the economies of scale needed to kick the New Zealand industry into large-scale processing.
14 Feb 14 - The destruction of hundreds of thousands of tree seedlings is part of a "market correction" and not due to a dysfunctional Emissions Trading Scheme, the Government says.
14 Feb 14 - We saw another small rise in NZUs yesterday, up to $3.30. OMFinancial reports:
7 Feb 14 - Maori say they will lodge a $600 million Treaty of Waitangi claim if the Government doesn't move fast to shore up carbon prices.
31 Jan 14 - New Zealand's greenhouse-gas emissions from energy have fallen on the back of a massive cut from our single largest emitter.
29 Jan 14 - Yesterday we saw some selling in spot NZUs; prices traded between $3.40 and $3.45. OMFinancial reports:
24 Jan 14 - The number of post-1989 forest owners quitting the Emissions Trading Scheme quadrupled last year on the back of cheap carbon prices.
24 Jan 14 - Smart companies will have clear strategic objectives and flexible tactical responses to deal with on-going disruptive change likely to be caused by carbon policy this year, Westpac's international...
---