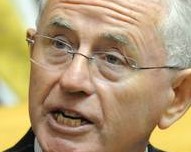 Today 11:00am - Greater environmental taxes and strengthening of the Emissions Trading Scheme are on the way if the Government adopts recommendations from its Tax Working Group.

Tuesday - Treasury expects most emitters to pay the Government a carbon fee this year instead of surrendering carbon credits – and that will cost the country money.

15 Feb 19 - Climate change and the Emissions Trading Scheme have fallen down the list of things worrying farmers.

14 Feb 19 - The Emissions Trading Scheme alone will not drive the level of land-use change New Zealand will need to cut its greenhouse gas emissions, a new report says.
13 Feb 19 - Ten years ago, some of New Zealand's biggest emitters were seeking more time to make submissions on the National Government's Emissions Trading Scheme review because they were worried submissions would not be heard.

12 Feb 19 - PLANS TO TURN farms on steep country into forests could see the Government run foul of Mâori economic development plans.

7 Feb 19 - A Labour-New Zealand First coalition agreement clause that guarantees farmers they will not pay as much as other sectors for their greenhouse gas emissions – if anything at all - is being challenged by one of our biggest industrial companies.
---
5 Feb 19 - Linkages between emissions trading scheme in Europe and New Zealand are on the agenda – but it's China that Europe is really interested in.
1 Feb 19 - Another major iwi is pushing for tradable carbon credits for a much wider range of forests – and says dairy farmers should be liable for emissions from their businesses.
30 Jan 19 - Contact Energy is one of the companies which opposed the Government lifting the $25 carbon price cap this year.
29 Jan 19 - Iwi involved in the Treelords settlement are backing calls for extra carbon stored in old and indigenous forests be recognised.
25 Jan 19 - The Emissions Trading Scheme should be used to encourage more carbon storage in old forests, the forestry industry is telling the Government.
24 Jan 19 - Proposed changes to the Emissions Trading Scheme alone will not trigger the forestry planting levels New Zealand needs to cut emissions – agriculture must be brought into the scheme, says one of the...
24 Jan 19 - By TODD MULLER | It was disappointing to see yesterday's Carbon News claim that figures I had used in my recent article were "wide of the mark".
24 Jan 19 - Policy uncertainty uncertainty in New Zealand was making Australia a better investment bet, at least for Transpower.
22 Jan 19 - The owner of New Zealand's only aluminium smelter says the country could have a bright future producing low-emissions aluminium for a carbon-constrained world.
22 Jan 19 - Ten years ago, the fledgling Emissions Trading Scheme was under review as a result of the newly elected National Party's confidence-and-supply agreement with the Act Party.
21 Dec 18 - The Government says the current cap on the price of carbon needs to stay in place while the Emissions Trading Scheme is reviewed.
20 Dec 18 - The Government has released further details of changes to the Emissions Trading Scheme's forestry rules.
---