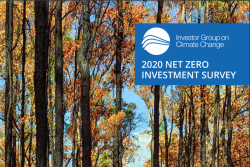 2 Oct 20 - Investors representing more $1.5 trillion in funds say their enthusiasm for low-carbon strategies hasn't been dented by the economic impacts of the covid-19 pandemic.

29 Sep 20 - Picking winners has been anathema to Australian policy-making for decades. The federal government's technology investment roadmap bucks the trend, targeting public investments in specific low-emissions technologies.

29 Sep 20 - Veteran New South Wales Labor right-winger Joel Fitzgibbon has threatened to quit the shadow cabinet if the opposition adopts a medium-term emissions reduction target he cannot live with.

17 Sep 20 - Ten years ago, a group of New Zealand chief executives was talking to former World Bank chief economist Lord Nicholas Stern about how this country could lead the world in low-carbon technology.

14 Sep 20 - Ten years ago, LanzaTech – then a New Zealand company – had signed a deal with one of China's largest coal producers to make fuels and chemicals from waste.

31 Aug 20 - Ten years ago, New Zealand companies were racing to develop sustainable plastics and polymers.

28 Aug 20 - A new study has uncovered scant disclosure by green bond issuers of their environmental impact, and a lack of social safeguards to protect communities from unintended consequences of financed projects.
---
25 Aug 20 - Scientists have developed a method to 3D-print greener buildings using local soil that they say has the potential to revolutionise the construction industry.
4 Aug 20 - Pumped-hydro, a "blind" focus on renewable electricity instead of cutting emissions from all energy systems, and the closure of the Tiwai Point aluminium smelter are all on the agenda at this year's...
27 Jul 20 - Paying industry not to use electricity during peak demand should be considered as an alternative to a multi-billion-dollar new hydro scheme, an energy expert says.
22 Jul 20 - Coronavirus border restrictions mean six Niwa staff face four straight months at sea in a bid to keep an international ocean research project afloat.
22 Jul 20 - As with other parts of the global economy, covid-19 has led to rapid changes in transport trends.
20 Jul 20 - The New South Wales government has awarded almost $1m from a regional grants fund to a company developing what deputy premier John Barilaro describes as an electric flying car.
17 Jul 20 - Private-sector banks in the UK should have a central role in financing climate action and supporting a just transition to a low carbon economy, says a new report.
15 Jul 20 - The cost of dumping waste in landfills will rise as the Government tries to tackle the country's mounting rubbish problem.
15 Jul 20 - The Pre-Election Fiscal and Economic Update (known affectionately as the Prefu) will be released on August 20 – a month before the country goes to the polls.
13 Jul 20 - The future of the Marsden Point oil refinery, the Glenbrook steel mill and large-scale wood processing are all at risk as New Zealand decarbonises, infrastructure and regional development minister...
13 Jul 20 - The Green Party wants coal-fired industrial boilers outlawed within five years.
7 Jul 20 - A push to cut greenhouse gas emissions from the construction sector will inevitably lead to more wood in buildings, forest owners say.
---