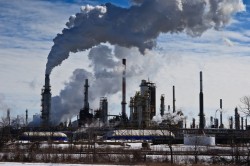 10 Aug 17 - New Zealand's lack of a carbon cap is one of the issues on the table for the Productivity Commission.
2 Aug 17 - The forestry sector has behaved rationally in response to the Emissions Trading Scheme - but the scheme itself hasn't always been rational, a new analysis shows.

1 Aug 17 - The Government's latest changes to the Emissions Trading Scheme will do nothing to get more trees in the ground, the forestry sector says.

17 Jul 17 - A billion-dollar Green Infrastructure Fund and New Zealand at net-zero emissions by 2050 will be priorities for the Green Party in government.

5 Jul 17 - Official advice on changes to the Emissions Trading Scheme has made its way from officials to ministers.

5 Jul 17 - G20 countries have stepped up green finance, but their investment in fossil fuels remains so high that the "well below 2 degree" warming limits set in the Paris Agreement will be missed by a wide margin, a new report shows.

26 Jun 17 - Federated Farmers is warning politicians of "consequences" if agricultural emissions are brought into the Emissions Trading Scheme before other countries put a carbon price on farming.
---
25 May 17 - The $14.2 billion being bandied about this week as the cost of ­­­New Zealand's Paris Agreement pledge is not solely attributable to the purchase of international carbon credits.
24 May 17 - New Zealand should hedge its international carbon risk by buying European carbon units, a broker says.
16 May 17 - Free carbon credits for trade-exposed heavy emitters have cost taxpayers nearly $1.7 billion.
11 May 17 - A price range for carbon and a promise that changes to the Emissions Trading Scheme will be backdated would get landowners planting carbon-sequestering trees now, says the Forest Owners' Association.
10 May 17 - Parliament has again been told that the Government is getting advice on bringing agricultural emissions into the Emissions Trading Scheme.
28 Apr 17 - Two major reports on climate change – one on the likely impacts on New Zealand, the other on ways the country can cut emissions – were released a year ago by the country's top scientific body, the...
26 Apr 17 - Landowners with 10,000 hectares of native forest could earn $1.5 million a year in carbon credits, a new report says.
20 Apr 17 - Higher carbon prices and a ban on new fossil-fuel electricity generation plants are the cornerstones of the Green Party's plan to get New Zealand to 100 per cent renewable generation by 2030.
18 Apr 17 - Climate minister Paula Bennett says carbon prices need to go higher, but she won't be putting a price on agricultural emissions and she doesn't think New Zealand needs a climate commission.
7 Apr 17 - Uncertainty over the Government's plans to implement the Paris Agreement on climate change is keeping New Zealand's energy executives awake at night, says the World Energy Council.
7 Apr 17 - A fall in the price of carbon has left the Government with a smaller-than-expected liability on its books.
6 Apr 17 - The state of New Zealand's environment is on the agenda for the country's politicians today.
---