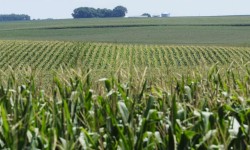 Today 12:00pm - Tobacco plants have been modified with a protein found in algae to improve their photosynthesis and increase growth, while using less water, in a new advance that could point the way to higher-yielding crops in a drought-afflicted future.

Today 12:00pm - The head of Scott Morrison's handpicked National Covid-19 Commission advisory board has confirmed that it has recommended that the federal government use taxpayer funds to underwrite new gas industry infrastructure while concluding that no support is needed for renewable energy.

Today 12:00pm - For years, the idea of putting a price on carbon emissions seemed like a no-brainer — economists claimed that it would cut fossil fuel pollution quickly and efficiently, and at the same time, could even give money back to the American public. Over the past few months, as Democrats have rolled out multiple comprehensive plans to slow down climate change and turbocharge renewable energy, the idea of a "carbon tax" has been notably absent.

Tuesday - A planned link-up of the European Union and Swiss carbon markets will be operational from September, the European Commission says, giving companies a broader pool of potential partners with which to trade emissions permits.

Tuesday - A trio of US researchers has grim news for people worried about climate science's worst case outcome. Forget about the other options. The worst case is already happening.

Tuesday - Hyundai to build three new EV models - including two new electric SUVs - under revamped and expanded Ioniq electric brand.

Monday - Emissions controls worked perfectly at Chinese plants, until the Clean Development Mechanism dried up.
---
Monday - South Africa is tightening environmental demands for new coal-fired power plants, after a 'landmark' ruling that licences for water use should consider the risks of climate change.
Monday - As the black stuff burnt in the United Kingdom plummets to a level not seen since the early steam age, The Guardian traces its long, deep history and the problems left in its wake.
Monday - Narendra Modi's dream of a "self-reliant India" comes at a terrible price for its indigenous population
Monday - Paris is facing one of its worst heat waves in more than a century, with daily average temperatures hovering around 30deg over a seven-day period and hitting a maximum of 39 degrees on Sunday,...
Friday - BP is taking its business in a new direction, announcing it will slash its oil and gas production by 40 per cent and increase its annual investment in low-carbon technology to $5 billion, a 10-fold...
Friday - The use of coal as an energy source is steadily declining in the US and Europe, but coal mining and the construction of coal-fired power plants continues across South and Southeast Asia.
Friday - Once upon a time, hydrogen was supposed to be the future of energy. The possibilities for hydrogen power seemed endless: it could fuel our cars, heat our homes, and even power our airplanes. But 175...
Friday - The human destruction of natural ecosystems increases the numbers of rats, bats and other animals that harbour diseases that can lead to pandemics such as Covid-19, a comprehensive analysis has found
6 Aug 20 - Former Australian Prime Minister Julia Gillard has warned against a feeling of "received helplessness" that policies to reduce greenhouse gases are "all too hard", citing the carbon price legislated...
6 Aug 20 - The European Commission is proposing strengthening its 40 per cent greenhouse gas emission reduction target to 50 per cent or 55 per cent on 1990 levels in the next 10 years, but this doesn't meet...
6 Aug 20 - Greenhouse gas emissions from shipping increased by 9.6% from 2012 to 2018, as rising demand outweighed efficiency improvements.
6 Aug 20 - Satellite observations have found a raft of new emperor penguin breeding sites in the Antarctic - welcome news as the species faces increasing pressure from climate change.
---