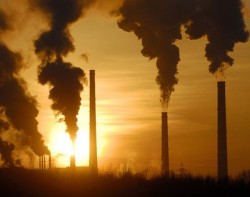 Thursday - Meeting New Zealand's Paris Agreement pledge from domestic emissions cuts alone would put the country on a straight line to carbon-neutrality by 2050, officials have told the Government.

7 Mar 18 - The climate commission should make recommendations on the Emissions Trading Scheme and the number of international credits used to meet New Zealand's targets, but control should stay firmly in the hands of the Government, says new Parliamentary Commissioner for the Environment Simon Upton.

7 Mar 18 - The Government says it's not yet formally involved in any moves to link the Emissions Trading Scheme to other markets, but it is talking to them.
6 Mar 18 - The Government knows delaying lifting the carbon price cap could cost taxpayers money, but says it is unlikely to move until next year.

26 Feb 18 - Energy minister Megan Woods today will be told how the country can use biofuels to cut its burgeoning transport emissions.

22 Feb 18 - Government officials appear to be putting more effort into working out how to purchase international carbon credits than into reducing the country's greenhouse gas emissions, says Bioenergy Association chief executive Brian Cox.

20 Feb 18 - The Government could hedge against its $10 billion future carbon bill now – with a money-back guarantee, says carbon trader Nigel Brunel.
---
19 Feb 18 - Officials are working on linking the Emissions Trading Scheme to schemes in other countries, saying it's the best way to secure the international carbon units New Zealand will need to meet its 2030...
16 Feb 18 - The Government says it is close to securing 50,000 hectares of land for new forests under its Billion Trees programme.
9 Feb 18 - Trade-exposed heavy emitters sitting on free NZUs from taxpayers will be able to keep using them - even if they did contribute to New Zealand's embarrassing "dodgy credits" incident.
8 Feb 18 - China's new carbon market will have a profound impact on electricity companies, says Standard & Poors.
2 Feb 18 - Changes to the Emissions Trading Scheme are needed now, not at the end of next year, if the Government wants Maori land owners to plant carbon-sequestering forests, says a specialist in climate...
2 Feb 18 - What kind of reception is climate minister James Shaw likely to be getting from the Iwi Leaders Group as they meet at Waitangi today?
2 Feb 18 - Australian companies have struck the first long-term deal in that country to sell carbon credits generated from plantation forestry.
31 Jan 18 - Landowners will keep the carbon credits and liability under proposed new production forestry joint ventures with the Government as part of its One Billion Trees programme.
22 Jan 18 - New Zealand's one-for-two carbon subsidy is almost gone.
7 Dec 17 - New Zealand carbon is selling for more than $20 a tonne for the first time since March 2011 – and it's expected to go higher.
4 Dec 17 - New climate minister James Shaw has a clear message for business: get your house in order because New Zealand is decarbonising ... fast.
20 Nov 17 - Entities with future carbon liabilities should be thinking about hedging with European units – and that includes the country itself, says a leading carbon broker.
---