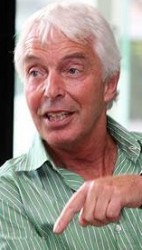 Today 10:00am - Two major reports on climate change – one on the likely impacts on New Zealand, the other on ways the country can cut emissions – were released a year ago by the country's top scientific body, the Royal Society. Energy expert RALPH SIMS, who chaired the report committee, reflects on progress.

Wednesday - Landowners with 10,000 hectares of native forest could earn $1.5 million a year in carbon credits, a new report says.

21 Apr 17 - New York's thousands of food carts are generating carbon credits.

18 Apr 17 - Climate minister Paula Bennett says carbon prices need to go higher, but she won't be putting a price on agricultural emissions and she doesn't think New Zealand needs a climate commission.

11 Apr 17 - Most industrial emitters got their 2016 returns in on time.

7 Apr 17 - A fall in the price of carbon has left the Government with a smaller-than-expected liability on its books.

3 Apr 17 - The man likely to be the next Parliamentary Commissioner for the Environment says there might not be enough international carbon credits available to meet New Zealand's Paris Agreement targets.
---
30 Mar 17 - Officials will report to the Government in the middle of the year on the next round of changes to the Emissions Trading Scheme.
29 Mar 17 - Landowners are planting forests again – and farmers looking to offset emissions appear to be among them.
24 Mar 17 - A cross-party report on how New Zealand can get to net-zero emissions in the second half of the century ignores some immediate opportunities, the Bioenergy Association says.
10 Mar 17 - The Opportunities Party would put a cap on New Zealand's greenhouse gas emissions, get rid of the $25 carbon price cap and free credits for heavy emitters and bring some agricultural emissions into...
9 Mar 17 - Pressure is mounting for New Zealand to make deep emissions cuts by the second half of the century, despite the country's official target being to only halve emissions by 2050.
23 Feb 17 - Farmers want research into alternative land uses to help them to cope with climate change, and greater incentives to plant carbon-storing trees on their farms.
17 Feb 17 - New Zealand's "limited and largely ineffectual actions" on climate change risk undermining public confidence in our policy makers, say the authors of the latest Public Perceptions of the Environment...
10 Feb 17 - A world-leading environmental impact bond scheme could channel substantial private investment into planting vast areas of native and exotic forests in New Zealand.
9 Feb 17 - New Zealand cannot rely on international carbon credits to meet its emissions reductions targets after 2030, officials have told the Government, warning that credits could be expensive and in short...
3 Feb 17 - Our former climate ambassador says that agriculture should be brought into the Emissions Trading Scheme – even if it is treated differently.
1 Feb 17 - New Zealand could cut the cost of meeting its international emissions reductions targets by linking its carbon market to emerging markets in Asia.
27 Jan 17 - Carbon credits sitting in private accounts are a $2.1 billion liability to the Government.
---