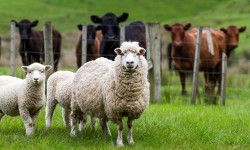 Wednesday - Labour could find solutions in its own files to the problem of putting a price on greenhouse gas emissions from agriculture.

Tuesday - A New Zealand carbon market pioneer has died.
Tuesday - Ten years ago, forest owners were receiving their first carbon credits and were figuring out what to do next.

12 Apr 19 - Ten years ago, New Zealanders were in support of signing up to the second part of the Kyoto Protocol.

9 Apr 19 - Ten years ago, infrastructure company Vector was telling Parliament that cross-party support was the most important thing that could come out of a review of the Emissions Trading Scheme.
28 Mar 19 - Ten years ago, insurance companies were trying to figure out how to insure carbon lost when forests are destroyed.

27 Mar 19 - Forests can be a long-term store of carbon if they're managed correctly – but without them, New Zealand has no hope of reaching carbon neutrality by the middle of the century, a forestry expert says.
---
26 Mar 19 - Agriculture should be brought into the Emissions Trading Scheme as soon as possible – and farmers be given the opportunity to make money from it, the Government has been told.
22 Mar 19 - Treasury wants to retain the ability to use international carbon credits to meet New Zealand's 2050 emissions reduction target, confidential papers show.
21 Mar 19 - The firing up of an extra pot-line at the Tiwai Point aluminium smelter and a strong dairying season pushed up New Zealand's greenhouse gas emissions from the burning of coal.
15 Mar 19 - Four of New Zealand's largest emitters are joining forces to supply their own carbon credits to meet obligations under the Emissions Trading Scheme.
15 Mar 19 - Ten years ago, farmers were campaigning to get the sector out of the Emissions Trading Scheme.
5 Mar 19 - A company given millions of dollars' worth of free carbon credits says the system giving it the units should not be stopped until at least 70 per cent of its competitors also face a carbon price.
4 Mar 19 - The Government's latest attempts to make the Emissions Trading Scheme attractive for forestry won't work if farmers don't have to pay for their emissions, say foresters.
25 Feb 19 - A National government might give fewer free carbon credits to trade-exposed industrial emitters but is unlikely to force a large-scale reduction in biological emissions from agriculture, according to...
19 Feb 19 - Treasury expects most emitters to pay the Government a carbon fee this year instead of surrendering carbon credits – and that will cost the country money.
12 Feb 19 - PLANS TO TURN farms on steep country into forests could see the Government run foul of Mâori economic development plans.
1 Feb 19 - Another major iwi is pushing for tradable carbon credits for a much wider range of forests – and says dairy farmers should be liable for emissions from their businesses.
29 Jan 19 - Iwi involved in the Treelords settlement are backing calls for extra carbon stored in old and indigenous forests be recognised.
---