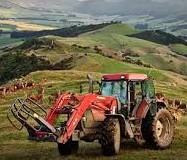 11 Jul 18 - Farmers should be able to opt into the Emissions Trading Scheme so they can get credit for introducing climate-friendly practices, says the Greater Wellington Regional Council.

20 Jun 18 - Access to international carbon credits could lower the cost of decarbonising the economy, the Government has been told.

18 Jun 18 - By publisher ADELIA HALLETT | Is Opposition Leader Simon Bridgesí offer to work with the Government on climate change policy worth any more than a dodgy hot-air carbon credit?

7 Jun 18 - Carbon prices of more than $800 a tonne will be needed if New Zealand doesnít tackle greenhouse gas emissions from agriculture, the Government has been told.

23 May 18 - New Zealandís greenhouse gas emissions could be cut by more 640,000 tonnes a year by burning wood instead of coal in boilers in the Otago region alone.

14 May 18 - Taxes should be aiming at keeping human activity within the planetís physical capacity Ė and that means carbon prices that deliver fast, deep and sustained emissions reductions, the Governmentís Tax Working Group has been told.

30 Apr 18 - The Productivity Commission might be talking about big things from the energy sector, but the Government doesnít seem to want to know, says Bioenergy Association chief executive BRIAN COX.
---
24 Apr 18 - The Government is locating sources of international units that could be used to meet New Zealandís international climate obligations Ė but hasnít decided yet whether to use them.
18 Apr 18 - A new review of the Emissions Trading Scheme will be open for public consultation in August.
27 Mar 18 - Climate minister James Shaw is meeting with some of the countryís biggest industrial emitters Ė but isnít saying what theyíre discussing.
26 Mar 18 - Climate minister James Shaw says he wants to cut New Zealandís use of fossil fuels, not give the sector carbon credits.
21 Mar 18 - New Zealandís largest oil and gas exploration company wants carbon credits for capturing and storing emissions from fossil fuel production Ė and says itís viable at a carbon price of just $18 a tonne.
15 Mar 18 - Meeting New Zealandís Paris Agreement pledge from domestic emissions cuts alone would put the country on a straight line to carbon-neutrality by 2050, officials have told the Government.
7 Mar 18 - The climate commission should make recommendations on the Emissions Trading Scheme and the number of international credits used to meet New Zealandís targets, but control should stay firmly in the...
7 Mar 18 - The Government says itís not yet formally involved in any moves to link the Emissions Trading Scheme to other markets, but it is talking to them.
6 Mar 18 - The Government knows delaying lifting the carbon price cap could cost taxpayers money, but says it is unlikely to move until next year.
26 Feb 18 - Energy minister Megan Woods today will be told how the country can use biofuels to cut its burgeoning transport emissions.
22 Feb 18 - Government officials appear to be putting more effort into working out how to purchase international carbon credits than into reducing the countryís greenhouse gas emissions, says Bioenergy...
20 Feb 18 - The Government could hedge against its $10 billion future carbon bill now Ė with a money-back guarantee, says carbon trader Nigel Brunel.
---