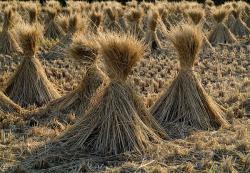 16 Feb 15 - Japanese scientists have found a potential answer to the biofuel dilemma that if you grow crops for energy, you have to sacrifice crops for food.

20 Oct 14 - A survey of New Zealanders has revealed that Kiwis care deeply about how their KiwiSaver funds are being invested and that they want more sustainable KiwiSaver options.

20 Oct 14 - It has often been used as a farmland fertiliser, and in some communities it is eaten as a vegetable, but now researchers believe that seaweed could power our cars and heat our homes.
29 Sep 14 - The business outlook for civil aviation is bright thanks mainly to rising Asian demand for aircraft. But airlines are expected to have a harder time, with tougher competition in Europe leading to a consolidation of the sector, according to the latest industry forecast.

29 Sep 14 - When we think of renewable energy, it's easy to picture spinning wind turbines or rooftop solar panels. But what about bioenergy?

16 Sep 14 - By editor ADELIA HALLETT.- Voters in this weekend's general election face a simple choice when it comes to climate change – you either believe it is a real and massive problem requiring transformation of the economy, or you don't.

1 Sep 14 - New Zealand First supports an iwi leaders' bid to raise carbon prices.
---
1 Sep 14 - Power generation from renewable sources such as wind, solar and hydro grew strongly last year, reaching almost 22 per cent of global generation, says the International Energy Agency.
1 Sep 14 - No matter what the aviation industry does to reduce emissions, it will be outweighed by growth in air travel, according to a new analysis.
18 Aug 14 - Cathay Pacific Airways is investing in American sustainable biofuel company Fulcrum Bioenergy as part of a drive to achieve carbon-neutral growth from 2020.
11 Aug 14 - Researchers in the United States have warned those anxious to cut greenhouse emissions to make quite sure that the cure they choose will not turn out worse than the disease.
4 Aug 14 - The odds on food production being unable to meet the needs of an expanding population are hard to predict, but a new study shows that the risk increases dramatically when man-made climate change is...
11 Jul 14 - The word is "ambition," and it's being voiced with extra urgency by those who worry that the world's leaders won't soon commit themselves to measures strong enough to combat climate change.
4 Jul 14 - Climate change will require substantial new investment in low-carbon energy and energy efficiency – but no more than what is currently spent on today's fossil-dominated energy system, according to...
20 Jun 14 - Maori angry about the Government's twin failures over carbon prices and sustainable economic development are looking to mobilise the crucial 18-to-34-years-old vote.
13 Jun 14 - Scientists in the United States claim they have developed a simple, one-step process that turns plant tissue into biofuel.
30 May 14 - Shell, the world's largest oil company, believes that governments will not damage its business by taking rapid action on climate change, and says all its oil reserves will be needed and sold at a...
23 May 14 - There is an instinctive fear that overhauling the parts of our economies that emit greenhouse gases would spell economic doom and gloom.
9 May 14 - Southland is to become a supply hub for a wood-fuel industry, it has just been announced.
---