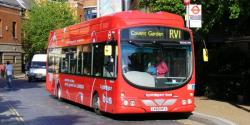 18 Jan 16 - From turning carbon dioxide into a fuel to enabling cars to run on water, scientific researchers worldwide are unlocking the potential of new energy sources.

7 Dec 15 - Innovative new research into clean energy technology shows there are viable alternatives to fossil fuels – provided there is enough political will and investment.

30 Nov 15 - With the food system accounting for up to a third of global greenhouse gas emissions, anything that reduces its impact will make a big difference to the climate.

12 Oct 15 - From algae to alloys, ingenuity in the world's laboratories is fuelling experiments to find new ways of providing viable sources of clean energy.

5 Oct 15 - New Zealand needs to embrace biofuels, electric vehicles and energy forests, and get rid of coal and gas-fired industrial processes if it wants to meet its 2050 emissions reduction commitment, officials have told the Government.
5 Oct 15 - By adapting a tropical grass to grow in the British climate, scientists hope to be able to replace coal in power stations with biofuel.

21 Sep 15 - Bio-derived sources of energy – wood, grass, dung and alcohol – have a rich history, yet have failed to command the "buzz" of solar, wind or even geothermal in public discussions regarding renewable energy.
---
14 Sep 15 - Tim Flannery says he's more hopeful now than he has been in years, thanks to the carbon-storing potential of technologies being developed by businesses all over the world.
7 Sep 15 - A strong carbon price, a green investment bank and a climate commission are emerging as the basis of a political consensus on climate change policy – at least on one side of the House.
7 Sep 15 - The Government is looking at ways to encourage the switch to electric vehicles. But it is keeping the details secret.
24 Aug 15 - Wind, solar and other renewable sources of clean energy are now second only to coal in generating the world's electricity.
24 Aug 15 - In a bid to get closer to the Millennium Development Goal of halving the 2.5 billion people without sanitation access, innovative solutions are being tested across the globe.
17 Aug 15 - Scientists discover a way to boost production of the grain that billions rely on for food – and reduce its damaging emissions of methane.
3 Aug 15 - Ultimately, all of the oil we use to power our modern lives comes from living creatures such as algae – albeit ones that lived 3.5 billion years ago, before gradually morphing into fossil fuel.
3 Aug 15 - * World Bank rejects notion that coal can cure poverty * Green groups express concern over Tory policies in letter to PM * France targets carbon tax in energy transition law * Drought might stunt...
27 Jul 15 - A strong carbon price, better urban planning, a climate commission and systematic assessment of how government policies affect climate change would help New Zealand's transition to a low-carbon...
29 Jun 15 - Australia can reduce its greenhouse gas emissions by 50 per cent below 2005 levels by 2030, according to analysis by ClimateWorks.
22 Jun 15 - South Africa produces millions of tonnes of fruit each year that are exported, consumed locally, or processed into value-added products such as juice, canned fruit or wine.
15 Jun 15 - The aviation industry is a major source of greenhouse gas emissions. In 2011 aviation contributed around 3% of Australia's emissions. Despite improvements in efficiency, global aviation emissions are...
---