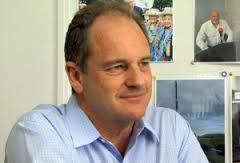 Friday - The Government could use its buying power to support New Zealandís clean-tech pioneers, the Labour Party says.

Friday - The NXT Fuels biofuels refinery project could be a breakthrough for the industry, says fuel retailer Gull New Zealand.

22 Nov 13 - A New Zealand second generation-biofuels company is in the market for funding to build a refinery.

22 Nov 13 - Businesses looking for a steer on how Australiaís Emissions Reduction Fund scheme will work could find it at the Carbon Expo Australasia next month.

8 Nov 13 - LanzaTechís steelmill-waste-to-bioenergy plant in Beijing has earned recognition from international sustainability certifier RSB.

18 Oct 13 - The United States biodiesel industry is on pace to produce more than the 1.28 billion gallons set under the Renewable Fuels Standard for this year.

11 Oct 13 - New Zealand could substantially cut greenhouse emissions from transport but lacks the vision to do so.
---
30 Aug 13 - Production of biodiesel fell after the Government scrapped the Biodiesel Grant Scheme last year.
16 Aug 13 - Gas fermentation technology developed in New Zealand will be used to produce low-carbon fuels from industrial carbon dioxide emissions in India.
9 Aug 13 - This week in Parliament, Climate Change Minister Tim Groser found himself defending statements by two of his Cabinet colleagues that seem to suggest they are not entirely convinced that anthropogenic...
2 Aug 13 - Government officials are working on ways to bring in policies recognising the economic value of New Zealand natural capital.
2 Aug 13 - The bioenergy industry is welcoming Government support of a wood-waste-to-biofuel pilot.
26 Jul 13 - The Governmentís decision to back the initial stages of a wood-to-biofuel plant is welcome - but itís not the game-changer that the industry needs.
26 Jul 13 - A private project to investigate the commercial viability of turning wood waste into biofuel has won Government backing.
12 Jul 13 - Growing fuel crops in place of food automatically creates either hunger or deforestation, new research shows.
21 Jun 13 - Our ancestors made steel without coal, so why don't we? Former Green Party co-leader JEANETTE FITZSIMONS examines the feasibility of coal-less steel:
21 Jun 13 - Air New Zealand's new Airbus A320s will each produce 250 tonnes less of carbon-equivalent emissions a year than the airline's current planes do.
14 Jun 13 - A massive wood-processing plant with a substantial biofuel plant add-on could be viable, the sector says.
7 Jun 13 - A potentially lucrative industry in the underground storage of carbon dioxide is being stymied by almost negligible carbon prices.
---