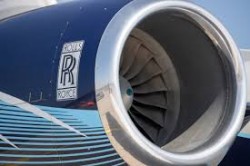 Friday - Despite the pandemic slamming the brakes on flying, UK-based engineering firm Rolls-Royce - whose main clients include the aviation industry - has not backed away from its work to slash planet-heating emissions, according to its technology director.

16 Feb 21 - The European airline industry has launched a sustainability plan to achieve carbon neutrality in the aviation sector by 2050.
5 Feb 21 - Scientists are working on recovering atmospheric carbon to conjure aviation jet fuel from thin air.

4 Feb 21 - Dunedin airport is on a new international list of airports most vulnerable to climate change.

27 Nov 20 - The aviation sector's climate impact is three times bigger than the effect of its carbon dioxide emissions alone, a new study shows, prompting calls for action.

27 Nov 20 - News that two more reactors in the United Kingdom are to shut down on safety grounds earlier than planned has capped a depressing month for nuclear power in Europe.

26 Nov 20 - British Prime Minister Boris Johnson's "jet-zero" goal of a commercial transatlantic flight producing no carbon emissions by 2025 is a gimmick, according to experts, who say technology alone cannot solve the impact of global aviation on the climate crisis.
---
23 Nov 20 - Just one per cent of the population is responsible for half of global emissions from aviation, a study shows.
19 Nov 20 - The tourism and export sectors need to prepare for growing transport costs, Climate Change Commission chair Dr Rod Carr is warning.
9 Nov 20 - Aviation is gearing up for big changes in how the industry is regulated, as climate targets bite. The options available to decarbonise planes are plentiful and the challenge now is to invest enough...
4 Nov 20 - A 1940s tax-exemption treaty designed to protect the fledgling aviation industry set airlines on a path to high emissions and low regulation.
30 Oct 20 - New Zealand's first electric plane will take to the skies today.
22 Oct 20 - Businesses want the new Government to back $7.23 billion worth of projects they say will cut the country's greenhouse gas emissions by 5.5 per cent over the next decade.
20 Oct 20 - Ten years ago, Europe was claiming victory in its plans to bring international aviation emissions into its Emissions Trading Scheme.
15 Oct 20 - Green hydrogen, low-carbon aviation fuel and electric trucks are among 55 clean technologies that can help the European Union to reach its goal of climate neutrality by mid-century, new research...
29 Jul 20 - Europe's major airlines are likely to see their turnover drop by 50 per cent this year as a result of the covid-19 pandemic, while European airports expect to welcome 700 million fewer passengers.
28 Jul 20 - Today is the last day to enter the Sustainable Business Awards – get yours in by 5pm.
27 Jul 20 - Paying industry not to use electricity during peak demand should be considered as an alternative to a multi-billion-dollar new hydro scheme, an energy expert says.
27 Jul 20 - Companies responsible for 14 per cent of Australia's industrial emissions are coming together to figure out how to decarbonise the sector.
---