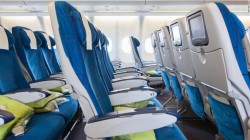 29 Jul 20 - Europe's major airlines are likely to see their turnover drop by 50 per cent this year as a result of the covid-19 pandemic, while European airports expect to welcome 700 million fewer passengers.

28 Jul 20 - Today is the last day to enter the Sustainable Business Awards – get yours in by 5pm.

27 Jul 20 - Paying industry not to use electricity during peak demand should be considered as an alternative to a multi-billion-dollar new hydro scheme, an energy expert says.

27 Jul 20 - Companies responsible for 14 per cent of Australia's industrial emissions are coming together to figure out how to decarbonise the sector.

20 Jul 20 - The New South Wales government has awarded almost $1m from a regional grants fund to a company developing what deputy premier John Barilaro describes as an electric flying car.
3 Jul 20 - The United Nations' aviation emissions offsetting scheme will not take 2020 into account when calculating how much airlines have to pay to neutralise their carbon dioxide output - a move environmental groups say makes a mockery of climate policy.

1 Jul 20 - Infrastructure minister Shane Jones says New Zealand should be focusing its climate-change action on preparing for the impacts of a warming climate.
---
29 Jun 20 - The bioenergy industry is calling on the Government to prevent the closure of New Zealand's only oil refinery, saying its loss will damage the country's ability to cut greenhouse gas emissions.
26 Jun 20 - The third leg of the Government's climate change legislation trifecta came home this week.
26 Jun 20 - The shipping industry is in urgent need of a makeover: while limited attempts are being made to lessen polluting emissions of climate-changing greenhouse gases in the road transport and aviation...
22 Jun 20 - A powerful public-private lobby group – including the head of the Ministry for the Environment – wants money generated by the Emissions Trading Scheme put into a $2 billion fund to help companies to...
17 Jun 20 - Parliament has passed major changes to the Emissions Trading Scheme, bringing agricultural emissions into the scheme and, for the first time, setting a cap on emissions.
11 Jun 20 - The climate plan for aviation is losing its last shred of credibility, after the European Union confirmed it will back an industry proposal to water down the rules.
10 Jun 20 - Primary industries are responsible for the largest share of New Zealand's greenhouse gas emissions while making the smallest contribution to the country's wealth, the latest environmental/economic...
9 Jun 20 - The amount of greenhouse gases being released in the Wellington region has fallen over the past two decades, in contrast to the country's performance as a whole, a new report shows.
8 Jun 20 - Ten years ago, the American airline industry was going to court over Europe's plans to make flights to and from Europe subject to carbon pricing from 2012.
28 May 20 - New Zealand is to work with Singapore on developing international carbon markets and low-carbon technology such as hydrogen.
28 May 20 - Climate change is the top priority for sustainability professionals working in New Zealand, new research shows.
22 May 20 - The outcome of National's leadership stoush today is unlikely to affect the party's approach to climate policy.
---