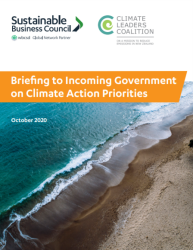 22 Oct 20 - Businesses want the new Government to back $7.23 billion worth of projects they say will cut the country's greenhouse gas emissions by 5.5 per cent over the next decade.

20 Oct 20 - Ten years ago, Europe was claiming victory in its plans to bring international aviation emissions into its Emissions Trading Scheme.

15 Oct 20 - Green hydrogen, low-carbon aviation fuel and electric trucks are among 55 clean technologies that can help the European Union to reach its goal of climate neutrality by mid-century, new research shows.

26 Aug 20 - Elon Must once said that one day, all transportation will be electric, except for rocks. Yes, that even includes aeroplanes, which have long been on his list of things to electrify.

24 Aug 20 - With the outlook for urban tourism deeply uncertain, Thai authorities have a chance to adopt a more sustainable model.

29 Jul 20 - Spot NZUs opened at $33.10 bid and $33.20 offered on the CommTrade platform this morning, after last fixing at $33.15.

28 Jul 20 - Today is the last day to enter the Sustainable Business Awards – get yours in by 5pm.
---
27 Jul 20 - Paying industry not to use electricity during peak demand should be considered as an alternative to a multi-billion-dollar new hydro scheme, an energy expert says.
27 Jul 20 - Companies responsible for 14 per cent of Australia's industrial emissions are coming together to figure out how to decarbonise the sector.
20 Jul 20 - The New South Wales government has awarded almost $1m from a regional grants fund to a company developing what deputy premier John Barilaro describes as an electric flying car.
3 Jul 20 - The United Nations' aviation emissions offsetting scheme will not take 2020 into account when calculating how much airlines have to pay to neutralise their carbon dioxide output - a move...
29 Jun 20 - The bioenergy industry is calling on the Government to prevent the closure of New Zealand's only oil refinery, saying its loss will damage the country's ability to cut greenhouse gas emissions.
26 Jun 20 - The third leg of the Government's climate change legislation trifecta came home this week.
26 Jun 20 - The shipping industry is in urgent need of a makeover: while limited attempts are being made to lessen polluting emissions of climate-changing greenhouse gases in the road transport and aviation...
19 Jun 20 - By GAVIN EVANS | New funding deals New Zealand Green Investment Finance is working up will show a variety of low-carbon benefits from a range of sectors, chief executive Craig Weise says.
17 Jun 20 - The Climate Change Commission will be consulted about projects being fast-tracked through resource consent as part of the covic-19 pandemic economic recovery.
9 Jun 20 - The amount of greenhouse gases being released in the Wellington region has fallen over the past two decades, in contrast to the country's performance as a whole, a new report shows.
8 Jun 20 - Ten years ago, the American airline industry was going to court over Europe's plans to make flights to and from Europe subject to carbon pricing from 2012.
20 May 20 - The global economic shutdown caused by the covid-19 pandemic cut the world's greenhouse gas by nearly 18 million tonnes a day – and the second-highest rate of reduction was in New Zealand.
---