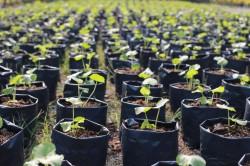 Monday - As the human population swells – and in the face of a changing and unpredictable climate – the demand for natural resources increases. This leads to distressing rates of deforestation to prepare land for agriculture, medicinal and forestry products. Related to this is an alarming reduction in species worldwide.

24 Jun 16 - By itself, concrete is a very durable construction material. The magnificent Pantheon in Rome, the world's largest unreinforced concrete dome, is in excellent condition after nearly 1900 years.

24 Jun 16 - Scientists warn that plant breeders will need to accelerate development schedules if they are to ensure the ever-growing population can be fed as global temperatures rise

22 Jun 16 - Coal played a vital role in the Industrial Revolution and continues to fuel some of the world's largest economies. This series looks at coal's past, present and uncertain future.

20 Jun 16 - Research shows that the effects of extreme heat and weather events on production of raw materials has far-reaching and costly financial implications.

17 Jun 16 - The rich world might soon be shown up by small, tropical island nations which have plenty of wind and sun and aren't lumbered with outdated, base-load power plants to keep running.

17 Jun 16 - Among the increasing sums of money being pledged to help save the Great Barrier Reef is a federal government pledge to spend $A40 million on improving water quality. The Queensland government has promised another $33.5 million for the same purpose.
---
10 Jun 16 - The State of Victoria is pledging to be carbon-neutral by 2050.
9 Jun 16 - Water crises seem to be everywhere. In Flint, the water might kill us. In Syria, the worst drought in hundreds of years is exacerbating civil war.
8 Jun 16 - The massive storms that have lashed Australia's east coast over the past few days are not just a threat to lives and property, but also to marine wildlife.
8 Jun 16 - Scientists are puzzled by unexpected and conflicting results from research into the affect of irrigation on greenhouse gas emissions from soil.
8 Jun 16 - The provision of clean, safe drinking water in much of the world is one of the most significant public health achievements of the past century – and one of the foundation stones of a healthy society.
8 Jun 16 - Supreme winners from the 11 regions participating in the 2016 Ballance Farm Environment Awards will be honoured at New Zealand Farm Environment Trust's National Sustainability Showcase this month.
3 Jun 16 - Carbon prices have climbed 10.9 per cent in the week since the phase-out of the one-for-two subsidy was announced.
2 Jun 16 - New Zealand needs regional emissions reduction targets as well as a national target, our southern- most region says.
1 Jun 16 - New Zealand Farm Environment Trust general manager David Natzke is stepping down after a decade at the helm.
1 Jun 16 - As part of its effort to improve forest cover and so soak up climate-changing greenhouse gas emissions, the government in India has an unlikely partner – the Indian Army.
31 May 16 - New Zealand could cut greenhouse gas emissions by nearly a million tonnes a year by 2030 through better energy management in commercial buildings, says the Energy Management Association.
31 May 16 - New Zealanders are about to get lessons in how not to waste food.
---