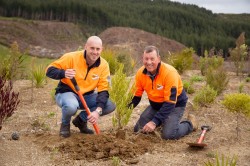 Today 11:15am - MEDIA RELEASE - A leading forest free range farm will open today near Tokoroa in South Waikato, pioneering sustainable egg production in New Zealand.

Wednesday - Landcorp dairy farms that have gone organic have made big cuts to their GHG emissions and increased their profitability.

9 Apr 21 - Every week journalists across the New Zealand media produce dozens of stories about climate change. We thought we'd start linking to some of the best from the preceding week each Friday. Here goes...

7 Apr 21 - New regulations requiring the financial sector to disclose the greenhouse gas emission of their investment portfolios are needed, the Sustainable Business Network says in its submission to the Climate Change Commission.

7 Apr 21 - The UK government must ban the sales of peat compost this year after its goal of a voluntary phaseout by 2020 proved an "abject failure", according to a group of gardening experts, conservationists and scientists.

6 Apr 21 - Research shows rising temperatures since 1960s have acted as a handbrake on agricultural yield of crops and livestock

6 Apr 21 - MEDIA RELEASE - The Youth of NZ will once again be standing up for climate action on April 9th of 2021. From Auckland to Dunedin and everywhere in between we will demand fast and effective climate action.
---
1 Apr 21 - New Zealand companies rank in the top 10 countries in the world when it comes to climate policies, a new report says.
31 Mar 21 - Ten years ago, Lincoln University was about to open a national laboratory to measure the amount of nitrous oxide coming off New Zealand soils.
30 Mar 21 - The average western consumer of coffee, chocolate, beef, palm oil and other commodities is responsible for the felling of four trees every year, many in wildlife-rich tropical forests, research has...
29 Mar 21 - Intergovernmental Panel on Climate Change author Bronwyn Hayward has told the Climate Change Commission its draft recommendations are not ambitious enough and larger cuts need to be made in biogenic...
29 Mar 21 - Ten years ago, scientists were trumpeting research showing that greenhouse gas emissions from soils could be reduced by adding biochar.
26 Mar 21 - Brazil's lawmakers have cleared the way for the creation of a national system to pay farmers, local communities and others to protect natural habitats that provide key environmental services such as...
26 Mar 21 - Brazilian company JBS, the world's biggest meat processor, has announced record profits a day after it pledged to reach net-zero greenhouse gas emissions by 2040 – the first global meat and poultry...
26 Mar 21 - Ten years ago, carbon prices were stopping landowners from converting forests into farmland.
23 Mar 21 - Lobby groups from Greenpeace to the Taxpayers' Union are encouraging supporters to make submissions on the ClimCom draft report by using their templates and suggested talking points.
23 Mar 21 - He Pou a Rangi, the NZ Climate Change Commission says the Government must speed up attempts to become cleaner and environmentally-greener.
22 Mar 21 - Songdo, Korea - To protect lives and build climate resilient livelihoods in the Liberian capital of Monrovia, the Green Climate Fund approved today $US17.2 million in funding for a new project that...
16 Mar 21 - Renewable energy generator Mercury is offering up to $250 million in Green Bonds for the second year running.
---