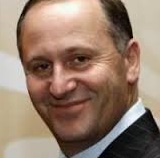 Thursday - PRIME MINISTER John Key says New Zealand can cut greenhouse gas emissions while increasing agricultural production, despite advice to the contrary.

Thursday - Parliamentary Commissioner for the Environment Dr Jan Wright's report on agricultural greenhouse gas emissions is being well received.

Thursday - A plant virus has developed the trick of attracting bees to the plants it has attacked to make sure they produce plenty of seed.

Thursday - Many Americans value environmental protection and want to see more of it.

Wednesday - Vast increases in native and exotic forests, bringing nitrogen fertiliser and some large farms into the Emissions Trading Scheme, and fast-tracking development of a methane vaccine.

Tuesday - Brazilian scientists, alarmed at the ongoing destruction of the Amazon rainforest, have proposed a radical plan to save it.

Monday - SMALL-SCALE monocultural farming threatens rainforests, new research has found.
---
Monday - We are constantly bombarded with bad news about climate change and the state of the planet – to the point where problems can seem so great that we feel powerless to do anything about them.
14 Oct 16 - When Canadian farmer Joe Dorgan noticed about 11 years ago that cattle in a paddock by the sea were more productive than his other cows, he didn't just rediscover an Ancient Greek and Icelandic...
12 Oct 16 - New Zealand could impose a minimum price on carbon.
11 Oct 16 - Feeding the world's growing population in a rapidly warming world will not be possible with modern intensive agriculture that relies on cutting down more forests to plant crops, according to new...
11 Oct 16 - A recently published study suggests that the droughts which have traditionally affected Brazil's semi-arid northeast are being worsened by the effects of climate change.
10 Oct 16 - It's becoming increasingly commonplace to suggest that humans now dominate the planet.
7 Oct 16 - No 9. New Zealanders are in the world's top 10 emitters of greenhouse gases.
6 Oct 16 - The soft creamy flesh of a ripe avocado makes an attractive and healthy addition to many of our shopping baskets.
30 Sep 16 - Permaculture pioneer Bill Mollison, who died last weekend, was one of the true heroes of the modern environmental movement.
29 Sep 16 - New Zealand's greenhouse gas emissions are set to double between 1990 and 2030 – and even with a carbon price of $50 a tonne, we could still be short of our Paris Agreement pledge by 143 million...
28 Sep 16 - The Government knows its economic strategy of increasing agricultural exports cannot go on if New Zealand is to reduce greenhouse gas emissions, a confidential paper shows.
28 Sep 16 - China is protecting itself against future food supply problems caused by climate change by buying or leasing large tracts of land in Africa and South America, a leading UK climate scientist says.
---