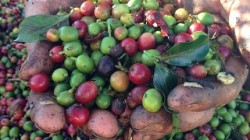 21 Dec 16 - As a famous old song says, they've got an awful lot of coffee in Brazil. But if the findings of New Zealand and Australian researchers are right, that will change over the next 30 years.
19 Dec 16 - Labour Party leader Andrew Little says he's backing the low-carbon economy as the future for New Zealand.

16 Dec 16 - A rapid increase in global methane emissions could put New Zealand under renewed international pressure to cut greenhouse gas emissions from agriculture.

15 Dec 16 - The Government's plan to cut the emissions intensity from industrial heat generation by 1 per cent a year is just business as usual, and will do little to achieve New Zealand's Paris Agreement commitment.

15 Dec 16 - Scientists have calculated the mass of that unnatural achievement called the "technosphere", demonstrating the scale of human activity that drives climate change.
13 Dec 16 - The Government has unveiled plans to cut the emissions intensity of the country's industrial sector by 1 per cent a year.

13 Dec 16 - One year ago today, with huge relief, scarcely able to believe their achievement, world leaders finally agreed to reduce emissions of carbon dioxide.
---
12 Dec 16 - A proposal to make the Government report on environmental and social progress alongside economic performance is to go before Parliament.
12 Dec 16 - Plant scientists in the US have devised a new way to enhance the efficiency of crops: tune up the biochemical machinery of plants such as wheat, rice, maize, or even cabbages, to make the best of the...
8 Dec 16 - Bio-waste from places like dairy sheds can be used to transform degraded soils into top-producing land, research is showing.
8 Dec 16 - Slick, glassy skyscrapers cast their shadows over the streets and spaces of cities all over the world.
7 Dec 16 - Up-front payments of $400 a kilogram to cut nitrogen run-off from farms would see dairy farms turned into forests, Government-funded research shows.
6 Dec 16 - New Zealand will be billions of dollars a year better off if it plants trees along waterways.
5 Dec 16 - Three new studies illuminate the sheer complexity of the aspect of climate science known as the carbon cycle − how carbon dioxide gets into the atmosphere and out again.
1 Dec 16 - Old tyres can be completely recycled into low-emission diesel engine oil, says a team of engineers.
30 Nov 16 - The average New Zealand household's emissions fell 11 per cent between 2006 and 2012, new research shows.
30 Nov 16 - Farmers and consumers have just been issued another warning: global warming will almost certainly reduce wheat yields.
29 Nov 16 - A rural bank is warning New Zealand farmers that poor environmental performance could create trade barriers against their produce.
28 Nov 16 - The government of Bolivia has been forced to declare a state of emergency as it faces its worst drought for at least 25 years.
---