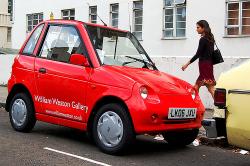 Today 12:00pm - New Zealand needs to embrace biofuels, electric vehicles and energy forests, and get rid of coal and gas-fired industrial processes if it wants to meet its 2050 emissions reduction commitment, officials have told the Government.

Today 12:00pm - Pacific island nations have a crucial role to play in efforts to advance a sustainable future, Secretary-General Ban Ki-moon told the region's leaders as they met at United Nations Headquarters.

Today 12:00pm - Researchers have developed a battery that uses a common food additive to enable abundant solar and wind power to be stored cheaply and safely in homes and offices.
Today 12:00pm - As Volkswagen has found out, sustainability is about much more than promises to customers, says Professor FRANCISCO SZEKELY of the IMD Global Centre for Sustainability Leadership in Switzerland. It requires honesty and transparency, too.

Today 12:00pm - This article is not about how to prevent ants from eating your sandwich on a picnic. But it is about mankind's greatest competitor for our global food resource: insects.
Today 12:00pm - By adapting a tropical grass to grow in the British climate, scientists hope to be able to replace coal in power stations with biofuel.

28 Sep 15 - Agricultural emissions can be cut without affecting profitability, according to a former Treasury and Ministry of Agriculture and Forestry economist.
---
28 Sep 15 - Agriculture in New Zealand could look vastly different in 2050 from the way it looks today, a cross-party seminar on climate change heard last week.
28 Sep 15 - The United Nations General Assembly has adopted a set of bold new global goals, which Ban Ki-moon hailed as a universal, integrated and transformative vision for a better world.
28 Sep 15 - Politicians and the Pope are not the only ones calling for action on climate change these days. Farmers are observing changes in rainfall, temperature and other patterns in weather that have spurred...
21 Sep 15 - New Zealand came close to splitting agriculture off from its post-2020 emissions reduction target in a bid to save money, but dropped the idea amid fears of an international backlash.
21 Sep 15 - Keeping agriculture out of the Emissions Trading Scheme could cost taxpayers $13 billion between 2020 and 2030, Treasury says.
21 Sep 15 - New Zealanders consume a lot and waste energy, according to a new analysis of OECD countries' performance on the Millennium Development Goals.
21 Sep 15 - For years, scientists and environmentalists have debated the best ways to conserve and protect natural resources from pollution and over-exploitation.
21 Sep 15 - Researchers in India say its action on climate change is suffering because, unlike China, it has not developed the institutions needed to co-ordinate policy.
21 Sep 15 - In recent years there has been significant movement toward land acquisition in developing countries to establish forestry plantations for offsetting carbon pollution elsewhere in the. This is often...
21 Sep 15 - Bio-derived sources of energy – wood, grass, dung and alcohol – have a rich history, yet have failed to command the "buzz" of solar, wind or even geothermal in public discussions regarding renewable...
14 Sep 15 - Tim Flannery says he's more hopeful now than he has been in years, thanks to the carbon-storing potential of technologies being developed by businesses all over the world.
14 Sep 15 - At the world's last blockbuster climate summit, in Copenhagen in 2009, the person in the president's chair was former EU climate commissioner and Danish environment minister Connie Hedegaard.
---