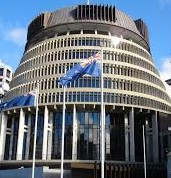 Tuesday - National Party MPs are meeting this morning to decide whether they will support the Government's zero carbon bill.

Friday - The Government is exposing the country to significant risk by delaying changes to the carbon pricing regime, says one of the architects of the Emissions Trading Scheme.

15 May 19 - Technologies like turning human waste into electricity could meet a large chunk of the Government's 2030 methane reduction target.

14 May 19 - United Nations Secretary-General Antonio Guterres says income taxes should be replaced with carbon taxes.

13 May 19 - Organic farmer and former Green Party co-leader JEANETTE FITZSIMONS says farmers can cut methane now while increasing farm profits.

13 May 19 - United Nations Secretary-General Antonio Guterres is praising New Zealand's efforts on climate change.

10 May 19 - The Government will have to explain why it ignores any recommendations on the Emissions Trading Scheme from the proposed Climate Change Commission, officials say.
---
9 May 19 - A poll to be released today shows a majority of New Zealanders – including National Party supporters - think the country needs to take action now on climate change.
9 May 19 - New Zealand's farmers might have to reduce methane emissions from animals by nearly four million tonnes a year under the Government's climate change plans.
8 May 19 - New Zealand's agricultural emissions will be cut – but not as much as other gases.
7 May 19 - New Zealand is being asked to declare a climate emergency just as the world is again reminded of the precarious state of the planet.
6 May 19 - Former National Party leader and one-time Reserve Bank Governor Dr Don Brash might have had doubts in the past about whether humans are changing the climate, but now he's throwing his money and...
3 May 19 - Agricultural finance specialist Rabobank is telling farming customers to think about carbon farming, saying it could be more profitable than farming animals.
3 May 19 - Help is at hand for businesses and other organisations wanting to track their greenhouse gas emissions.
2 May 19 - The long-awaited Zero Carbon Bill is close – and New Zealand First expects its supporters will like it.
1 May 19 - Ten years ago, Kiwifruit marketing co-operative Zespri was hitting back against Northern Hemisphere campaigns over "food miles" with data showing its products have lower carbon footprints than many...
30 Apr 19 - People using public transport or walking or cycling should be given priority over cars and that might mean limiting traffic speeds to 30kmh, a new report says.
30 Apr 19 - Ten years ago, agriculture minister David Carter was telling farmers to start preparing for the impacts of climate change.
29 Apr 19 - The agricultural sector will find out soon whether it is likely to come into the Emissions Trading Scheme.
---