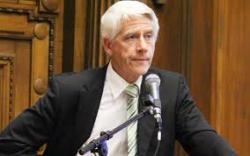 Monday - The Government is being challenged to invite the leaders of the Marshall Islands, Tuvalu and Kiribati to come and tell Parliament what they think of New Zealand's climate change policies.

Monday - With climate change, you win some, you lose some. New research shows that suitable new cropland could become available in the high latitudes as the world warms − but tropical regions may become less productive.

Monday - When we think of renewable energy, it's easy to picture spinning wind turbines or rooftop solar panels. But what about bioenergy?

Monday - Waikato University every year sends 33,000 polystyrene cups to the landfill.

22 Sep 14 - Manawatu-Whanganui region farmers have spent an average $110,000 each over the past five years on measures to protect the environment, according to a Federated Farmers survey.

22 Sep 14 - Governments and businesses can now improve economic growth and reduce their carbon emissions together, says a major new report by a commission of global leaders.

22 Sep 14 - A new handbook shows how forward-looking communities around the world are already moving away from reliance on fossil fuels and generating their own power with 100 per cent renewables − while also becoming more prosperous and creating jobs.
---
22 Sep 14 - Is it possible for humans to fulfil their needs without also destroying the environment? It's a question we need to find an answer to soon, as the world's poorer regions demand the same perks that...
22 Sep 14 - The switch to a gravity-feed water system has resulted in huge cost-savings for Otago farmers David and Sarah Smith, winners of an energy excellence award in the 2014 Otago Ballance Farm Environment...
16 Sep 14 - Farmers could have access to low-methane-emitting sheep as early as 2016.
16 Sep 14 - Two companies in Japan recently announced that they are to begin building two huge solar power islands that will float on reservoirs.
16 Sep 14 - We are in the middle of one of the biggest experiments in human history. At its core is the homogenisation of global food systems, which increasingly must deliver the same products to an expanding...
16 Sep 14 - Milk, a precious resource in many parts of the world, has become a throwaway commodity in wealthy countries.
16 Sep 14 - The unprecedented drought affecting São Paulo, South America's giant metropolis, is believed to be caused by the absence of the "flying rivers" - the vapour clouds from the Amazon that normally bring...
16 Sep 14 - By TIM RADFORD.- The news is enough to make climate campaigners choke on their high-fibre breakfast cereal: if Americans adopted the dietary guidelines suggested by their own Department of...
8 Sep 14 - Every member of the Horizon's Regional Council that worked on the controversial One Plan has left amid allegations of political interference in implementing the ground-breaking environmental rules.
8 Sep 14 - Coming soon to a farm near you: just about every possible type of pest that could take advantage of the ripening harvest in the nearby fields.
8 Sep 14 - Converting renewable energy into electricity is one thing; converting it into fuel is quite another.
8 Sep 14 - The energy-water nexus between water, sanitation, and our global consumption of energy – the "energy-water nexus" - are more obvious than ever before. But how many of us will take direction at the...
---