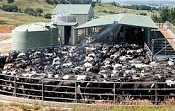 Thursday - Bio-waste from places like dairy sheds can be used to transform degraded soils into top-producing land, research is showing.

Thursday - Slick, glassy skyscrapers cast their shadows over the streets and spaces of cities all over the world.

Wednesday - Up-front payments of $400 a kilogram to cut nitrogen run-off from farms would see dairy farms turned into forests, Government-funded research shows.

Tuesday - New Zealand will be billions of dollars a year better off if it plants trees along waterways.

Monday - Three new studies illuminate the sheer complexity of the aspect of climate science known as the carbon cycle − how carbon dioxide gets into the atmosphere and out again.

1 Dec 16 - Old tyres can be completely recycled into low-emission diesel engine oil, says a team of engineers.

30 Nov 16 - The average New Zealand household's emissions fell 11 per cent between 2006 and 2012, new research shows.
---
30 Nov 16 - Farmers and consumers have just been issued another warning: global warming will almost certainly reduce wheat yields.
29 Nov 16 - A rural bank is warning New Zealand farmers that poor environmental performance could create trade barriers against their produce.
28 Nov 16 - The government of Bolivia has been forced to declare a state of emergency as it faces its worst drought for at least 25 years.
28 Nov 16 - British scientists have identified a paradox in research on the impact of extra carbon dioxide on the world's oceans.
25 Nov 16 - Biodiversity is not just a conservationist ideal, it is a high-value strategy, according to new research. It makes forests more productive, and could deliver up to $500bn a year in wealth across the...
25 Nov 16 - While shoppers scramble for Black Friday bargains this year, outdoor retailer REI is closing its 145 US stores. This is the second consecutive year the Seattle-based company will ignore the frenzy...
23 Nov 16 - A first report on how New Zealand can adapt to climate change – including environmentally sustainable economic growth - should be with the Government by May.
23 Nov 16 - As summers get hotter, seas get warmer and extreme wind and rainstorms inflict ever-greater loss of human life and property, the World Meteorological Organisation is trying to develop an early...
22 Nov 16 - Australia's rising carbon emissions are expected to rise even further after the NSW government successfully passed controversial land-clearing legislation in state parliament.
17 Nov 16 - All key sectors– including commercial agriculture – must have major emissions cuts under way by 2020 if the world is to keep global warming within the Paris Agreement's 1.5deg limit, a new report...
16 Nov 16 - New Zealand is likely to use 38.1 million tonnes of its surplus carbon credits to meet its next emissions reduction target and will not need access to international markets, climate change talks in...
11 Nov 16 - President … Donald … Trump. For those on both sides of the aisle who vowed "Never Trump!," that's going to take some getting used to.
---