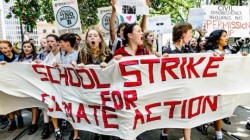 14 Dec 20 - Believe it or not, a 54 per cent rise in the price of NZUs this year does not make 2020 the year of the biggest gains.

14 Dec 20 - Ten years ago, farmers were pushing the Government to take agricultural emissions out of the Emissions Trading Scheme.

10 Dec 20 - A second regional authority is calling for non-forestry carbon sequestration like wetland restoration to earn carbon credits.

10 Dec 20 - There's a serious mismatch between what New Zealand's Government identifies as the most pressing environmental issues, including climate change and freshwater quality, and the investments in environmental research it actually makes.

9 Dec 20 - New Zealand dairy producers and food processors have a great opportunity to benefit from recent emission-reduction pledges by global brands, Synlait Milk said.

8 Dec 20 - Corporate pork and dairy producers are producing biogas to reduce methane emissions. But the actual climate benefits are unclear, and often overstated.

8 Dec 20 - The much-loved combination of beer and chips is being harnessed to tackle climate change.
---
2 Dec 20 - Following today's planned climate emergency declaration, New Zealand will have to face up to the fact it has one of the worst climate records of industrialised nations.
2 Dec 20 - Today is climate emergency day, when Prime Minister Jacinda Ardern will move in Parliament that New Zealand declares a climate emergency.
1 Dec 20 - Britain is preparing to announce its first solo carbon-cutting pledge to the Paris climate agreement, in a tight political manoeuvre ahead of an ambition summit on December 12.
1 Dec 20 - Climate activist organisation 350 Aotearoa will perform street theatre in the Octagon at lunchtime today in a bid to get the government-owned Accident Compensation Corporation to stop investing in...
30 Nov 20 - Joining a New Zealand-led trade pact on climate change could be more effective than putting up trade barriers on carbon, New Zealand will tell Europe and the United Kingdom.
30 Nov 20 - Parliament sits this week, with the James Shaw's climate emergency declaration expected in the House on Wednesday.
27 Nov 20 - Parliament sits on Tuesday, Wednesday and Thursday next week.
26 Nov 20 - By GAVIN EVANS | Natural gas, especially when combined with carbon capture use and storage, can play a critical role meeting the world's net-zero carbon targets, BP economist Michael Cohen says.
26 Nov 20 - The Sustainable Business Network's Convergence Conference on transitioning to a low-carbon economy over the next decade is on today in Auckland, Wellington, Christchurch and online.
25 Nov 20 - Fonterra is optimistic it will find a way to accurately measure the amount of greenhouse gas emissions being produced by each dairy farm in time to meet a Government deadline of 2022.
24 Nov 20 - Prime Minister Jacinda Ardern says the Government is pressing ahead at home and abroad with action on climate change.
24 Nov 20 - New Zealand's latest and largest solar farm is being partially funded by cryptocurrency.
---