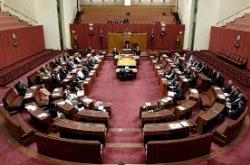 Thursday - The theme of the past 30 days – much like the past 12 months – has been politics, with market focus squarely on the Western Australia Senate election re-run on April 5 and the implications for the balance of power in the new Senate from July 1, says market analyst Reputex.

Thursday - Cutting emissions now makes business sense for industry, writes TAMARYN NAPP, a research associate at Imperial College, London.

Thursday - The fracking industry is the new star on the US energy scene, credited by its backers with bringing down domestic fuel prices and revitalising the US economy. But amid the talk of an energy revolution, there are questions about just how long the fracking boom can last.

Thursday - While politicians posture, and climate scientists sigh sadly, researchers in laboratories continue to devise ingenious new ways to save energy, increase efficiency, and make the most of solar power.
Thursday - The Ballance Farm Environment Awards have finished another successful year, with supreme winners from 10 regions recognised for their outstanding contribution to agricultural sustainability.

17 Apr 14 - Serious questions raised in Parliament about the independence of scientific advice in consent hearings from Government scientists are justified, says a key witness in the Ruataniwha dam hearing.

17 Apr 14 - Agriculture greenhouse emissions have nearly doubled over the past 50 years and may increase by another 30 per cent by 2050, according to new estimates from the UN Food and Agricultural Organization.
---
17 Apr 14 - The latest climate crisis report from the United Nations emphasises the need for a truly global agreement in 2015 to ensure efforts to cut greenhouse gases are effective, says Minister for Climate...
17 Apr 14 - As global temperatures rise, more than one third of the land surface might become more arid.
17 Apr 14 - Five Mâori agribusiness projects worth more than $2.1 million have been approved by the Government.
11 Apr 14 - New Zealanders' love affair with cars and cows has pushed our greenhouse gas emissions up by 25 per cent.
11 Apr 14 - Ship transport is energy efficient, but it is also a significant source of emissions because of the globalised world huge transportation needs. In large measure, these vessels are powered with...
11 Apr 14 - By TIM RADFORD.- US scientists have a new green solution to urban construction: chop down trees and use the wood for buildings.
11 Apr 14 - A Waikato University doctoral student has won a scholarship to investigate the on-going inpacts of drought on dry-land farming.
4 Apr 14 - NEW Act Party leader Jamie Whyte says that businesses have no obligation to the environment.
4 Apr 14 - By DOUGLAS CRAWFORD-BROWN.- Biofuels alone are unsustainable, but can still help to combat climate change.
28 Mar 14 - CRITICAL issues which threaten New Zealand's 100% Pure positioning will be addressed by planners at a conference in Queenstown next week.
28 Mar 14 - AIR POLLUTION killed seven million people across the globe in 2012, making it the world's largest single environmental health risk, according to new figures.
28 Mar 14 - By TIM RADFORD.- Rampant climate change driven by ever-rising levels of carbon dioxide in the atmosphere poses a serious threat to world food supply, according to a new study in Environmental...
---