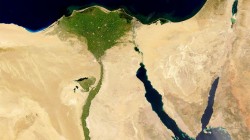 Thursday - Volcanic eruptions and climate change have been linked to periods of social unrest and the eventual downfall one of Ancient Egypt's most famous dynasties.

Wednesday - New Zealand's Emissions Trading Register is ready to trade in other "environmental commodities" such as water.

Wednesday - New Zealand will push a "triple win" for agriculture at international climate talks in Bonn next month.

Tuesday - Acting climate minister Paula Bennett will deliver New Zealand's opening statement at the pre-COP climate talks in Fiji today.

Monday - Spending up to $20 billion on buying foreign carbon credits will be a "severe imposition" on the economy and will delay New Zealand's decarbonisation, warns our former climate ambassador.

12 Oct 17 - New Zealand is not playing the leading role in research into reducing greenhouse gas emissions from agriculture that it says it is, says the head of the United Kingdom's Climate Committee.

11 Oct 17 - The National Party should support a climate commission, says a former Conservative British Cabinet minister.
---
10 Oct 17 - A large swathe of the East Coast will be at risk of fire for at least half of the year by the end of the century, a conference in Auckland has heard.
6 Oct 17 - New Zealand is being accused of cutting climate finance to the Pacific.
6 Oct 17 - Brisbane is set to become a hub for sustainable aviation fuel under an agreement between Virgin Australia and United States-based biofuel producer Gevo.
5 Oct 17 - Beef gets a bad press, environmentally speaking. We're bombarded with reports of its high carbon footprint accompanied by images of belching cows and devastated rainforests.
4 Oct 17 - Carbon emissions from agriculture can be significantly cut while still meeting the food demands of the world's growing population, a new study says.
3 Oct 17 - A dairy industry group supports carbon budgeting and the concept of a climate commission, and says New Zealand should be carbon neutral.
2 Oct 17 - New research showing the impact of methane from agriculture has been under-estimated doesn't affect New Zealand greenhouse gas measurements.
29 Sep 17 - The next three years are more than an electoral cycle; they make up the period that could determine – quite literally – what sort of world we live in. And that's what should be on the minds of...
22 Sep 17 - Political protests this week over fart taxes and water charges are at odds with research showing the agricultural sector knows it has to pay for its pollution.
18 Sep 17 - With less than one week left in the election campaign, Prime Minister Bill English has yet to mention climate change in any of his formal speeches or statements.
15 Sep 17 - The most commonly grown variety of kiwifruit around Te Puke will not be commercially viable in the area by the end of the century, say scientists.
12 Sep 17 - National is promising to almost triple the money it allocates to the Sustainable Farming Fund if it is returned to power.
---