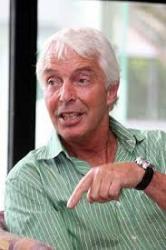 13 Apr 15 - New Zealand's "rugby, big cars and beer" culture could leave the country with an annual carbon hangover edging into the billions of dollars.

13 Apr 15 - Greenhouse gas emissions from dairy cows in New Zealand have more than doubled since 1990.

13 Apr 15 - Carbon dioxide levels might be soaring, and governments might be slow to reduce fossil fuel emissions and contain climate change, but the smart money could nevertheless be going into renewable sources such as wind and solar power.

13 Apr 15 - A taxic algae outbreak last year in Ohio's Lake Erie shut down the water supply for almost half a million people in Toledo and the surrounding suburbs.

13 Apr 15 - Revival of traditional rainwater harvesting has transformed the driest state in India, and could be used to combat the effects of climate change across the world.

7 Apr 15 - Russia did it. The United States did it. All the countries in the European Union have done it, as have Mexico, Norway, Switzerland and Latvia. Even oil-and-mineral-exporting Gabon, population 1.3 million, did it.

7 Apr 15 - The United States is a nation where hunger and obesity go hand in hand. More than 17 million households struggle to put food on the table, and when they do, it's often high in fat and sugar because healthy options are scarce in low-income neighborhoods.
---
7 Apr 15 - Brazil's long-running drought could have the unexpected consequence of finally prompting one of the sunniest countries in the world to take solar power seriously.
7 Apr 15 - Connected agriculture – from farm to retail – has been promoted at an event in Brussels as the way to wean European agriculture off its addiction to chemicals, water and fossil fuels.
30 Mar 15 - Scientists believe they may have found how to safeguard a staple tropical crop, on which hundreds of millions of people depend, from the depredations of climate change.
30 Mar 15 - Fertiliser manufactuer Ballance Agri-Nutrients is taking on the chin a $60,000 fine for illegally discharging sulphur dioxide into the air at Mount Maunganui last year.
23 Mar 15 - The economic benefits of wiping out possums, rats, mice and mustelids in New Zealand would outweigh the costs, latest research shows.
23 Mar 15 - As a professor of ecology, Shahid Naeem knows all too well that there's no shortage of environmental ills to keep us awake at night – global warming, the spread of diseases, dead zones in the Gulf of...
23 Mar 15 - Without cooling, the supply of food, medicine and data would simply break down.
23 Mar 15 - Nature has been replaced by humans as the driving force behind changes on the planet − and we need to take urgent action if we are to avoid our own destruction.
23 Mar 15 - The world needs a lot of energy. Global energy demand is expected to increase by 37 per cent percent over the next 25 years, according to the International Energy Agency's World Energy Outlook 2014.
23 Mar 15 - By KIERAN COOKE.- The wind turbines are turning across America, and a major report by the US Department of Energy says the wind energy sector now supplies 4.5 per cent of the nation's electricity.
16 Mar 15 - Waterways – including human drinking supplies – are being poisoned by excessive use of chemical fertilisers, new research shows.
9 Mar 15 - Competition to make biofuels out of waste products that would otherwise have to be dumped is creating a fast-growing, worldwide industry.
---