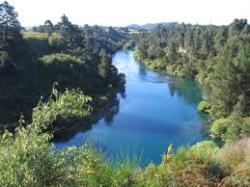 Monday - Finance Minister Bill English has been told something about fresh water – but the public isn't allowed to know what it is.

Monday - Environmental groups want to have their say on a late tweak to the conditions imposed on the proposed $230 million Ruataniwha dam in Hawke's Bay in a High Court challenge.

Monday - The Cabinet portfolios of agriculture and climate change should be given to the same person, says Labour Party leadership hopeful Nanaia Mahuta.

Monday - An American water quality expert who has studied and modelled the effects of nutrients in American lakes will be sharing his knowledge at a public forum in Rotorua this week.

Monday - American researchers confirm that a shift to vegetarian, Mediterranean or fish-based diets would cut greenhouse gases, conserve forests and savannah, and have a big impact on obesity-linked health problems.

10 Nov 14 - The second stage of Kiwi company Tustpower's project to build South Australia's largest wind farm has been launched, ahead of time and under budget.

10 Nov 14 - An electricity supergrid is being planned to connect all 28 European Union countries and provide them with insurance against power blackouts.
---
10 Nov 14 - Last January, California Governor Jerry Brown declareda State of Emergency following projections of severe drought.
3 Nov 14 - With the passage of the Emissions Reduction Fund through the Senate last week, Australia's federal government has taken a step toward achieving the country's minimum target to reduce greenhouse gas...
3 Nov 14 - Two New Zealand wind turbines have set a world record for output.
3 Nov 14 - A Marlborough winery that uses miniature sheep to tidy around its vines has won another sustainability award.
3 Nov 14 - Salt is poisoning around 2000 hectares of irrigated farm land every day – and has been doing so for the past 20 years, according to new research.
28 Oct 14 - The National Party is leading off its environmental package for its new term in power with plans to encourage more oil exploration – despite the burning of fossil fuels being the single biggest cause...
28 Oct 14 - In 2010, Taranaki farmer Neil Walker was enthusiastic about the potential for a combination of carbon farming and beekeeping to rejuvenate steep-land farming.
20 Oct 14 - Chile's new carbon tax potentially offers New Zealand an opportunity to offset some of its own agricultural greenhouse gas emissions, says economist Dr Suzi Kerr.
20 Oct 14 - Europe should be pushing for the rapid expansion of its network of biorefineries, to produce European food, fuel and feed, as well as a range of other high-value products that replace fossil fuels,...
20 Oct 14 - It has often been used as a farmland fertiliser, and in some communities it is eaten as a vegetable, but now researchers believe that seaweed could power our cars and heat our homes.
20 Oct 14 - A technique allowing wild fish to be landed live – and released if necessary – has won the supreme title in the New Zealand Innovators' Awards.
13 Oct 14 - Over 2012 and 2013, parts of New Zealand experienced their worst drought in nearly 70 years.
---