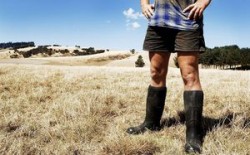 Friday - Climate change and the Emissions Trading Scheme have fallen down the list of things worrying farmers.

Friday - Ten years ago, the development of a genetically modified grass backed by the New Zealand Government was being hailed as a way to reduce greenhouse gas emissions from animals.

Thursday - The Emissions Trading Scheme alone will not drive the level of land-use change New Zealand will need to cut its greenhouse gas emissions, a new report says.

Thursday - Droughts affecting in the top of the South Island and top and west of the North Island are spreading, and sea temperatures are increasing, scientists say.

Wednesday - New Zealanders are capable of making the society-wide changes needed to tackle climate change – but at the moment they're more focused on getting rid of plastic waste.

Tuesday - PLANS TO TURN farms on steep country into forests could see the Government run foul of Mâori economic development plans.

Monday - The Government's top climate research organisation says New Zealand's methane emissions from agriculture should be carbon-neutral.
---
Monday - Solar electricity generation has a big part to play in New Zealand's low-carbon energy future, says the operator of the national grid.
8 Feb 19 - New Zealand has fallen down the international rankings for action on climate change.
8 Feb 19 - Transitioning to a low-carbon economy is at the top of the Government's budget priorities this year.
7 Feb 19 - A Labour-New Zealand First coalition agreement clause that guarantees farmers they will not pay as much as other sectors for their greenhouse gas emissions – if anything at all - is being challenged...
4 Feb 19 - Carbon prices of $300 to $400 a tonne could make hydrogen viable in New Zealand for electricity generation, a new report says.
1 Feb 19 - Another major iwi is pushing for tradable carbon credits for a much wider range of forests – and says dairy farmers should be liable for emissions from their businesses.
31 Jan 19 - Billions of dollars worth of council-owned infrastructure is at risk from rising seas, says a new Local Government New Zealand report.
31 Jan 19 - Food shocks are becoming more frequent as the climate changes, prompting calls for "climate-smart" farming systems and the building up of global food reserves.
30 Jan 19 - The head of the Planning Institute says the Government needs to step up and show the way for communities to plan for the impacts of climate change.
30 Jan 19 - Contact Energy is one of the companies which opposed the Government lifting the $25 carbon price cap this year.
29 Jan 19 - Iwi involved in the Treelords settlement are backing calls for extra carbon stored in old and indigenous forests be recognised.
29 Jan 19 - Ten years ago, farmers were starting to order biogas plants to convert dairy shed effluent into energy and fertiliser.
---