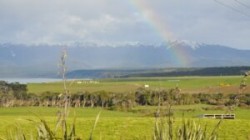 Monday - In 1915, Mike Gibbs' ancestors made their way from the flat, agricultural plains of Southland to the wild, steep, forested edge of Eastern Fiordland.

Friday - A new Labour Government could bring in carbon tariffs at the border, says Trade Minister David Parker.

Friday - Climate Minister James Shaw tried to put a price on greenhouse gas emissions from agriculture from next year, according to fellow Green Cabinet minister Eugenie Sage.

Thursday - Forestry's role under the Emissions Trading Scheme would be reviewed under a National Government and agricultural emissions would not face a carbon price until other countries do the same.

Thursday - Economic growth is driving New Zealand's rising greenhouse gas emissions, a new report confirms.

13 Oct 20 - Policymakers urgently need ideas on ways to end hunger. But a global review of the literature finds that most researchers have had the wrong priorities.

9 Oct 20 - A venture pushing to develop a $160 million biorefinery near Gisborne believes the project can help fill a long-standing gap in the country's forestry research sector.
---
9 Oct 20 - Felix, a Swedish food brand, has opened a climate-conscious store in which items are priced based on their carbon footprints.
8 Oct 20 - Global growth in nitrous oxide emissions from intensive farming is jeopardising climate goals, scientists say in a major new paper.
8 Oct 20 - A re-elected Labour Government would ban the installation of most new coal-fired industrial boilers and decarbonise the public transport fleet by 2035, Prime Minister Jacinda Ardern announced...
7 Oct 20 - Ten years ago, the Government was estimating the changes it had made to the Emissions Trading Scheme – including exempting the agriculture sector and halving the carbon liability of other sectors –...
2 Oct 20 - British food retailer Marks & Spencer eliminated soya from the production of all its milk as part of its commitment to end deforestation in its supply chain.
1 Oct 20 - The Labour Government's plan to bring forward its 100 per cent renewable electricity generation target to 2030 is an example of siloed thinking and is likely to be self-defeating, Genesis Energy has...
29 Sep 20 - Prime Minister Jacinda Ardern is among 64 world leaders committing to "meaningful" action to halt global environmental destruction - including increasing 2030 emissions reduction targets.
29 Sep 20 - UNITED STATES scientists have worked out how to feed nine billion people and save wild life from extinction, both at the same time – thanks to healthy lentils.
29 Sep 20 - MEDIA RELEASE - Bathurst Resource¡¯s planned extension of its Canterbury coal mine, shut down by protesters this morning, is proof that dairy companies like Fonterra are not moving out of coal fast...
21 Sep 20 - The European Commission is defending its plan to bring carbon removals from agriculture, land use and forestry into the EU's updated climate target for 2030, saying this is in line with UNFCCC...
18 Sep 20 - Details of the Government's response to concerns about farmland being converted to carbon forests are starting to emerge.
16 Sep 20 - What will be Australia's biggest solar farm once commissioning is complete – the 275MW Darlington project in south-west NSW – has sent its first output to the grid as it begins the lengthy journey to...
---