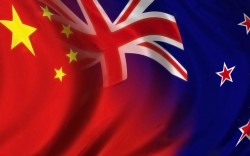 Friday - China's action on climate change makes New Zealand look like its "pussy-footing around", says climate minister James Shaw.

Wednesday - Consultation on the next review of the Emissions Trading Scheme will start next month.

Tuesday - Ngai Tahu is planting a million native trees and converting some of its farms to horticulture as part of its strategy to deal with climate change.

16 Jul 18 - Banks can expect pressure from the country's largest urban authorities to get their money out of fossil-fuel investment.

13 Jul 18 - New central bank head Adrian Orr is warning of financial crisis and mass social unrest if the world doesn't urgently address climate change.

12 Jul 18 - Farmers could be interested into opting into the Emissions Trading Scheme – if the settings are right.

11 Jul 18 - Farmers should be able to opt into the Emissions Trading Scheme so they can get credit for introducing climate-friendly practices, says the Greater Wellington Regional Council.
---
27 Jun 18 - The future of low-emissions transport is not necessarily electric, car makers are telling the Government.
25 Jun 18 - The Government might increase New Zealand's 2030 emissions reduction target.
22 Jun 18 - Research into farming seaweed as a way of storing carbon has earned a New Zealand scientist international recognition.
20 Jun 18 - New Zealanders are among the billions of city dwellers who will be hit by the impacts of climate change within three decades, a new report shows.
18 Jun 18 - By publisher ADELIA HALLETT | Is Opposition Leader Simon Bridges' offer to work with the Government on climate change policy worth any more than a dodgy hot-air carbon credit?
15 Jun 18 - The National Party says it will work with the Government to establish a climate change commission.
14 Jun 18 - Carbon prices of $50 to $350 a tonne by 2020 will drive investments in low-emissions development of Maori land, creating jobs and alleviating poverty along the way, the Government is being told.
13 Jun 18 - Exempting methane from New Zealand's 2050 emissions-reduction target will not stop the country being held liable for it under international rules.
12 Jun 18 - Climate minister James Shaw has invited the National Party to help him to draft the Zero Carbon Act.
7 Jun 18 - Carbon prices of more than $800 a tonne will be needed if New Zealand doesn't tackle greenhouse gas emissions from agriculture, the Government has been told.
5 Jun 18 - Two million hectares of New Zealand farmland could be switched from meat and dairy to more environmentally friendly horticulture, officials say.
5 Jun 18 - Methane – a gas causing New Zealand major headaches as it tries to cut its emissions - should be treated differently from other greenhouse gases, scientists say.
---