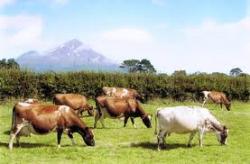 22 Dec 14 - Dairying is probably costing the country more than it earns in export revenue.

22 Dec 14 - Mining is the fourth-largest energy consumer in Australia, using roughly 10 per cent of Australia's total. Some of this comes from the electricity grid — but much is supplied off-grid in the form of diesel and other fossil fuels.

22 Dec 14 - The unintended consequences of the agricultural food system – polluted air and water, dead zones in coastal seas, soil erosion – have profound environment implications for human health and the environment. So more sustainable agricultural practices are needed as soon as possible.

8 Dec 14 - New Zealand has a $3 billion carbon headache looming – and Treasury says that's the conservative estimate.

8 Dec 14 - A climate change lobby group is calling for a national carbon budget and legally binding emissions reduction targets.

8 Dec 14 - The world is not paying enough attention to its soil – our silent ally – says the United Nations.

8 Dec 14 - Solar energy is sometimes dismissed as a fanciful idea with little to offer so far in such a cloudy country as the United Kingdom, but a new report says power from the sun could thrive in Britain in barely five years' time − without the need for any subsidy.
---
8 Dec 14 - Manufacturing benchmarks achieved by a rural South Australian factory are being shared and instituted across the world by global manufacturing giant Kimberly-Clark.
1 Dec 14 - Farmers could cut their future exposure to carbon prices by looking after the methanotrophs in their soils, a soil scientist says.
1 Dec 14 - The signing of the Horizon Regional Council's One Plan after a decade of debate, legal action and controversy is being hailed by Fish & Game as a landmark in the battle to protect the nation's water...
1 Dec 14 - Investment in Australia's renewable energy sector in the year to September 2014 was down 70 per cent on investment during the previous 12 months.
1 Dec 14 - The Queensland parliament has passed water reform legislation that will make it easier to take and use water, particularly for large mining and agriculture projects.
1 Dec 14 - A British went into service last week, powered by biomethane energy derived from human waste at a sewage plant.
24 Nov 14 - Humans are changing not just climate overall, but also the difference between seasons in any given year.
24 Nov 14 - It was quite a week for those waiting for some action on climate change.
24 Nov 14 - Extreme weather conditions predicted for the Pacific Ocean pose a significant threat for island states' industry and infrastructure, warns the United Nations.
17 Nov 14 - Finance Minister Bill English has been told something about fresh water – but the public isn't allowed to know what it is.
17 Nov 14 - Environmental groups want to have their say on a late tweak to the conditions imposed on the proposed $230 million Ruataniwha dam in Hawke's Bay in a High Court challenge.
17 Nov 14 - The Cabinet portfolios of agriculture and climate change should be given to the same person, says Labour Party leadership hopeful Nanaia Mahuta.
---