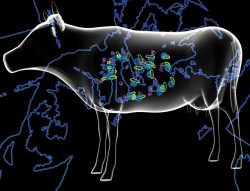 Tuesday - Scientists have sequenced the genomes of the micro-organisms that make sheep and cattle emit methane.

Monday - By publisher ADELIA HALLETT | When it comes to action on climate change, we're pretty much back to where we were 10 years ago, when Carbon News started publishing.

Monday - Climate and energy expert Professor RALPH SIMS explains why natural gas is not a "bridging" fuel between dirtier fossil fuels and low-carbon energy. Searching for it and using it, he says, will delay New Zealand reaching its Paris Agreement emissions reduction target.

Thursday - Meeting New Zealand's Paris Agreement pledge from domestic emissions cuts alone would put the country on a straight line to carbon-neutrality by 2050, officials have told the Government.

13 Mar 18 - Microplastics are contaminating rivers as well as the ocean, say scientists.

7 Mar 18 - The climate commission should make recommendations on the Emissions Trading Scheme and the number of international credits used to meet New Zealand's targets, but control should stay firmly in the hands of the Government, says new Parliamentary Commissioner for the Environment Simon Upton.
6 Mar 18 - The Government knows delaying lifting the carbon price cap could cost taxpayers money, but says it is unlikely to move until next year.
---
5 Mar 18 - The Ministry for the Environment is looking to form direct partnerships with businesses to cut emissions out of the New Zealand economy.
2 Mar 18 - By publisher ADELIA HALLETT | Yesterday, a young woman told an audience that included two Cabinet ministers that she was suffering from depression because of climate change.
2 Mar 18 - Ecosystems almost never recover completely from large-scale destruction — even when they're actively restored, says a team of international researchers.
28 Feb 18 - Mike Bennetts is determined his company, Z Energy, will not have a Kodak moment.
27 Feb 18 - Primary industries contribute nearly two-thirds of the country's greenhouse gases but account for less than 8 per cent of economic production, new figures show.
26 Feb 18 - Forest owners say they are starting to think the Government is serious about forestry.
14 Feb 18 - Climate change and related impacts like intense storms are now the greatest threats the world faces.
8 Feb 18 - New Zealand is one of the worst countries in the world when it comes to exceeding planetary boundaries, new research shows.
5 Feb 18 - New Zealand continues to tick off the climate records, with January the hottest month ever recorded.
31 Jan 18 - Landowners will keep the carbon credits and liability under proposed new production forestry joint ventures with the Government as part of its One Billion Trees programme.
30 Jan 18 - Climate minister James Shaw has outlined economic changes on the scale of those brought in by Michael Joseph Savage in 1935 and Roger Douglas in 1984.
30 Jan 18 - When British economist Kate Raworth wanted to show where she saw economics going, she picked up a pencil and drew two circles, one inside the other.
---