Successfully enticing solution seeker consumers to grocery stores
Tuesday 22 Apr 08 6:15am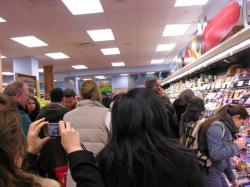 Photo Credit: x=eyedblonde
A Trader Joes store opens in New York .. LOHAs approach boosts market share
By Patti Marshman-Goldblatt, Senior Vice President, NMI -
As grocery outlets try to lure customers by offering greater selection, price reductions and differentiating shopping experiences; environmentally- and socially-conscious philosophies are key factors to the LOHAS consumer.
Companies that target LOHAS consumers must first commit to acting as good environmental stewards.
... login or subscribe for full story
Subscriber Content - You need to log in
To access this Carbon News information right now, please accept our 7 DAY FREE TRIAL subscription offer. Simply click the Subscribe button and follow the steps.
We send you a reminder before we charge your card or send an invoice before your FREE trial ends. We'll also remind you before we automatically renew your annual subscription. We will also ask you for updated credit card or invoicing information at this time, if necessary.
RISK FREE: You can stop your subscription at any time for any reason without question! We will refund you for the unused proportion of your subscription.
Please enjoy your 7 day FREE trial - and our no risk money back guarantee policy!