At last, it's climate-change time for Obama
Friday 25 Jan 13 9:00am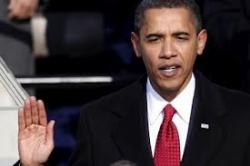 Barack Obama ... must change the climate change thinking.
By PETER GRIFFIN in Washington. Emboldened by a decisive defeat of his rival in November's US election, President Barack Obama has outlined a progressive agenda for his second and final term, including rekindling efforts to combat climate change.
In doing so, Obama is taking advantage of the very force that has driven much climate skepticism through the years – a tendency to favour personal anecdote over empirical evidence.
... login or subscribe for full story
Subscriber Content - You need to log in
To access this Carbon News information right now, please accept our 7 DAY FREE TRIAL subscription offer. Simply click the Subscribe button and follow the steps.
We send you a reminder before we charge your card or send an invoice before your FREE trial ends. We'll also remind you before we automatically renew your annual subscription. We will also ask you for updated credit card or invoicing information at this time, if necessary.
Please enjoy your 7 day FREE trial.