We're staunch, junior minister tells world
Friday 7 Dec 12 10:00am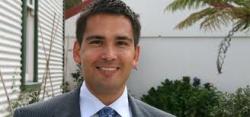 John Bridges ... it's not our future.
New Zealand has attempted to assure the world that its carbon-reduction targets will continue beyond 2015.
In a statement to the UN climate conference in Doha this week, Associate Climate Change Issues Minister Simon Bridges said that New Zealand remained "resolutely committed to playing a constructive role in tacking climate change".
... login or subscribe for full story
Subscriber Content - You need to log in
To access this Carbon News information right now, please accept our 7 DAY FREE TRIAL subscription offer. Simply click the Subscribe button and follow the steps.
We send you a reminder before we charge your card or send an invoice before your FREE trial ends. We'll also remind you before we automatically renew your annual subscription. We will also ask you for updated credit card or invoicing information at this time, if necessary.
Please enjoy your 7 day FREE trial.