De Boer wants carbon price of 150 euros
Friday 7 Dec 12 10:00am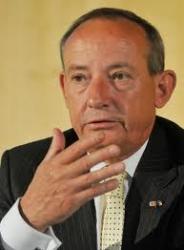 Yvo de Boer ... universal failure.
Urgent action is needed to boost carbon prices to €150 a tonne - 2250 per cent higher than current levels - if the EU is to meet its decarbonisation goals by 2050, says a former United Nations climate chief.
Yvo de Boer said in an interviews with EurActiv: "We very quickly need to see a carbon price in the order of €150 a tonne because that's the kind of level that drives the price signals that we really need.
... login or subscribe for full story
Subscriber Content - You need to log in
To access this Carbon News information right now, please accept our 7 DAY FREE TRIAL subscription offer. Simply click the Subscribe button and follow the steps.
We send you a reminder before we charge your card or send an invoice before your FREE trial ends. We'll also remind you before we automatically renew your annual subscription. We will also ask you for updated credit card or invoicing information at this time, if necessary.
Please enjoy your 7 day FREE trial.