This is a crisis, Ban tells Doha
Friday 7 Dec 12 10:00am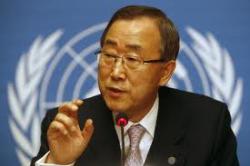 Ban Ki-moon ... danger signs all around.
Secretary-General Ban Ki-moon has urged countries at the United Nations talks in Doha to act decisively to tackle the growing crisis of climate change.
Ban told delegates: "Let us be under no illusion. This is a crisis. A threat to us all. Our economies. Our security. And the well-being of our children and those who will come after."
... login or subscribe for full story
Subscriber Content - You need to log in
To access this Carbon News information right now, please accept our 7 DAY FREE TRIAL subscription offer. Simply click the Subscribe button and follow the steps.
We send you a reminder before we charge your card or send an invoice before your FREE trial ends. We'll also remind you before we automatically renew your annual subscription. We will also ask you for updated credit card or invoicing information at this time, if necessary.
Please enjoy your 7 day FREE trial.