UN in pre-Rio call for business action
Friday 13 Apr 12 10:00am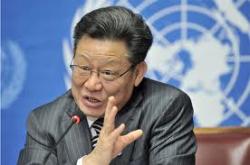 Sha Zukang ... business leaders have the power.
The business and industry sectors play a key role in leading countries toward sustainable development, says a top United Nations official.
Economic and Social Affairs, head Sha Zukang said their collaboration and partnerships with governments are essential to accelerate progress around the world.
... login or subscribe for full story
Subscriber Content - You need to log in
To access this Carbon News information right now, please accept our 7 DAY FREE TRIAL subscription offer. Simply click the Subscribe button and follow the steps.
We send you a reminder before we charge your card or send an invoice before your FREE trial ends. We'll also remind you before we automatically renew your annual subscription. We will also ask you for updated credit card or invoicing information at this time, if necessary.
RISK FREE: You can stop your subscription at any time for any reason without question! We will refund you for the unused proportion of your subscription.
Please enjoy your 7 day FREE trial - and our no risk money back guarantee policy!