ANALYSIS: High hopes for the Lieberman-Warner ETS bill in the US
Thursday 17 Apr 08 7:00am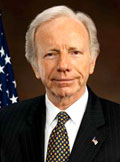 Photo Credit: Leiberman
Senator Joe Lieberman .. indepedence and trust gets cap and trade bill up front
By Emily Farnworth. - The °Climate Group recently held its first North American members meeting with attendance from over 50 leading businesses, states and cities. The conversation was centered on action from the US on climate change. It was a far-ranging and optimistic conversation with a striking focus on the need for leadership and a robust carbon market.
Many were of the view that although climate change is not on the average American's voting agenda, a new President will provide the opportunity needed to change the rhetoric and open the door for positive discussions to set a carbon emissions reduction target as part of the post-Kyoto process.
... login or subscribe for full story
Subscriber Content - You need to log in
To access this Carbon News information right now, please accept our 7 DAY FREE TRIAL subscription offer. Simply click the Subscribe button and follow the steps.
We send you a reminder before we charge your card or send an invoice before your FREE trial ends. We'll also remind you before we automatically renew your annual subscription. We will also ask you for updated credit card or invoicing information at this time, if necessary.
Please enjoy your 7 day FREE trial.