Bottles now included in 'carbon neutral' winery certificate
Tuesday 18 Mar 08 9:00am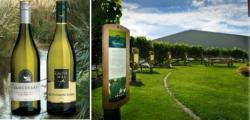 Grove Mill.. first carbon neutral wine (if you didn't count the bottle)
Bottles are included for the first time this year in the footprint inventory of the world's first certified carbon-neutral winemaker, Grove Mill.
This means Grove Mill wasn't including the carbon content of its bottles when it announced it was the world's first "carbon neutral" winery.
... login or subscribe for full story
Subscriber Content - You need to log in
To access this Carbon News information right now, please accept our 7 DAY FREE TRIAL subscription offer. Simply click the Subscribe button and follow the steps.
We send you a reminder before we charge your card or send an invoice before your FREE trial ends. We'll also remind you before we automatically renew your annual subscription. We will also ask you for updated credit card or invoicing information at this time, if necessary.
Please enjoy your 7 day FREE trial.