Marine leeches provide clues on climate change
Wednesday 18 Jun 08 9:15am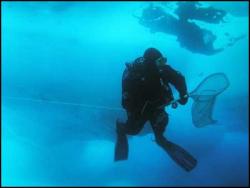 Juergen Kolb diving for marine leeches
Elusive marine leeches in Antarctica are the focus of study on how climate change is affecting vulnerable fish species.
German-born doctoral researcher Juergen Kolb says it is proven that leeches transmit viruses and bacteria into host bodies, and that new strains are currently arriving in Antarctica.
... login or subscribe for full story
Subscriber Content - You need to log in
To access this Carbon News information right now, please accept our 7 DAY FREE TRIAL subscription offer. Simply click the Subscribe button and follow the steps.
We send you a reminder before we charge your card or send an invoice before your FREE trial ends. We'll also remind you before we automatically renew your annual subscription. We will also ask you for updated credit card or invoicing information at this time, if necessary.
RISK FREE: You can stop your subscription at any time for any reason without question! We will refund you for the unused proportion of your subscription.
Please enjoy your 7 day FREE trial - and our no risk money back guarantee policy!