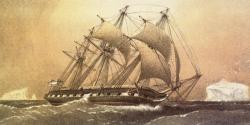 Tuesday - Records from a sailing ship's round-the-world research voyage almost 150 years ago provide further evidence that the Earth is continuing to warm unchecked.

Tuesday - Researchers show that floods and droughts often happen at least in part because of human-induced influences on the climate, and not just from natural causes.

2 Feb 16 - For billions of years, life on Earth remained relatively simple. Only single-celled organisms that could live with little or no oxygen were able to survive in the seas.
2 Feb 16 - Scientists have for the first time determined how and when more than 2000 species of ancient marine plankton became extinct, and a potential indicator for which current species might be vulnerable to rapid climate change.

25 Jan 16 - Last year might not have been especially hot in New Zealand, that but doesn't mean the country isn't experience the impact of climate change, experts say.

25 Jan 16 - It's official: 2015 was the warmest year on record. But those global temperature records only date back to 1850 and become increasingly uncertain the further back you go.

18 Jan 16 - From turning carbon dioxide into a fuel to enabling cars to run on water, scientific researchers worldwide are unlocking the potential of new energy sources.
---
23 Nov 15 - The world is now in abrupt climate change, says a New Zealander who was one of the first scientists in the world to talk about human-induced climate change.
12 Oct 15 - Want to know what the world will look like if we stay on our current track toward doubling greenhouse gas emissions in the next 30 years? Run your own climate model.
28 Sep 15 - If Arctic soils melt and release frozen carbon, the impact would cost almost half the world's annual gross domestic product, researchers say.
21 Sep 15 - Researchers say the world is continuing to warm, and evidence shows claims of a slowdown are unequivocally illusory.
7 Sep 15 - Smart modelling techniques will provide the horsepower behind a range of new methods to improve the management of New Zealand's aquifers.
7 Sep 15 - As humans become an urban species researchers find evidence that cities with more green space are best for human wellbeing.
7 Sep 15 - NIWA scientists are carrying out a major research project to determine how New Zealand's marine ecosystems are faring under climate change.
4 May 15 - Climate change threatens one in six of the world's species with extinction, according to new research.
22 Dec 14 - Scientists predict that lethal heat waves in Europe, and ice storms and big freezes across the globe, could become regular events if greenhouse gas emissions are not controlled.
8 Dec 14 - Start the car, turn on the gas under the kettle, shovel some coal on the fire. Each time that happens, another pulse of carbon dioxide is released into the atmosphere.
24 Nov 14 - Sixty years ago, New Zealand scientists started the world's first long time-series of atmospheric radiocarbon measurements.
10 Nov 14 - Scientists have identified a new hazard that will arrive as a result of climate change: a huge increase in hay fever and pollen allergies.
---