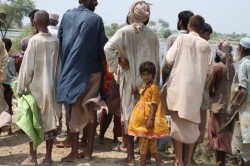 Friday - Increasingly complex, growing and related risks, from global warming to pollution and epidemics, threaten human survival if left to escalate, the United Nations has warned.

Friday - Mismanaged waste is causing hundreds of thousands of people to die each year in the developing world from easily preventable causes, a report has found.

Friday - Glass has always been a notoriously energy-inefficient building material – but an obsession with aesthetics led architects to ignore its shortcomings.

Friday - Widespread automation, electrification, and connectivity are set to revolutionise the car of the future.

Thursday - Wales' farming emissions have been put in the too-hard basket by the UK Committee on Climate Change.

Thursday - US President Donald Trump faces fines of more than $2 million a year unless he reduces carbon emissions from his New York buildings.
Thursday - US States are preparing to fight back as the Trump administration moves to erase Obama-era standards for lightbulbs.
---
Thursday - New orchards are appearing across the UK to stop the widespread decline of rare insects and birds, and to slow down climate change.
Thursday - Coca-Cola bottles and cans are the most commonly found items of packaging pollution on British beaches, new research shows.
Wednesday - Torres Strait islanders are about to file an unprecedented legal complaint against Australia, accusing the government of breaching their human rights by falling short on its Paris Agreement pledges.
Wednesday - A major update on how countries measure greenhouse gas emissions has failed to address key weaknesses, particularly on bioenergy, campaigners say.
Wednesday - A coalition of major London investors have emerged as key players in forcing BPto be more transparent in how it fights climate change.
Wednesday - Melting glaciers worldwide – all treasured for their beauty and as sources of summer water – could be half gone by 2100.
Wednesday - Daimler, one of the world's leading producers of premium cars and commercial vehicles, is engineering a new future for the sector with a bold new climate commitment.
Tuesday - Most Australians see climate change as the number one threat to national interests. But in 2018, Australia was ranked 55th out of 60 countries in climate change performance.
Tuesday - The German conglomerate Bosch has promised to make its entire business carbon neutral by 2020.
Tuesday - Octogenarian entrepreneur Yvon Chouinard, who prefers gardening to meetings, says capitalism is destroying the planet.
Tuesday - London will have the world's first hydrogen-powered doubledecker buses on its streets next year.
Tuesday - Students at Irish schools are being let down by the country's education system, say lawmakers demanding full climate change literacy.
---