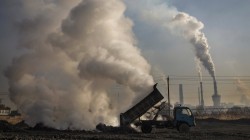 Friday - China's energy-sector emissions are expected to increase this year and next, driven by rising oil and gas consumption instead of by coal.

Friday - The world's thirst for oil will continue to grow over the next two decades, with climate-damaging emissions climbing until at least 2040, the IEA says.

Friday - Myanmar has handed out more than 400,000 hectares of oil palm concessions to 44 companies, some of the land overlapping with proposed national parks.

Friday - In a world that has failed to address climate change, children will face increased risk of developing asthma, greater exposure to vector-borne disease, and anxiety.

Thursday - Along with warmer water eating away at Antarctic ice shelves from below, atmospheric rivers are causing trouble from above.

Thursday - Never mind how many electric cars are sold there, Norway has to change tack and end prospecting for new oil reserves.

Thursday - The Earth is experiencing an extinction crisis largely due to the exploitation of the planet by people. But can this event be called a mass extinction?
---
Thursday - The biggest and most damaging hurricanes are now three times more frequent than they were 100 years ago, say researchers.
Wednesday - A major airline has launched a review into a money-saving practice which increases its greenhouse gas emissions.
Wednesday - Formula One has pledged to deliver on an ambitious programme to address the global climate emergency by going carbon neutral within 11 years.
Wednesday - A new battery technology that could significantly reduce the price of electric cars and home battery systems has taken a major step towards commercialisation.
Tuesday - Africa is poised to lead the world's cleanest economic revolution by using renewable energy sources to power a massive spread of urbanisation, says a new report.
Tuesday - BMW has called for European policymakers to roll out electric vehicles on a massive scale, saying its customers are turning to e-cars - and loving them.
Tuesday - Italian school pupils in every grade are about to become the first required to study climate change and sustainability.
Tuesday - As crop varieties disappear, boosting biodiversity becomes smart business.
11 Nov 19 - The battle between climate change deniers and the environment movement has entered a new, pernicious phase. That is the stark warning of one of the world's leading climate experts, Michael Mann.
11 Nov 19 - Lawyers for New York State and ExxonMobil have wrapped up a landmark climate fraud trial, shaping a tangle of testimony and evidence.
11 Nov 19 - Climategate marks its 10th anniversary this month – an opportune moment to to look at the effect it had on those who were trying to save the planet.
8 Nov 19 - Sea levels rose 10 metres above present levels during Earth's last warm period 125,000 years ago, according to new research that offers a glimpse of what may happen under our current climate change...
---