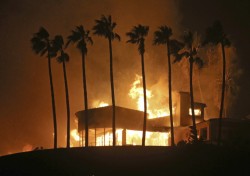 8 Nov 19 - In the wake of two years of wildfires in California, Wall Street is incorporating a new risk metric when evaluating companies: climate resiliency.

5 Nov 19 - CarbonClick plans to be as much of a disrupter for carbon offsetting as Xero has been for accounting.

15 Oct 19 - Google has made "substantial" contributions to some of the most notorious climate deniers in Washington despite its insistence that it supports political action on the climate crisis.

10 Oct 19 - Bank of England governor Mark Carney has warned major corporations that they have two years to agree rules for reporting climate risks before global regulators devise their own and make them compulsory.

7 Oct 19 - The organisers of a high-powered business and climate change conference in Auckland this week say it is way past time for politicians to come together.

7 Oct 19 - Most of the world's 50 largest banks have not made sustainable finance commitments to respond to the risks of climate change and continue to finance fossil fuels, says a new report.

26 Sep 19 - More than four in five of the world's largest companies are not on track to meet the Paris climate targets for 2050, says a new study.
---
25 Sep 19 - Banks with more than $47 trillion in assets, or a third of the global industry, have adopted new UN-backed "responsible banking" principles to fight climate change.
24 Sep 19 - A former Bank of America Merrill Lynch vice-president with a background in financing "clean" investment is heading the investment programme of the Government's Green Investment Fund.
12 Sep 19 - A Finnish supermarket chain is fighting food waste by offering steep discounts during a late-night happy hour.
3 Sep 19 - An organisation which believes billions of dollars' worth of KiwiSaver funds are ripe for ethical investing says the sector is at a tipping point.
13 Aug 19 - Four companies have been given a total of more than $1 billion worth of free carbon credits in the latest round of subsidies under the Emissions Trading Scheme.
8 Aug 19 - A print shop, a company supplying uniforms, a skincare product manufacturer, a district council and a health board have taken the top prizes in the Enviro-Mark Solutions Awards announced in Auckland...
6 Aug 19 - Insurance companies are refusing to cover power companies using coal and are extending the ban to coal-mining, analytics company GlobalData says.
6 Aug 19 - Moody's, one of the main agencies that rates the creditworthiness of big borrowers, including cities and corporations, has brought on board a data firm specializing in climate risks.
2 Aug 19 - BlackRock, the world's biggest investor, has lost an estimated $90 billion over the past decade by ignoring the financial risk of investing in fossil fuel companies.
30 Jul 19 - An investigation of 14 clothing corporations, each with household-name brands, reveals the inadequacies of greening the fashion industry.
24 Jul 19 - Companies responsible for nearly two-thirds of New Zealand's greenhouse gas emissions are calling for cross-party support of zero-carbon legislation.
4 Jul 19 - Oil and gas companies listed on the London Stock Exchange have been reclassified under a non-renewable energy category in a move designed to distinguish between heavily polluting companies and...
---