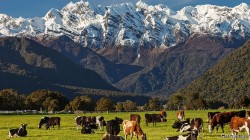 Today 9:30am - The agricultural sector has been given the go-ahead to develop its own carbon pricing scheme – but if it fails, it will come into the Emissions Trading Scheme.

Today 9:30am - Changes to the Emissions Trading Scheme will be introduced to Parliament today.

Monday - New Zealand First is talking "sustainable transition" for the agricultural sector as the country waits for the zero-carbon bill to come back into Parliament.

Monday - Does the zero-carbon bill have cross-party support or not? The Environment Select Committee is due to tell Parliament today what changes it wants made to the Climate Change Response (Zero-Carbon) Amendment Bill – if MPs from opposite sides of the House can agree.

17 Oct 19 - Climate change and ocean acidification are piling pressure on a marine system already stressed by the impacts of human activities, the latest official state-of-the-environment report says.

17 Oct 19 - The Government's Green Investment Finance fund says it is working on "a number of opportunities" for investment.

16 Oct 19 - Finance minister Grant Robertson is joining the Coalition of Finance Ministers for Climate Action.
---
15 Oct 19 - Unions want reform of the tax system and redundancy payments for all laid-off workers as part of a "just transition" to a low-carbon economy.
15 Oct 19 - National MP Judith Collins' dismissal of the need for urgent action on climate change is being called ill-informed, dangerous and just plain wrong.
14 Oct 19 - National Party MP Judith Collins says the risks of letting global heating go beyond 1.5deg above pre-Industrial levels are being overstated by an "increasingly fanatical" green lobby.
8 Oct 19 - Former Reserve Bank chair Dr Rod Carr will head the Climate Change Commission.
8 Oct 19 - An announcement on how the agricultural sector will be charged for greenhouse gas emissions is imminent, the Government says.
3 Oct 19 - New Zealand scientists are working with the Japanese motor industry to find a low-carbon replacement for fuels, plastics and a host of other substances.
2 Oct 19 - Carbon trading and tariffs on goods not subject to carbon pricing are not part of a New Zealand-led climate trade agreement.
1 Oct 19 - Public fears about climate change threaten New Zealand's $39-billion-a-year tourism revenue, a new report warns.
26 Sep 19 - New Zealand is one of five countries bringing climate change into a trade deal.
25 Sep 19 - The committee of experts advising the Government on emissions budgeting has its sights set on our two biggest climate-polluting sectors – land use and transport.
24 Sep 19 - Prime Minister Jacinda Ardern has told the world New Zealand wants climate change included in trade deals and global co-operation on carbon pricing.
23 Sep 19 - Deeper pools of capital, a smart, skilled and motivated workforce and plentiful clean energy are behind the Government's plans for the future of the economy.
---