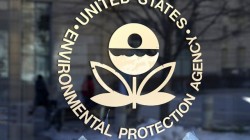 13 Feb 20 - President Trump's proposed budget for fiscal 2021 calls for significant reductions to US environmental programmes at federal agencies, including a 26 per cent cut to the Environmental Protection Agency.

7 Feb 20 - In his State of the Union address to a divided Congress, President Trump president has extolled his own role in making the nation the world's leading oil and natural gas producer.

4 Feb 20 - Protest groups plan to sue the US Environmental Protection Agency for failing to regulate aircraft emissions after a 2016 agency determination that those emissions pose a danger to public health.

30 Jan 20 - New Jersey will become the first US state to require that builders take into account the impact of climate change, including rising sea levels, in order to win government approval for projects.

30 Jan 20 - Amazon has threatened with dismissal hundreds of employees who are demanding the company adopts more eco-conscious practices.

30 Jan 20 - General Motors will invest more than $2 billion in its Detroit-Hamtramck assembly plant to make the facility the automaker's first devoted entirely to electric vehicles.

11 Dec 19 - Exxon Mobil has prevailed in a lawsuit in which the energy giant was accused of downplaying the toll climate change regulations could take on its business.
---
9 Dec 19 - Texas is leading the way to a "looming carbon timebomb" as US output of oil and gas is forecast to rise by 25 per cent over the next decade.
6 Dec 19 - US president Donald Trump has described climate change as important to him, saying clean air and clean water were top of his environmental agenda.
4 Dec 19 - FORMER US Secretary of State John Kerry has declared World War Zero by forming a bipartisan coalition of Hollywood stars, world leaders and military brass to push for public action on climate change.
27 Nov 19 - A majority of Americans believe the government must do more to address pollution and climate concerns, according to a new study.
26 Nov 19 - Michael Bloomberg has poured his time and hundreds of millions of dollars into projects aimed at getting the world 'beyond carbon,' but can he win the presidency?
21 Nov 19 - California says it won't buy cars from General Motors, Chrysler, Toyota, Nissan and other automakers that are aligning with the Trump administration in its battle over emissions rules.
19 Nov 19 - US political firebrands Alexandria Ocasio-Cortez and Bernie Sanders have unveiled the next step to their Green New Deal plan with a bill focused entirely on reimagining public housing.
19 Nov 19 - In Brooklyn, they're making vodka without potatoes or grains. The key ingredients are hydrogen and captured carbon dioxide.
11 Nov 19 - Lawyers for New York State and ExxonMobil have wrapped up a landmark climate fraud trial, shaping a tangle of testimony and evidence.
5 Nov 19 - Despite abandoning the Paris Agreement deal it helped to broker, the US will continue to influence global rulemaking on climate change.
4 Nov 19 - An investor whose firm saw the 2008 mortgage crisis coming, is warning that another financial disaster may be growing inside the real estate market: this time inflated by climate change denial on the...
4 Nov 19 - Former ExxonMobil chief executive Rex Tillerson has taken the witness stand in the company's climate fraud trial and gave the clearest defense yet for his former employer.
---