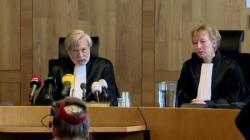 29 Jun 15 - A Dutch court has ordered the state to slash greenhouse gas emissions nationwide by at least 25 per cent by 2020, in a case that could serve as a blueprint for activists around the world.

29 Jun 15 - India's Adani Group is likely to withdraw from the $16 billion Australian coal mining project, touted as the world's largest, due to concerns over softening international coal prices, relentless attacks by environmentalists and delay in regulatory clearances.

29 Jun 15 - We are used to hearing that if everyone lived in the same way as North Americans or Australians, we would need four or five planet Earths to sustain us.

29 Jun 15 - A significant threshold has been crossed by renewable energy as analysts report that the sector's size last year reached double the level it was at just 10 years earlier.

29 Jun 15 - Australia can reduce its greenhouse gas emissions by 50 per cent below 2005 levels by 2030, according to analysis by ClimateWorks.

29 Jun 15 - Federal Environment Minister Greg Hunt, writing in the Fairfax opinion pages, has said that the now abolished carbon tax was a far more expensive way to reduce Australia's carbon emissions than the Direct Action policy that replaced it.

29 Jun 15 - Most people are aware of solar photovoltaics that generate electricity and solar panels that produce hot water. But there is another thrust of solar research: turning sunlight into liquid fuels.
---
29 Jun 15 - * Outcry as UK plans to privatise green bank * Climate change can destroy 50 years of health and development * Gates to invest $2bn in breakthrough renewable energy projects * Obama sets sizzling...
29 Jun 15 - Global warming is unlikely to mean that fewer people in northern latitudes will die from cold during the winter, according to a study by scientists in the United States.
29 Jun 15 - Rwanda is located in the poorest region in the world, sub-Saharan Africa. Despite this, it is making advances with off-grid renewable energy solutions for rural areas that could be a model for...
29 Jun 15 - Wanted: a company to be the world's first official circular-economy-model office.
22 Jun 15 - In a document remarkable for its sweep and its depth, Pope Francis last week unveiled his long-awaited encyclical on the environment, in essence calling on humanity to address a climate and...
22 Jun 15 - South Africa produces millions of tonnes of fruit each year that are exported, consumed locally, or processed into value-added products such as juice, canned fruit or wine.
22 Jun 15 - While plants in temperate zones may benefit from higher temperatures, global warming's impact in the tropics threatens catastrophe for food security.
22 Jun 15 - * Is Russia moving toward a fracking future? * Carbon emissions from aircraft endanger human health, says US * Venezuela: The climate paradox of the petro-state * It's Prost v Senna again – and...
22 Jun 15 - Fierce temperatures in India doubled the heat-related deaths normally recorded in May − and the government insists natural causes are not to blame.
22 Jun 15 - Want to know more about the stuff that grows our food, filters our water, stores carbon and does a host of other critical stuff?
22 Jun 15 - The insurance industry has been told it must play a strong role in shaping a more sustainable future.
22 Jun 15 - "Even if you drive between here (Auckland) and Huntly you see these lovely beautiful rolling hills, it is green and I don't take too much truck with people who continually say that we are selling a...
---