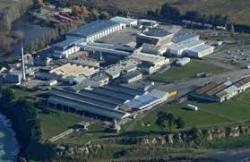 Monday - One of the world's largest processors of sheep meat, Alliance Group Limited, aims to reduce carbon emissions by 3300 tonnes over the next three years.

Monday - The City of Sydney has delivered a trailblazing e-waste programme to apartment blocks, with special recycling bins in six large apartment buildings serving 1500 apartments as part of an on-going trial.

Monday - At many universities and other institutions, heartfelt campaigns are under way to divest from fossil fuel companies as a way to address climate change.

Monday - By NIRAJ LAL.- The Tesla in front of me was shiny, sleek and silent, but my daydreams were interrupted with a question: does a Tesla charged by Australian electricity emit less CO2 per kilometre than an efficient diesel car?

Monday - Climate change threatens one in six of the world's species with extinction, according to new research.

Monday - Companies and governments responsible for 40 per cent of global gas flaring have made a commitment to stop their climate-damaging activities within the next 15 years.

Monday - The firefighters are primed, hoses at the ready. May and June are often the peak months for forest fires in the southwest of the US, and the outlook for this year is grim.
---
Monday - Single-use plastic bags could soon become a thing of the past in European supermarkets.
Monday - * Tesla unveils home battery to rev up low carbon transition * US, Japan and Canada miss Green Climate Fund donation deadline * Obama signs energy efficiency bill into law * Solar power plant...
Monday - Malaysia's Home Ministry has seized an explosive book on timber corruption in the Malaysian state of Sarawak.
Monday - Many companies bidding for carbon credits in Australia's first auction sold themselves short, says market analyst Reputex.
28 Apr 15 - LanzaTech, the New Zealand-founded carbon recycling company, says it has other full-scale commercial plants in the pipeline following this week's announcement that China Steel Corp will invest US$46...
28 Apr 15 - The results of the Australian Government's first reverse auction (https://theconversation.com/explainer-how-does-todays-direct-action-reverse-auction-work-40152) of carbon-cutting projects have been...
28 Apr 15 - Australia should pledge far deeper cuts to greenhouse gas emissions than its current target if it is to do its fair share in tackling climate change, according to a report by the Climate Change...
28 Apr 15 - Ninety per cent of Australia's current coal reserves will need to be left in the ground for Australia to play its role in limiting warming to no more than 2C.
28 Apr 15 - Inventors are in a race to find the best way of storing electricity to make the most of renewables and cut the use of fossil fuels.
28 Apr 15 - Two groups of US scientists are exploring new ways of capturing carbon dioxide from the atmosphere.
28 Apr 15 - In the aftermath of the 2008/9 global financial crisis central banks around the world pumped billions of dollars into the monetary system to safeguard the world economy.
28 Apr 15 - The whole issue of climate is much too important to be left to governments and their leaders, says Mary Robinson, the UN Secretary-General's special envoy on climate change.
---