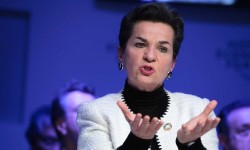 Today 9:00am - The next three years will be crucial to stopping the worst effects of global warming, says former UN chief Christiana Figueres and other experts.

Today 9:00am - India's environment has been subjugated to the whims of the prime minister's industrial cronies. How can the world believe him on climate change?

Today 9:00am - South African power utility Eskom recently repeated that it will not conclude supply contracts with the developers of new renewable energy power stations.

Today 9:00am - Earth's tropical atmosphere - our bulging waistline - is growing in all directions and some countries should be worried.

Today 9:00am - Closing nuclear plants in Europe and North America from 2020 threatens global plans to cut carbon emissions unless governments build new nuclear plants or expand the use of renewables.

Wednesday - China is planning the world's biggest carbon market, but with little detail given for its design, praise for the scheme is premature.

Wednesday - Spot NZUs opened today at $16.65 bid and $16.90 offered, after last fixing at $16.80.
---
Wednesday - The world's food security is increasingly reliant on 14 "chokepoints" for trade, a think-tank report has warned.
Wednesday - US academics are arguing with ferocity about how to achieve a fossil fuel phase out. But, for now, the debate is entirely academic.
Wednesday - The new French government has announced it will stop granting licences for new oil and gas exploration.
Wednesday - Qinghai province in China has just used entirely renewable energy for seven days as part of a trial to prove that it is possible to use just green energy.
Wednesday - Since the 1970s, humans have used more resources than the planet can regenerate.
Wednesday - Greater emissions reductions and delivering on the Paris climate agreement are now "the only opportunity" to save coral reefs the world over from decline.
Tuesday - Spot NZUs opened today at $16.30 bid and $16.70 offered, after last fixing at $16.50.
Tuesday - One of the world's biggest energy companies sees problems ahead with falling fossil fuel demand and huge growth in renewables.
Tuesday - Seas are rising faster, prompting scientists to warn that coastal adaptation plans should be put in place urgently.
Tuesday - The largest Iceland eruption in 230 years offers a unique look into how aerosols affect the atmosphere.
Tuesday - Organic farming does not always benefit the environment in the ways people expect, and might not avert climate change effects, scientists say.
Tuesday - What do ExxonMobil, Stephen Hawking, the Nature Conservancy, and Ronald Reagan's secretary of Treasury and chief of staff have in common?
---