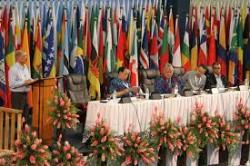 8 Sep 14 - With nearly $2 billion pledged in sustainable development partnerships, the United Nations last week wrapped up its small island developing states conference in Samoa and kicked off a drum roll of action on climate change.

8 Sep 14 - There are still doubts. The statistics might be proved wrong. But it looks as if China might be starting to wean itself off its coal consumption habit.

8 Sep 14 - UN Secretary-General Ban Ki-moon is attempting to prevent world leaders sleepwalking into disaster by asking them to make new pledges at his climate summit this month on cutting greenhouse gases.

8 Sep 14 - Korea's booming car industry appears to have won over the government in the country's latest road map for emissions reduction.

8 Sep 14 - Coming soon to a farm near you: just about every possible type of pest that could take advantage of the ripening harvest in the nearby fields.

8 Sep 14 - * Clinton: America can be clean-energy superpower * High-level shale gas study calls for moratorium on fracking * Chile set to pass Latin America's second carbon tax * Judge rules BP was grossly negligent in oil spill * Aircraft emissions may be next for US climate rules * Hopes for independent Scottish voice at climate talks * They were the last word in glamour, but has the sun set on LA's swimming pools?

8 Sep 14 - An explosive new book about logging is about to rock Malaysia's corridors of power.
---
8 Sep 14 - There are prospects of significant progress in the response of world governments to climate change, according to a former British Government chief scientist, Sir David King.
8 Sep 14 - There is less than one chance in 100,000 that global average temperature over the past 60 years would have been as high without human-caused greenhouse gas emissions, our new research shows.
8 Sep 14 - Exactly a year ago, the world was wrestling with the possibility of another US-led military assault on an Arab state, following the horrific gas attacks in Damascus, Syria.
8 Sep 14 - The Australian government has just received a vitally important report to guide its decisions on the future of Australia's Renewable Energy Target.
8 Sep 14 - Converting renewable energy into electricity is one thing; converting it into fuel is quite another.
8 Sep 14 - The energy-water nexus between water, sanitation, and our global consumption of energy – the "energy-water nexus" - are more obvious than ever before. But how many of us will take direction at the...
8 Sep 14 - New Zealand band The Nukes captures the essence of the country's environmental problems in Last Kauri, found on their just-released album Lucky Ones.
8 Sep 14 - Our free copy of Dirty Politics, Nicky Hager's expose of how politics is practised in New Zealand, at least by some, goes to Amelia Guy-Meakin. Congratulations - your book is on its way.
1 Sep 14 - Forest owners like the Labour Party's plan to set up an independent climate commission.
1 Sep 14 - New Zealanders might be slow at adopting alternative electricity generation, but it does threaten the existing centralised model, a new report says.
1 Sep 14 - Power generation from renewable sources such as wind, solar and hydro grew strongly last year, reaching almost 22 per cent of global generation, says the International Energy Agency.
1 Sep 14 - Eco Alkalines household batteries are carboNZero.
---