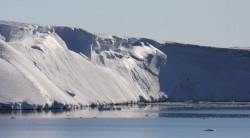 Today 11:00am - One of Antarctica's great glaciers could become unstable if global warming continues at the present pace.

Today 11:00am - We might be what we eat, but our dietary choices also affect the health of the environment, and farmers' back pockets.

Today 11:00am - The big oil companies' on-off affair with renewable energies seems to be back on track.
Today 11:00am - The planet would warm by searing 10degC if all fossil fuels are burned, according to a new study, leaving some regions uninhabitable and wreaking profound damage on human health, food supplies and the global economy.
Today 11:00am - Glencore investors have agreed that the largest exporter of coal burned for power should provide more information on risks to its business from growing levels of government legislation to tackle climate change.

Today 11:00am - Cities around the world are failing to plan for fast-increasing risks from extreme weather and other hazards, particularly as population growth and surging migration put more people in the path of those threats, the World Bank says.
Today 11:00am - Global electric vehicle revenue will likely reach $58 billion in 2021, representing a fivefold increase from 2015.
---
Monday - Spot NZUs traded below $14 on Friday, with the last fix on CommTrade at $13.97.
Monday - Researchers say new technical and policy solutions, plus major investment, are needed for agriculture to help to make the emissions reductions required to meet Paris targets.
Monday - The forerunners of ExxonMobil patented technologies for electric cars and low emissions vehicles as early as 1963 – even as the oil industry lobby tried to squash government funding for such...
Monday - One week into Australia's extended federal election campaign, climate has not featured prominently.
Monday - The Paris climate agreement has been praised for sending a strong signal to the world that we are now serious about cutting greenhouse emissions.
Monday - As Harmony of the Seas sets sail from Southampton docks today she will leave behind a trail of pollution – a toxic problem that is growing as the cruise industry and its ships get ever bigger.
Monday - Norway's greenhouse gas emissions rose by 1.5 per cent last year, lifted by the oil and gas sector and industry, making it harder for Oslo to keep promises of deep cuts to limit global warming.
Monday - So far, Donald J. Trump has said very little about climate change and energy policy beyond his Twitter posts on the issues. But more clues about Trump's views on environmental issues have emerged...
Monday - Portugal last week set a record for renewable energy use. Through a combination of hydroelectric, solar, and wind power, electricity use in the country was completely covered for four consecutive...
Friday - New Zealand manufacturers should be skiting to the world about making food and groceries with renewable energy, says Pic's Peanut Butter chief executive Pic Picot.
Friday - A New Zealand student has come up with a plan to recycle waste plastic in Pacific nations using 3-D printers.
Friday - Just three years ago this month, the carbon dioxide monitoring station atop Hawaii's Mauna Loa reached a significant milestone: the first measurement of CO2 concentrations that exceeded the benchmark...
---