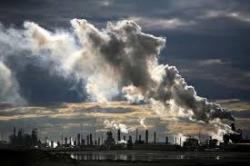 Monday - None of Australia's 20 largest emitting facilities is expected to be accountable for emissions, despite almost all being forecast to grow emissions over the next 10 years.

Monday - US presidential hopeful Hillary Clinton has begun to unveil components of her policy agenda on energy and climate change.

Monday - Global temperatures have risen by 1°C in the past 150 years, and scientists say doubling that level could unleash catastrophic sea level rise this century.

Monday - The campaign to convince investors not to use their money to support the extraction and use of fossil fuels is failing to gain enough converts, experts say.

Monday - As climate change warms the world, vegetation dries, rainfall patterns waver and the threat of wildfire spreads.

Monday - European researchers investigating ways to reduce greenhouse gas emissions to the internationally agreed safety level have arrived at the good news that we can just about achieve it – provided all nations show the political will to do so.

Monday - Ultimately, all of the oil we use to power our modern lives comes from living creatures such as algae – albeit ones that lived 3.5 billion years ago, before gradually morphing into fossil fuel.
---
Monday - Wine seems to be a handy way to galvanise concerns about the future ill-effects of climate change.
Monday - Biodiversity performs critical ecosystem functions that cannot be replaced indefinitely by technology, such as pesticides and herbicides. This includes a diverse population of insects on farms.
Monday - The Green Star building rating has been widened to include social and financial innovation as well as environmental excellence.
27 Jul 15 - The visit last week of 65 mayors to the Vatican to discuss climate change, among other things, reflects the central role of cities in debates that for too long took place only at the global and...
27 Jul 15 - Detailed soil maps of farms could reduce nitrate leaching and help to improve food production, a Lincoln University report suggests.
27 Jul 15 - Norway is hoping to become the "green battery of Europe" by using its hydropower plants to provide instant extra electricity if production from wind and solar power sources in other countries fade.
27 Jul 15 - Reforming fossil fuel subsidies could release enough money to finance universal access to water, sanitation, and electricity in many countries, as well as helping to cut global greenhouse-gas...
27 Jul 15 - Over the past two decades, scientists have developed ways to predict how ecosystems will react to changing environmental conditions.
27 Jul 15 - Between 2007 and 2013 emissions of carbon dioxide from fossil fuels burnt in the US fell significantly − by about 11% − and many analysts credited this to ac hange from coal to natural...
27 Jul 15 - Just over a year ago, Australia concluded a unique public policy experiment. For the preceding two years and two weeks, it had put a price on a range of greenhouse gas emitting activities, most...
27 Jul 15 - The president of Ireland, Michael D Higgins, says the world needs a whole new economic framework to tackle the consequences of the warming caused by emissions of greenhouse gases.
27 Jul 15 - New Zealand's capacity to recycle construction, industrial and demolition material has been boosted.
---