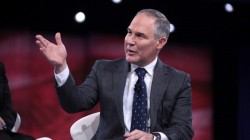 Friday - Donald Trump has reportedly nominated an attorney-general who has sued and reviled the Environmental Protection Agency to be the body's new chief.

Friday - States could go it alone on a carbon scheme for the electricity sector after the federal government ruled one out, South Australia's premier says.

Friday - Australia's chief scientist Alan Finkel says investment in the electricity sector has stalled because of "policy instability and uncertainty". And he has warned that current federal climate policy settings will not allow Australia to meet its emissions reduction targets under the Paris agreement.

Friday - In potentially one of the biggest climate commitments since the 2015 Paris deal was agreed, Indonesia has banned development on its remaining 15 million hectares of peatlands.
Friday - Campaigners, health charities and neighbourhood groups have welcomed plans by London mayor Sadiq Khan to more than double funding to clean up the capital's dirty air.

Friday - Georgia fisherman Wynn Gale lifts a massive net over his boat, where it bobs and bounces when it hits the deck. That's because it's not filled with the rigid bodies of shrimp or fish, but thousands of jellyfish.

Thursday - Slick, glassy skyscrapers cast their shadows over the streets and spaces of cities all over the world.
---
Thursday - The ability of the global insurance industry to manage society's risks is being threatened by climate change, according to a new report.
Thursday - While carbon pollution gets all the headlines for its role in climate change, nitrogen pollution is arguably a more challenging problem.
Thursday - Campaigners have won a court case to block construction of a 1.6GW coal plant in northern Poland.
Thursday - New South Wales and the Australian Capital Territory are bracing for another severe bushfire season, as climate change continues to drive extreme conditions, a new report says.
Thursday - There's a UN climate change meeting involving nearly 200 governments taking place right now in the Mexican holiday resort of Cancun.
Wednesday - Japan's greenhouse gas emissions fell 3 per cent to a five-year low in the financial year through March due to lower power demand, growing renewable energy and the restart of nuclear power plants.
Wednesday - Australia's energy and environment minister, Josh Frydenberg, has folded in the face of internal pressure, declaring the Turnbull government will not pursue emissions trading as part of adjusting its...
Wednesday - Google's data centres and the offices for its 60,000 staff will be powered entirely by renewable energy from next year, in what the company has called a "landmark moment".
Wednesday - Climate change is set to cause a refugee crisis of "unimaginable scale," according to senior military figures, who warn that global warming is the greatest security threat of the 21st century.
Wednesday - British transport is set for a significant low-carbon boost with several new Government consultations and funding schemes announced in a bid to drive a green transport overhaul.
Wednesday - Miss Pacific Islands 2016, 23-year-old law graduate Anne Dunn, has been appointed Fiji's ambassador for climate change and the environment.
Wednesday - Toyota will expand the development of its gasoline-hybrid technology over the next five years to speed up the introduction of lower-emission engines.
---