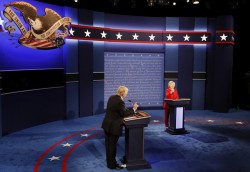 Friday - Climate change did not come up in the first presidential debate – well, not in any real sense.

Friday - Government officials have acknowledged that Australia's 2030 greenhouse gas emissions reductions pledged at Paris in 2015 were made without any modelling to show whether existing policies could achieve those targets.

Friday - Bill McKibben, the US environmentalist who is one of the world's foremost authors and activists on issues of global warming, does not mince his words.

Friday - No 5: Why are scientists are so sure that the warming is human-induced?

Friday - Toyota is considering making every future Prius a plug-in hybrid.

Friday - Permaculture pioneer Bill Mollison, who died last weekend, was one of the true heroes of the modern environmental movement.

Friday - Fresh from quitting what is becoming an increasingly brutal race to replace Ban Ki-moon as UN secretary-general, Christiana Figueres is back with a new project: Mission 2020.
---
Friday - Paris has voted for the ban of vehicles on the road running along the right bank of the river Seine.
Thursday - New Zealand must catch up with the movement toward sustainable "conscious capitalism" to survive in a disrupted world, says Vector chair Michael Stiassny.
Thursday - What's holding Russia back from ratifying the Paris climate agreement?
Thursday - Poland has demanded the EU protect its plans to build new coal-fired power plants if it wants fast-track its ratification of the Paris climate agreement.
Thursday - No 4: The poles are warming twice as fast as the rest of the planet.
Thursday - Chinese companies and banks are continuing to drive global coal expansion, as state owned companies backed by state loans build coal-fired power plants across the world.
Thursday - More than one million people died in China from dirty air in one year, according to World Health Organisation.
Thursday - It's a traditional complaint about urban life: there's never anywhere to park. But in the 21st century, do cities actually need less parking space, not more?
Wednesday - Scientists say that 2016 will be the year that carbon dioxide officially passed the symbolic 400 ppm mark, never to return below it in our lifetimes.
Wednesday - China is protecting itself against future food supply problems caused by climate change by buying or leasing large tracts of land in Africa and South America, a leading UK climate scientist says.
Wednesday - No 3: The year 2015 was the warmest on record, but the last record cold year was more than a century ago, in 1909.
Wednesday - INTERVIEW: Hoesung Lee was elected chair of the Intergovernmental Panel on Climate Change just one month before the landmark Paris climate talks of 2015.
---