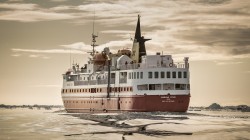 Wednesday - Countries remain split on a framework for tackling the climate impact from shipping after two days of UN-backed talks in London.

Wednesday - The backyard recycling of lead-acid car batteries is the number one source of chemical pollution in the world's poorer nations and leads to millions of years of healthy life being lost, according to a new report.

Wednesday - About 500,000 solar panels are installed each day worldwide. In China, two wind turbines are built every hour.

Wednesday - Battery storage is still many years away from preventing massive blackouts such as the one that hit South Australia last month, according to a senior utility figure.

Wednesday - India wants to provide its entire population with electricity and lift millions out of poverty, but in order to prevent the world overheating it also needs to switch away from fossil fuels.

Wednesday - The UK has laid out a welcome mat for any nuclear operators in the world who want to showcase their latest designs in Britain − the one exception being the Russian state company Rosatom.

Wednesday - Pope Francis' landmark statement on climate change and his call for more work on the issue failed to sway conservative American Catholics, according to a new study.
---
Wednesday - Connected cars and trucks are intended to make driving safer and easier. The chances of success all come down to humans.
Tuesday - Improved energy efficiency is helping New Zealand to cut thousands of tonnes of carbon emissions, as well as saving millions of dollars a year, the Government energy efficiency agency reports.
Tuesday - US and British science agencies have announced a multimillion-dollar research mission to study an enormous and exceedingly remote Antarctic glacier, one that they say could hold the potential for...
Tuesday - Risk has become a central construct for how businesses should respond to climate change.
Tuesday - Job growth is a prime topic in the US presidential race, but Donald Trump and Hillary Clinton have very different takes on the role clean energy could play in creating employment.
Tuesday - As the global population grows from seven billion to nearly 10 billion by 2050, we will need to build the equivalent of a city of one million people every five days to house them.
Tuesday - Imagine Project sets out to cut waste in the industry by renting rather than selling bikes, which can then be returned and refurbished when the child outgrows them.
Tuesday - Non-profit organisation Global Reporting Initiative has launched the first global sustainability reporting standard that uses a "common language" for companies to disclose non-financial information.
Friday - Top climate scientists have just under two years to deliver assessment of dangers and avoiding strategies for warming of 1.5deg.
Friday - Global demand for energy will grow 25 per cent in the next 25 years and countries will guzzle oil five times the size of Saudi Arabia's reserves, predicts Exxon Mobil CEO Rex Tillerson.
Friday - Oil companies must cut their carbon footprints to play a part in meeting the Paris Agreement on climate change, says Saudi Arabia oil chief Khalid Al-Falih.
Friday - The UN's world heritage body has made an urgent intervention to stop the construction of a coal power station in Bangladesh.
---