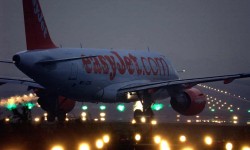 Thursday - Not everyone is convinced that climate sins can be absolved through projects based on simple carbon accounting.

Wednesday - Exhausts from dirty heavy oils used in ships leave a telltale trail of such dense cloud that they can be tracked from space.

15 Nov 19 - The world's thirst for oil will continue to grow over the next two decades, with climate-damaging emissions climbing until at least 2040, the IEA says.

12 Nov 19 - BMW has called for European policymakers to roll out electric vehicles on a massive scale, saying its customers are turning to e-cars - and loving them.

6 Nov 19 - Why is the clean, green hydrogen technology lagging far behind the hybrid and all-electric sectors of the car industry?

6 Nov 19 - Volvo Buses has received the largest single order for electric buses in Europe.

21 Oct 19 - The breathless hype around driverless electric vehicles once promised an urban transport "revolution".
---
9 Oct 19 - SUVs are a paradox. While many people buy them to feel safer, they are statistically less safe than regular cars.
9 Oct 19 - Denmark, backed by 10 other European Union countries, has called for a strategy to phase out diesel and petrol cars by 2030.
30 Sep 19 - Most New Zealand businesses are not offsetting greenhouse gas emissions from flights, Air New Zealand says.
24 Sep 19 - Zero-emissions shipping will be a commercial reality by the end of next decade, according to a pledge JUST made by shipping giants.
20 Sep 19 - The number of commercial aircraft in operation will more than double in the next 20 years to 48,000 planes worldwide, Airbus has forecast.
18 Sep 19 - Electric vehicles could make up nearly half the fleet of passenger cars and trucks by 2040. But oil and gas companies are striking back.
16 Sep 19 - One of the world's most important institutions in the fight against climate change is also one of the UN's most opaque.
16 Sep 19 - It's the ultimate in motoring self-sufficiency – an electric car powered by solar panels on the roof.
12 Sep 19 - Human demand for transport will increase as the climate warms, becoming its own feedback loop, researchers say.
11 Sep 19 - Time is running out for European carmakers, which have waited until the last minute to try to meet ambitious EU emissions targets and face billions in fines if they fail to comply.
21 Aug 19 - An all-electric ferry, purported to be the world's largest, has completed its first voyage between two Danish islands, as the shipping sector gears up for strict new emission laws.
19 Aug 19 - Margins for European high sulphur fuel oil, used to power ships, sank last week as preparations for a global shift to cleaner maritime fuel next year start to weigh on prices.
---