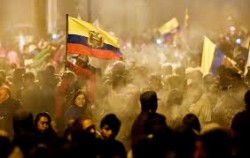 18 Oct 19 - Calm has returned to the streets of Quito after Ecuador's government agreed to reinstate fuel subsidies following 11 days of nationwide, violent protests.

8 Oct 19 - Two of the most powerful forces in Brazil, the president and the pope, are pulling in opposite directions on an issue critical to climate change.
11 Sep 19 - From afar, it resembles a tornado: an immense grey column shooting thousands of feet upwards from the forest canopy into the Amazonian skies.

10 Sep 19 - Droughts and damaging storms are impacting smallholder farmers in Central America and driving higher levels of migration from the region.

29 Aug 19 - While the world watches the Brazilian Amazon burn, across the border in Bolivia it's also ablaze.

26 Aug 19 - Fuel is everywhere in rainforests, but it seems unimaginable that such humid ecosystems could ever catch fire. And without human intervention, they don't.

23 Aug 19 - The environment minister of Brazil, where wildfires have been sweeping the Amazon rainforest, was booed at a climate event yesterday as celebrities including Leonardo DiCaprio and Ariana Grande joined an international chorus of criticism.
---
13 Aug 19 - Germany will suspend $39 million in funds sent to Brazil to finance projects aimed at preserving the Amazon forest.
7 Aug 19 - The Amazon might not be sequestering as much carbon dioxide as we think, scientists say.
5 Jul 19 - Brazil's huge beef sector continues to threaten health of world's largest rainforest.
12 Jun 19 - Brazilian President Jair Bolsonaro appears intent on decriminalizing Amazon deforestation, ending most fines, straitjacketing law enforcement, and gutting environmental agencies with mass firings.
7 Jun 19 - Chile, host of the next UN climate talks, has unveiled its plan to reach carbon neutrality by 2050, which will require one of the fastest coal shutdowns anywhere.
31 May 19 - Brazil's scientists are fighting back against President Jair Bolsonaro's plans to slash funding for research and education programmes.
11 Apr 19 - In the land where the legend of El Dorado began, the race is on to solve the mystery of a vital 21st century treasure – the water that tens of millions of people rely upon across northern South...
9 Apr 19 - The northern triangle of Central America, the largest source of asylum seekers crossing the US border, is deeply affected by environmental degradation.
28 Feb 19 - Costa Rica has launched an economy-wide plan to "decarbonize" the country by 2050, as the Central American nation aims to show other nations what is possible to address climate change.
5 Feb 19 - The Brazil dam burst last week happened less than a month after the country's new climate-sceptic government came to office promising a relaxation of environmental laws and inspections to "take the...
25 Jan 19 - Brazil will strike a balance between environment and "much-needed economic development", Brazilian president Joao Bolsonaro has said in his first overseas speech.
11 Dec 18 - Brazil's far right president-elect Jair Bolsonaro has named Ricardo de Aquino Salles, a 43-year-old lawyer and a staunch 'beef caucus' ally to lead his environment department.
---