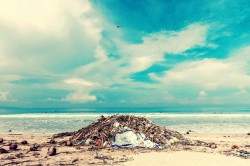 Monday - Indonesia is the world's second-largest ocean plastic polluter, after China.

Monday - Climate-vulnerable Singapore will part ways with fossil fuel vehicles within the next two decades and throw its weight behind cleaner vehicles.

19 Feb 20 - Malaysia's major banks are bucking a global trend toward the decarbonisation of the finance industry by continuing to finance new coal-fired power projects in Southeast Asia, a new report has found.

11 Feb 20 - Major flooding from just a few hours of heavy rain in Samarinda, Indonesia's coal-mining capital, has underscored the severity of the environmental degradation being carried out by the industry, officials say.

7 Feb 20 - Just beyond the windows of Satsuki Kanno's apartment overlooking Tokyo Bay, a behemoth from a bygone era will soon rise: a coal-burning power plant, part of a buildup of coal power that is unheard-of for an advanced economy.

3 Feb 20 - Two years after China's ban on other countries' waste, Southeast Asian nations are struggling to deal with import surge, and are enacting bans of their own.

29 Jan 20 - A new study suggests that China and India might not be living up to recent pledges to dramatically reduce emissions of a greenhouse gas nearly 13,000 times more potent than carbon dioxide.
---
29 Jan 20 - Not in their wildest dreams did the residents of Karachi's Cattle Colony think that the filth they were living in for more than four decades would generate wealth as well as energy.
13 Dec 19 - The total damage and economic loss from forest fires in Indonesia this year amounts to at least $5.2 billion, says the World Bank.
28 Nov 19 - Coal expansion by the Philippines' biggest energy companies could lead to the fossil fuel's share of the energy mix growing from 52 per cent today to a whopping 75 per cent by 2025.
21 Nov 19 - Vietnam is rising as Southeast Asia's new wind hero, with power capacity soon to dwarf that of all other Asean nations.
15 Nov 19 - Myanmar has handed out more than 400,000 hectares of oil palm concessions to 44 companies, some of the land overlapping with proposed national parks.
10 Oct 19 - Not only will coal continue to be the dominant fuel source in power generation in Southeast Asia, its use will grow and peak in 2027 before slowing, according to a new study.
6 Sep 19 - Indonesia will build a new capital city from scratch in a jungle-covered area with little to no infrastructure and it could be an environmental disaster.
27 Aug 19 - Most Southeast Asian banks are indifferent to climate change in their lending operations, a new report has found.
27 Aug 19 - A Singapore startup on a mission to replace a million polluting diesel-powered boats in Southeast Asia has been inspired by Ikea.
21 Aug 19 - low-lying Singapore could spend $US72 billion or more over the next 50 to 100 years to adapt to climate change and rising sea levels, according to its prime minister.
15 Aug 19 - India's most sacred river is also its most polluted, with plastic a major culprit. Now moves are afoot to monitor the flow of rubbish and assess its link to poverty.
7 Aug 19 - As awareness of the toxic fall-out of Southeast Asia's e-waste crisis grows, what's being done to defuse an environmental timebomb in the making?
---