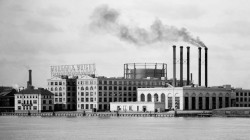 Monday - Researchers have found that greenhouse gases and pollution have almost singlehandedly shaped 20th century climate.

Thursday - Researchers have come up with a new technique to clean the atmosphere of the second-most powerful greenhouse gas people produce - methane.

2 May 19 - A material with the potential to revolutionise a wide range of technologies was discovered by accident.

23 Apr 19 - An expert in DNA is the Environmental Protection Authority's new chief scientist.

18 Apr 19 - Global climate models developed for the UN are running hotter than they have in the past. Soon the world could be, too.

17 Apr 19 - Dr Joanne Chory hopes that genetic modifications to enhance plants' natural carbon-fixing traits could play a key role – but knows that time is short, for her and the planet.

15 Apr 19 - In September, the giant German polar research vessel Polarstern will set off from Tromsø in Norway on a remarkable voyage.
---
5 Apr 19 - Researchers say they have given timber a makeover to produce a material that is not only sturdy, but also transparent and able to store and release heat.
4 Apr 19 - Scientists have found that a final Snowball Earth thawing event likely ended in a flash about 635 million years ago - a geologically fast event that might have implications for today's human-driven...
26 Mar 19 - Conservationists, researchers and volunteers are findng new technology in the form of drones is making their jobs a whole lot easier.
21 Mar 19 - The International Panel on Climate Change is using conservative language that underplays the threat of climate change.
13 Mar 19 - Atmospheric physicist Professor James Renwick is struggling with the idea that the world might really delay action on climate change to the point of disaster.
8 Mar 19 - Scientists in Belgium have invented a solar panel that produces hydrogen as a source of fuel to heat homes.
6 Mar 19 - Billions of tonnes of carbon dioxide could be removed from the air with special filters, scientists say.
27 Feb 19 - Research by citizen scientists is coming into its own, providing a critical tool for monitoring endangered species and documenting environmental changes sweeping the planet.
8 Feb 19 - The landscapes and climate in many parts of the world could be nearly unrecognizable by the end of the century if greenhouse gas emissions continue at their current pace, research suggests.
5 Feb 19 - Ponds are good for more than just decorating the garden – they could be your best tool in fighting climate change.
1 Feb 19 - The chemical process used by Scuba divers can efficiently strip carbon dioxide out of the residue of coal-fired electricity generation, scientists say.
31 Jan 19 - Last summer's heatwave gave New Zealand its warmest summer and the warmest January on record. It lead to early grape harvests and the deaths of farmed fish.
---