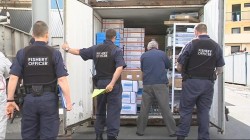 Today 12:00pm - Agencies charged with enforcing New Zealand's environmental laws don't have the money to do the job, and often have conflicted interests.

Monday - New Zealand urgently needs to understand the likely impacts of climate change on the economy, environment and society, says a new government paper.

Friday - Treasury is, for the first time, including New Zealand's natural capital in its long-term thinking – including the value of the country's clean-green brand.

20 Feb 17 - New Zealand and China have held their first ministerial meeting under the bilateral carbon agreement.

17 Feb 17 - New Zealand's "limited and largely ineffectual actions" on climate change risk undermining public confidence in our policy makers, say the authors of the latest Public Perceptions of the Environment report to be released today.
16 Feb 17 - A little of Treasury's thinking on how to protect the economy from carbon exposure has been revealed – including a hint that it wants to talk to the business community.

15 Feb 17 - The Government's energy policies take a battering in new research from Otago University.
---
14 Feb 17 - TREASURY says that forcing government agencies to divest from unethical funds could be expensive.
14 Feb 17 - The Deep South National Science Challenge has announced funding totalling about $2 million for five new research projects to help New Zealanders to better understand their future climate.
13 Feb 17 - By editor ADELIA HALLETT | Try these numbers: Humans are causing the climate to change at 170 times the natural rate. Our "carbon budget" to keep warming below 1.5deg will be used up in five years....
10 Feb 17 - In Auckland, plans to build houses on the Pt England Reserve - home of endangered New Zealand dotterels - is highlighting the tension between housing people and nature. But it's not the only city...
9 Feb 17 - New Zealand cannot rely on international carbon credits to meet its emissions reductions targets after 2030, officials have told the Government, warning that credits could be expensive and in short...
8 Feb 17 - New Zealand needs a strong market in environmental offsets, says Gareth Morgan's The Opportunities Party.
7 Feb 17 - Three people have made submissions on Government plans to put a carbon charge on imported goods containing polyol.
1 Feb 17 - New Zealand could cut the cost of meeting its international emissions reductions targets by linking its carbon market to emerging markets in Asia.
25 Jan 17 - Anyone with a view on how New Zealand should manage energy production and use has just under two weeks left to have a say.
24 Jan 17 - POLLUTERS will pay under Gareth Morgan's TOP party. And it will be good for business, he says.
20 Dec 16 - Government officials are talking about the potential impact of carbon exposure on investments.
19 Dec 16 - Labour Party leader Andrew Little says he's backing the low-carbon economy as the future for New Zealand.
---