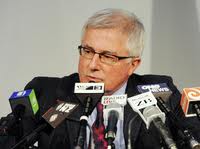 Friday - The Government still wonít confirm that it will not auction NZUs.

28 Feb 14 - The Government might be getting ready to finally take action on dismal domestic carbon prices.

28 Feb 14 - From April buyers will know whether the NZUs they are buying come from carbon sequestration or are free units given to emitters by taxpayers.

28 Feb 14 - The Climate Change Authorityís new report on emission reduction targets makes a compelling argument for Australia to go much further in cutting greenhouse gas emissions, writes CLIVE HAMILTON, Vice-Chancellor's Chair, Centre for Applied Philosophy and Public Ethics, Charles Sturt University.

28 Feb 14 - The idea of the ďgreen economy goes in and out of fashion, not least because it is rarely defined and frequently misunderstood, writes PAUL EKINS, Professor of Resource and Environmental Policy, University College, London.

21 Feb 14 - A loophole allowing heavy industrial emitters to coin it at the expense of taxpayers by selling free carbon credits is likely to be closed under a Labour-Greens government.

21 Feb 14 - Frustrated Maori will take their carbon price grievances to the United Nations next week.
---
21 Feb 14 - Iwi threatening to take a claim to the Waitangi Tribunal over carbon prices have the support of at least two major political parties.
14 Feb 14 - The Government appears to be ignoring an ultimatum from Maori to fix carbon prices or face the consequences.
7 Feb 14 - Maori say they will lodge a $600 million Treaty of Waitangi claim if the Government doesnít move fast to shore up carbon prices.
7 Feb 14 - New Zealand is well-positioned to move into an emerging international Earth-centred legal regime because of Maori culture, an environmental law lecturer says.
7 Feb 14 - Is it fair that China is blamed for the carbon dioxide emissions it generates to manufacture products destined for the West? asks Glen West, of the Center for International Climate and Environment...
7 Feb 14 - Floods are becoming harder to manage by trying to hold water back behind flood defences, so itís time to look at how to defend against them at the building and community level.
31 Jan 14 - Making people think about the impact climate change could have on their homes makes them more likely to take action to prevent it, researchers say.
31 Jan 14 - The Green Party is invoking the legacies of Seddon, Savage and Kirk in a bid to pitch the green economy as the next big thing for New Zealand.
24 Jan 14 - New Zealandís continuing failure to do our share on climate change puts our clean green image at risk, the Green Party says.
24 Jan 14 - Climate scientist Dr JIM SALINGER on why we should be very worried by attempts to discredit data showing New Zealand's climate is warming:
24 Jan 14 - KATE CROWLEY, Associate Professor of Public and Environmental Policy at the University of Tasmania, examines the tension between the economy and the environment in the state's politics:
20 Dec 13 - It's been an interesting year, with new carbon markets opening in some of the largest economies in the world, including North America and China.
---