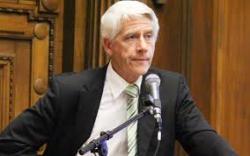 Monday - The Government is under fire for the size of its contribution to a global fund to help developing countries to combat climate change.

Monday - By editor ADELIA HALLETT.- New Labour Party leader Andrew Little appears to rank climate change only slightly more importantly than does Prime Minister John Key.

Monday - Labour's new climate change and environment spokesperson says there's never been a time when she didn't believe in climate change.

17 Nov 14 - The Cabinet portfolios of agriculture and climate change should be given to the same person, says Labour Party leadership hopeful Nanaia Mahuta.

3 Nov 14 - New Zealand has no chance of meeting its 2020 emissions reduction target under current policies, says a leading scientist involved in the latest IPCC report.

3 Nov 14 - All three of New Zealand's major political parties say that the IPCC's latest call on climate change is important.

3 Nov 14 - New Zealand still has no plan to help climate change refugees Ė despite acknowledging that many Pacific Islands people might need to be relocated.
---
28 Oct 14 - The National Party is leading off its environmental package for its new term in power with plans to encourage more oil exploration Ė despite the burning of fossil fuels being the single biggest cause...
28 Oct 14 - The Environmental Protection Authority is making the national emissions register more user-friendly.
28 Oct 14 - The Trans-Pacific Partnership threatens a green trade deal that could ultimately do more to reduce carbon emissions than international climate agreements such as the failed Kyoto Protocol.
20 Oct 14 - Chileís new carbon tax potentially offers New Zealand an opportunity to offset some of its own agricultural greenhouse gas emissions, says economist Dr Suzi Kerr.
20 Oct 14 - Business commentator Rod Oram is putting his money where his mouth is when it comes to sustainable investment.
13 Oct 14 - The Government remains mum on New Zealandís 2030 emissions reduction target.
6 Oct 14 - The Governmentís new cabinet line-up confirms its lack of interest in climate change.
6 Oct 14 - Health professionals in New Zealand are joining an international call for action on climate change.
29 Sep 14 - The Government is being challenged to invite the leaders of the Marshall Islands, Tuvalu and Kiribati to come and tell Parliament what they think of New Zealandís climate change policies.
29 Sep 14 - Do we need a climate treaty, or could a simple political deal based on national pledges work just as well?
29 Sep 14 - The nature of domestic water demand is being measured.
22 Sep 14 - Scientists are calling for rapid cuts in the use of fossil fuels in the wake of data out today showing we have almost used up our fossil-fuel credit.
---