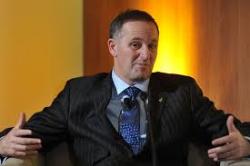 Tuesday - By editor ADELIA HALLETT.- Voters in this weekendís general election face a simple choice when it comes to climate change Ė you either believe it is a real and massive problem requiring transformation of the economy, or you donít.

Tuesday - A Labour Government would put $100 million a year into clean-tech companies.

8 Sep 14 - The Government has locked horns with one of New Zealandís leading business people over climate change and the new economy.

8 Sep 14 - New Zealand should be knocking on Chinaís door now if it wants to exploit huge potential from that countryís apparent determination to put a national emissions trading scheme in place in 2016, says a leading local carbon trader.

8 Sep 14 - New Zealand is in danger of seeing its plans to be a leader of the new technology go the same way as our last Americaís Cup challenge, says clean-tech investor Nick Gerritsen.

8 Sep 14 - New Zealand has the lowest carbon prices in the world, the World Bank says.

1 Sep 14 - The one-for-two deal that halves emittersí carbon liabilities would be scrapped by a Labour government.
---
1 Sep 14 - New Zealand First supports an iwi leadersí bid to raise carbon prices.
1 Sep 14 - Negotiating a global agreement to replace the Kyoto Protocol at climate change talks in Paris next year is critical to the survival of society, a visiting Nobel Prize-winning scientist says.
25 Aug 14 - There is bad news for farmers, and good and bad news for industrial emitters under Labourís climate change policy, released yesterday.
25 Aug 14 - Prime Minister John Key launched Nationalís election campaign yesterday without mentioning the environment.
25 Aug 14 - David Parker, Russel Norman and Tim Groser will go head-to-head on climate policy next week.
18 Aug 14 - Companies representing a quarter of the New Zealand economy are calling on all political parties to make a long-term commitment to sustainable business.
18 Aug 14 - There is still an element of climate change scepticism in New Zealand business, says a leading policy analyst.
18 Aug 14 - For the first time, economists have put a financial cost on the impact of greenhouse gases released by the industrialisation of developed countries.
18 Aug 14 - New Zealand is the seventh-kindest country to the planet, according to a new ranking system.
18 Aug 14 - French economist widely debated Thomas Piketty and his book Capital in the Twenty-First Century are a global publishing phenomenon. But while Pikettyís writing on wealth inequality has been widely...
11 Aug 14 - Xi Jinping is going, and so is Barack Obama, but John Key is staying home.
11 Aug 14 - A carbon price is still the best and fairest way to achieve emissions cuts, but as Australia and New Zealand show, itís not easy to get it right. How could carbon pricing be improved?
---