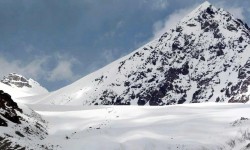 Tuesday - A quarter of the world's population is at risk of water supply problems as mountain glaciers, snow-packs and alpine lakes are run down by global heating and rising demand, according to an international study.

Tuesday - Two strands of action are being taken by investors against the planet's biggest and most polluting companies to try to coerce them into complying with climate targets.

Tuesday - Denmark's parliament has adopted a new climate law, committing to reach 70 per cent below its 1990 emissions in the next 11 years.

Tuesday - Australia is at risk of becoming a dumping ground for cars pre-charged with a greenhouse gas 1400 times more potent than carbon dioxide, industry groups warn.

Tuesday - International urban environment experts are gathering in Adelaide this week to tackle the challenge of climate change in increasingly hotter cities.

Monday - Chile has walked back a plan to announce an enhanced climate target during the Cop25 climate talks it is leading.

Monday - Oxygen in the oceans is being lost at an unprecedented rate, with "dead zones" proliferating and hundreds more areas showing oxygen dangerously depleted, experts have warned.
---
Monday - Texas is leading the way to a "looming carbon timebomb" as US output of oil and gas is forecast to rise by 25 per cent over the next decade.
Monday - By DANIELLE CLODE | It is only mid-November but we have to walk early to avoid the heat.
Friday - Pope Francis has called on COP 25 leaders meeting in Madrid to show political will to safeguard healthy planet.
Friday - US president Donald Trump has described climate change as important to him, saying clean air and clean water were top of his environmental agenda.
Friday - Scientists and conservation professionals predict mosquito-killing fungi and a kelp crisis could be among the trends affecting living things next year.
Friday - In many countries men are often migrating further to find work, leaving the entire burden of maintaining the family on women.
Friday - Iceland Prime Minister Katrin Jakobsdottir has urged governments to adopt green and family-friendly priorities, instead of just focusing on economic growth figures.
5 Dec 19 - Climate models have accurately predicted global heating for the past 50 years, a study has found.
5 Dec 19 - Voids left as glaciers vanish could be used to store spring snowmelt and rainfall to save the valleys below from summer droughts.
4 Dec 19 - The past decade is almost certain to be the hottest on record, weather experts have warned, painting a bleak picture of vanishing sea ice, devastating heatwaves and encroaching seas.
4 Dec 19 - FORMER US Secretary of State John Kerry has declared World War Zero by forming a bipartisan coalition of Hollywood stars, world leaders and military brass to push for public action on climate change.
4 Dec 19 - Seeds from 400 wild relatives of food crops such as bananas, rice and aubergines have been collected to save their valuable genetic diversity before it is lost.
---