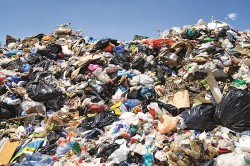 Today 10:00am - The European Commission will aim to "absolutely decouple" economic growth from natural resource use in a draft circular economy action plan due to be unveiled in March.

Today 10:00am - Carbon pricing is emerging as central to international climate negotiations, the Mercator Climate Institute says.

Today 10:00am - More than 20 of Europe's airports could be under water by the end of the century if current climate trends continue.

Today 10:00am - American scientist Nathan Phillips, who has just ended a 14-day hunger strike, said he was compelled to action by dissatisfaction with academia's passivity and the fervor of his students.

Today 10:00am - Shifting the heavy transport sector from diesel to electricity will take more than just the availability of trucks, says Swedish auto maker Volvo.

Today 10:00am - UK Prime Minister Boris Johnson has appointed Alok Sharma to preside over the COP26 UN climate talks in November.

Monday - The Earth had its hottest January in recorded history last month, according to the National Oceanic and Atmospheric Administration.
---
Monday - Australia's leading economic regulator has warned that climate change is already having a "profound" effect on the Australian economy, dragging down production, the value of Australian exports and...
Monday - Christiana Figueres, leader of the 2015 Paris Agreement, talks about her new book, The Future We Choose, and why it's crunch time for humanity.
Monday - As the climate warms in the decades ahead, billions of acres, most of them in the northern hemisphere, will become suitable for agriculture and could, if ploughed, emit a massive, planet-altering...
Monday - Sydney is looking at using its public transport system to cut the number of delivery vans clogging its streets.
Friday - BP's new chief executive Bernard Looney has outlined plans to cut the company's carbon emissions from its operations and barrels produced to net-zero by 2050.
Friday - In the United States, once the home of car culture, cities are increasingly experimenting with free public transport. But the idea is not an American preserve: it's catching on fast across the globe.
Friday - Mass melting of the West Antarctic ice sheet, driven by warmer ocean temperatures, was a major cause of extreme sea level rise more than 100,000 years ago, according to new research.
Friday - By ANDREW SPENCE | Australian mining company Oz Minerals plans to power its proposed West Musgrave copper nickel mine in central Australia with up to 80 per cent renewables.
Friday - Two scientific studies of the number of insects splattered by cars have revealed a huge decline in abundance at European sites in two decades.
Thursday - Air pollution from burning fossil fuels is responsible for more than 4 million premature deaths around the world each year and costs the global economy about $US8 billion ($NZ12.37 billion) a day,...
Thursday - President Trump's proposed budget for fiscal 2021 calls for significant reductions to US environmental programmes at federal agencies, including a 26 per cent cut to the Environmental Protection...
Thursday - From public transport to cycling, sustainable transport is on course to overtake driving in the world's biggest cities within a decade, according to a new study.
---